Your Top 5 favorite Hawaii-filmed movies: HAWAII Magazine Facebook poll results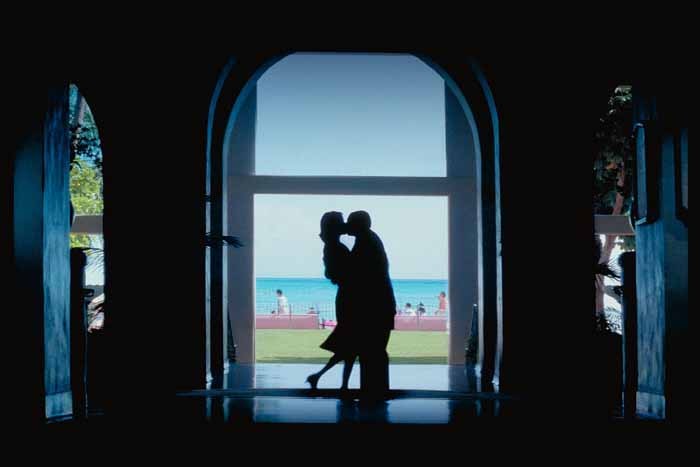 Lights! Camera! Hawaii!
Your votes have finally been tallied in our latest HAWAII Magazine Facebook Ohana Poll question!
Last month, we asked our HAWAII Magazine Facebook fans to sound off on the question: "What's your favorite Hawaii-filmed movie?"
Apparently, our readers were seriously ready to give us their choices.
The list of flicks in our Facebook comment boxes began growing full tilt the moment we posted the poll question. By the time we shut down voting a couple of weeks later, the list of your favorite Hawaii-filmed movies encompassed just about every film genre out there—from comedies and dramas to action-adventures, animated features and even a Gidget flick.
The breadth of your selections reached deep into Hollywood's film vaults—from 1953's From Here To Eternity to recent favorites such as 2008's Forgetting Sarah Marshall (both filmed on Oahu). In all, enough films to fill a Netflix movie queue that would keep us couching at home watching Hawaii-filmed flicks for, oh, a couple of months.
You'll find the Top 5 countdown of our Facebook ohana's favorite Hawaii-filmed movies here and on the pages ahead.
If you'd like to join and vote along with our growing Facebook fan page ohana, click here. You'll get our "Hawaii favorite" poll questions as soon as we post them, and also get instant updates on your Facebook wall when we post all of our daily HawaiiMagazine.com stories and features.
Check out our HAWAII Magazine Facebook fan page later today for our brand new poll question.
But right now, let's go to the movies … Hawaii style! HAWAII Magazine Facebook fans, here is your Top 5:
#5
"Blue Crush"
Kate Bosworth making it into the Pipeline Masters, one of the gnarliest winter big wave competitions on Oahu's North Shore? Only in this 2002 surf drama about a trio of friends who deem their lives incomplete until they compete on Hawaii's most famous waves. Locations for Blue Crush filming included a number of Oahu surf spots—from beaches all over the North Shore to Makaha and Waikiki. Paddling through the surf in cameos: Real-life Hawaii pro-surfers Keala Kennelly, Rochelle Ballard, Megan Abubo, Kalani Robb and Bruce Irons, among others.
#4
"South Pacific"
Let's face it, this 1958 film version of the Rodgers and Hammerstein musical is pretty much all about north shore Kauai's breathtaking scenic grandeur. OK, and the tunes aren't half bad either. Mitzi Gaynor, as Nellie Forbush, singing "I'm In Love with a Wonderful Guy" on Lumahai Beach. Bloody Mary, played by the incomparable Juanita Hall, warbling "Bali Hai" at Hanalei Bay. Rossano Brazzi, as dashing French plantation owner Emile de Becque, wooing Nellie with "Some Enchanted Evening" on a bluff overlooking Mount Makana (subbing for the fictional mystery island Bali Hai.). We wouldn't have our South Pacific any other way.
#3
"Donovan's Reef"
Legendary film director John Ford and his equally legendary (and frequent) partner in film John Wayne paired for the final time on this 1963 adventure/comedy filmed almost entirely on Kauai. Look for the picturesque Allerton Estate and Gardens on Kauai's south shore—in the movie, the governor's residence on the unfortunately-named fictional island of Haleakaloha. (The estate is now a National Tropical Botanical Garden.) The Wailua River and Waimea Canyon also make scenic cameos. And, really, what's not to love about a John Wayne flick whose opening credits unspool with the Hawaiian language classic "Pupu A'o 'Ewa" (Shells of 'Ewa)"?
#2
"Blue Hawaii"
Rock-a-hula, baby! The first and best of three hip-swiveling musicals Elvis Presley filmed here, 1961's Blue Hawaii has The King—as tour guide and Great Southern Hawaiian Fruit Company reluctant heir apparent Chadwick Gates—looking for love and, most memorably, singing "Ke Kali Nei Au (The Hawaiian Wedding Song)" at Kauai's now shuttered Coco Palms Resort. Look for scenes filmed at the Kaiser Hawaiian Village Hotel in Waikiki (now a very different Hilton Hawaiian Village), Hanauma Bay and central Oahu's then-vast pineapple fields. Elvis's two other Hawaii-filmed musicals—1962's Girls! Girls! Girls! and 1965's Paradise, Hawaiian Style—weren't even in the running with our Facebook ohana. Both received zero votes.
#1
"50 First Dates"
Truth? We were, at first, somewhat surprised when this semi-sweet 2004 Adam Sandler-Drew Barrymore romantic comedy instantly began to best all other contenders in our Facebook favorite Hawaii-filmed movie poll. Then we gave the film another viewing. Truth, again? Rob Schneider's turn as Sandler's hapless, doobie-smoking resident "Hawaiian" pal Ula still makes us cringe. But a good portion of the rest of 50 First Dates is akin to a Sandler-guided tour of Oahu's lush, less-populated windward coast—from Bamboo Ridge, Waimanalo and Makapuu to Kaneohe Bay and Kualoa Ranch in Kaaawa—replete with the area's appealing scenery. Bonus? 50 First Dates is also the best romantic comedy with a plot hinging on anterograde amnesia you're likely to find.