Your Walking Guide to Pāʻia, Maui
The sand-dusted streets of Pāʻia are filled with trendy boutiques, restaurants with no menu and gorgeous galleries.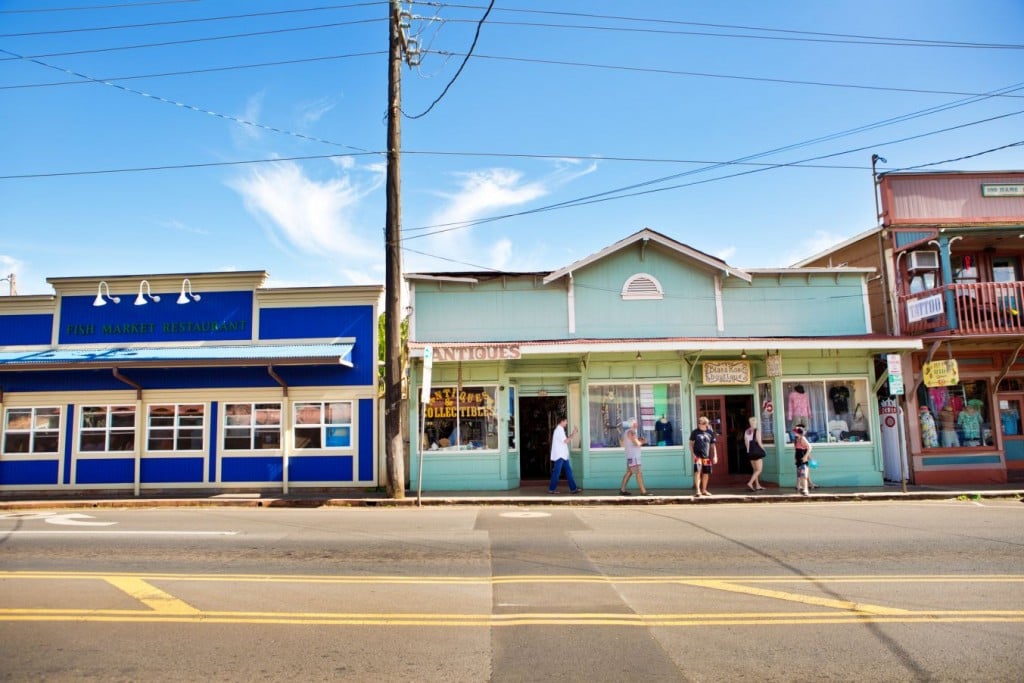 There's an undeniable undercurrent of youthful energy emanating from the streets of Pā'ia, Maui's North Shore hub of beachy boutiques, too-cool coffee shops and bohemian art galleries.
Here, you'll see more sarongs worn than shoes, more yoga studios than banks. Free love, good vibes, whatever you want to call it, you can find it here in Pā'ia.
1. Pā'ia Bay 
One of Pā'ia's star attractions, Pā'ia Bay can be found just across a sand-dusted stretch of Hāna Highway. The white-sand beach provides plenty of room to lay down your towel, and while the bay is known for its pounding shorebreak, you'll find calmer conditions in Hawai'i's summer months, from May to July. 19 Hāna Highway 
2. Nuage Bleu
One of Pā'ia's oldest boutiques, Nuage Bleu, which opened in 1987, has done well to stay trendy, sporting everything from flowing mini dresses to floral printed rompers. 76 Hāna Highway, (808) 579-9792, nuagebleu.com 
3. Cesere Brothers Photography 
Dan and John Cesere have dedicated their lives to underwater photography, moving to Maui from Maine to pursue their dreams of capturing vibrant, unique and dynamic underwater images. You can find—and purchase—some of the brothers' artwork here at their only brick-and-mortar gallery. 83 Hāna Highway, (808) 268-4405, ceserebrothers.com 
4. Flatbread Co. 
Order the Mopsy at Flatbread Co., a pizza topped with kālua pork and pineapple, a step up from the so-called "Hawaiian" combination of ham and pineapple. Smoky kālua pork and sweet and juicy pineapple make for a perfect pairing. If you can't commit though, you can go halfsies: half Mopsy, half any other toppings. 89 Hāna Highway, (808) 579-8989 
5. Pā'ia Inn 
If there's one thing that's truly troublesome about Pā'ia, it's the parking. The remedy? Staying at the Pā'ia Inn, which is smack-dab in the middle of town and, yes, has reserved parking stalls for guests. 93 Hāna Highway, (808) 579-6000, paiainn.com 
READ MORE: 4 Maui Accommodations for 4 Types of Travelers
6. Maui Dharma Center
Whether you come to the Maui Dharma Center to take a photo of its colorful monument or to explore Tibetan Buddhism, the temple welcomes everyone, regardless of spiritual faith, to visit its scenic seaside property. 81 Baldwin Ave., (808) 579-8076, mauidharmacenter.org 
7. Nylos 
There's no menu at nyloS, just a three-course meal that changes nightly. Entrées, pūpū (appetizers) and desserts are concocted by chef Jeremy Solyn, who astounds diners with expertly crafted meals using produce sourced from local farms. 115 Baldwin Ave., (808) 579-3354, nylosmaui.com   
READ MORE: Maui's only chef's table restaurant, nyloS, is the talk of the town