YWCA Oahu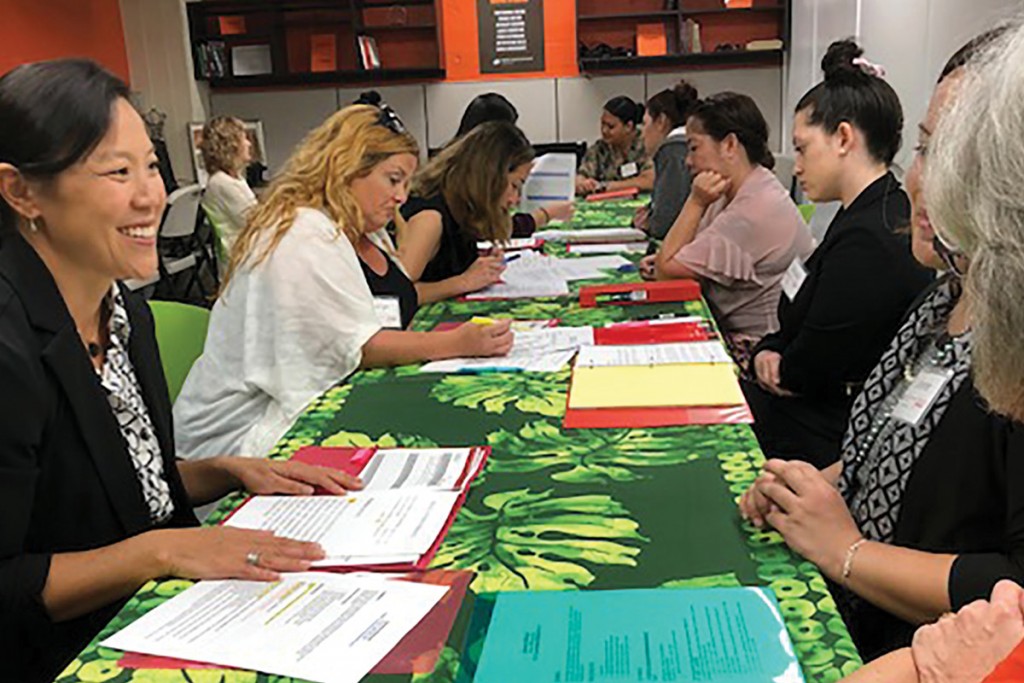 MISSION
YWCA Oahu is dedicated to eliminating racism, empowering women and promoting peace, justice, freedom, and dignity for all.
KEY SERVICES PROVIDED
Founded in 1900, YWCA Oahu is the oldest and largest women's membership organization in Hawaii that provides a diverse array of resources to help women and girls better themselves for their families and communities. YWCA Oahu has three locations: Fernhurst (Makiki), Kokokahi (Kaneohe) and Laniakea (downtown Honolulu). Our mission-driven work focuses on three areas: Health & Wellness, Economic Advancement and Leadership Development.
Health & Wellness: We offer ways for YWCA members to take care of themselves physically and socially, including aquatics, gym and group exercise, "Wellness Lunch & Learn" workshops, and camp and retreat.
Economic Advancement: YWCA Oahu aims to help women who are unemployed or underemployed with skills for job readiness, job retention and financial literacy. YWCA Oahu also serves women transitioning out of incarceration by operating the only community-based re-entry program for women in Hawaii, and offering a transitional housing program.
Leadership Development: From aiding local small business owners, to increasing the representation of women in executive positions, to mentoring for high school girls, the Patsy T. Mink Center for Business & Leadership (MCBL) empowers women to invest in their skills as entrepreneurs and leaders.
EVENTS AND OPPORTUNITIES
Become a volunteer to help women build strong foundations for their future. Find ways to share your time and treasure at www.ywcaoahu.org/volunteer.
Support our programs and services by providing the gift of opportunity to women and girls who strive to build better lives for themselves, for their families and for their community. Visit www.ywcaoahu.org/donate to learn how to contribute to our work.
Come join us as we celebrate women's leadership and women's empowerment at our spring and fall fundraisers. Contact info@ywcaoahu.org to learn how to support our fundraisers.
LEADERSHIP
YWCA Executive Staff
Noriko Namiki, Chief Executive Officer
Jonathan Townsley, Chief Financial Officer
Kehaulani Coleman, Director of Economic Advancement Programs
Cecilia Fong, Director of Fund Development
Terri Funakoshi, Director of Patsy T. Mink Center for Business and Leadership
Kathleen Algire, Director of Public Policy and Advocacy
Board of Directors Executive Committee
Kristi Inkinen Yanagihara, Chair
Dana Tokioka, Vice Chair
Emi Au, Treasurer
Rachel Cunningham, Secretary
Marcy Fleming, Immediate Past Chair
Board of Directors
Sophie Adversalo
Noelehua Archambault
Catie Cullison
Marivic Dar
Kimberly Haruki
Susan Ing
Christine Lanning
Kristi Lefforge
Heather Miyasato
Kendra Oishi
Keala Peters
Catherine Schultz
Jeannine Souki
Nicole Velasco
Leslie Wilkins
YWCA Oahu
www.ywcaoahu.org
808-538-7061
info@ywcaoahu.org
Facebook/Instagram/Twitter: @ywcaoahu