10 Oahu outdoor escapes you may have missed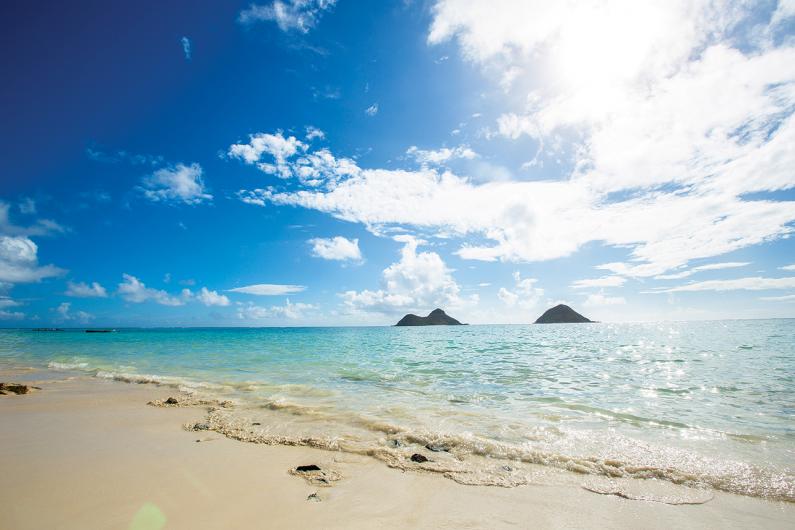 China Walls
On your way to or from Hanauma Bay, turn makai (toward the ocean) on Lunalilo Home Road near the Koko Marina Shopping Center. This will take you to China Walls, a hidden lookout that's an adventurer's dream. The "wall" is actually a rocky cliff where people can sit, sun and snap photos. Come before sunset to watch the light change from orange to pink—and end your day smelling the salt air coming off the rolling waves. Koko Kai Mini Beach Park, Honolulu.
Kaneohe Sandbar
In the middle of Kaneohe Bay is a sandbar only visible above the turquoise water during low tide. People visit with friends to lounge, picnic, wade in its shallow waters and enjoy the breathtaking views of O'ahu and the sea. Getting there, though, takes some planning. Our recommendations to start: If you're an experienced kayaker, try Kailua Sailboards and Kayaks, (808) 262-2555. If you have military access and a captain's license, rent a boat from the Kaneohe Marine Corps Base marina. If not, try Holokai Adventures, (808) 781-4773. Or, if staying at Paradise Bay Resort, you're all set. TIP: Avoid crowds and go on a weekday.
Mokulua Islands
Na Mokulua, which literally means "the two islands" in Hawaiian, are beautiful to look at from Lanikai Beach, but why not kayak there instead? On Moku Nui (the bigger of the two), visitors are allowed to land, picnic and explore, except for the area that is off limits because it's a nesting site for seabirds. Start early, enter the ocean via the calmer waters of Lanikai, and plan a half-day there with friends and family.
Malaekahana
Drive east past the world-famous North Shore and you'll find a powdered-sugar beach in Laie called Malaekahana, named for the mother of the storied princess Laie. Today, residents know this spot as one of the best places to camp on the island. Forego a hotel and spend your nights on its newly-revamped grounds instead, or, at least the weekend, soaking up the sun and surf while you're there exploring the North Shore. Nonresidents: $18 per campsite, per night for up to six people. 56-335 Kamehameha Hwy., Laie, camping.ehawaii.gov.
Hunakai Beach
Yes, Lanikai Beach is pretty, but the Kahala area in East O'ahu has some gorgeous beaches too. You just have to know how to get to them. Unlike beaches in some states, Hawai'i's beaches are all public, so, despite the large, gated mansions standing sentry on Kahala Avenue, there are still multiple beach access points. Our favorite one is at the end of Hunakai Street. Park on the street, then walk the short path to the beach. You'll find a long, white-sand beach with palm trees and a beautiful, bright-blue sea. Visit on a weekday and you may even have it all to yourself. Around 4578 Kahala Ave., Honolulu.
Puu o Kaimuki Mini Park
The Kaimuki community, just outside of Waikiki, is one of the few fun, walkable neighborhoods in Honolulu. And, it includes one of our favorite tiny parks on the island, Puu o Kaimuki Mini Park. Located on a small puu (hill) that many people don't even realize is there, this park has views of the Kaimuki business district, Hawaii Kai and downtown Honolulu. Come at night to see the lights. 951 Koko Head Ave., Honolulu.
Hoomaluhia Botanical Garden
If you've never been to this spot before, don't miss visiting its grounds the next time you're on the Windward Side. The picture-perfect drive through its lush greenery to the visitor's center alone is impressive and leaves you in awe of its beauty. But, that's only a precursor to what you'll see once you park and start exploring its 400 acres. Plan ahead to camp, hike, fish or to just stop by for a brief stroll. Daily, 9 a.m. to 4 p.m., 45-680 Luluku Rd., Kaneohe, honolulu.gov.
Moku O Loe Island (Coconut Island)
This island's iconic 29-acre palm respite, made famous by "Gilligan's Island," now supports world-class marine laboratories that you can visit. Tours fill up fast. (808) 235-9302, hawaii.edu/himb. Read about our visit here in the July/August 2016 issue.
Velzyland
The Hawaiian name for this pristine strip of white sand and sapphire-blue surf is Kaunala. But surfers know this beach and break as Velzyland or V-land for short. It got that moniker in 1958; it's a mix of the name of surfboard manufacturer Dale Velzy, and California's Disneyland. This gorgeous beach is hidden in plain sight behind Sunset Beach Colony, an oceanfront luxury housing development on Kamehameha Highway. Keep in mind, though, there are no public restrooms or showers. 58-169 Napoonala Place, Haleiwa.
Cromwell's
Drive to this Kahala beach on a weekday at low tide, and you'll be treated to a small but beautiful spot that's perfect for catching some sun. Doris Duke's Shangri La property is nearby, and the beach is named after her husband, James H. R. Cromwell. It's the epitome of a hidden gem, just on the other side of Diamond Head. Park in the neighborhood around Kulamanu Street and walk down.