10 Things That Mean It's Winter Time in Hawaiʻi
From surfing Santa to the appearance of the once-a-year jacket, here are a few things that mark the beginning of winter in Hawaiʻi.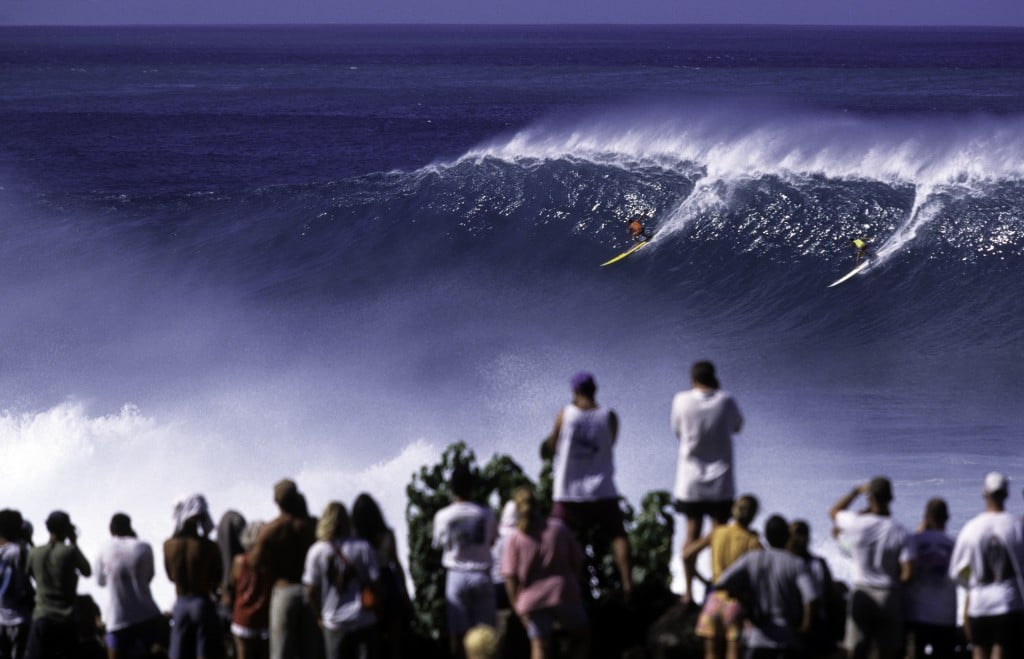 It's tough trying to decipher whether or not it's winter in Hawaiʻi. Don't expect to find any telltale signs, like snowfall or a change in the weather. With tropical sunshine and perfect beach days all year long, it's the small things that'll make you realize it's wintertime in the islands. From braddahs wearing socks and slippahs to surging shore breaks and a statewide decrease in air conditioning usage, here are a few key things that indicate that it is, in fact, winter in Hawaiʻi—besides the calendar.
1. Looking Over in the Lineup and Seeing Santa Claus
2. Locals Busting Out the Jacket They Can Only Wear Twice a Year
Everyone's got one. A styling sweater or jacket that they bought only to realize it's way too hot to wear most days out of the year. But winter provides the occasional frigid day in Hawaiʻi—we're talking low 70s here!—that is just cold enough to wear that second layer comfortably.
3. People Turning Off Their Air Conditioners for the First Time Since Spring
Goodbye air conditioner, we'll see you next year.
4. Watching the Biggest Waves You've Ever Seen on Northern Coastlines
It's common for northern-facing shorelines in Hawai'i to get waves during the winter—and we don't mean any normal waves. We're talking about moving mountains of water. It's a humbling experience to watch, and will probably get you driving south to find much more manageable shore breaks.
5. Spikes in Seasonal Depression From People Who Love the Outdoors but Also Work 9 to 5
From surfers to runners, hikers and walkers, people who love the outdoors but work regular hours despise the winter's shorter days. With the sun hitting the horizon well before 6 p.m., it's a jarring contrast to the summer months where you can easily be outdoors until 7 p.m. before having to worry about a lack of daylight.
6. This Song Just Pops Into Your Head
7. Seeing Spouts on the Horizon and Hearing the Inevitable "Whale!" Call
Traveling to Hawaiʻi for their breeding season—which stretches from November to May—the North Pacific Humpback Whale also raises their young in Hawaiʻi's warm waters during our winter months. And hearing somebody excitedly shout "Whale!" is a surefire way to know it's now officially winter.
8. Not Being Able to Find a Single Shop With Wetsuits in Stock
Looks like you got to go snorkel Shark's Cove without one and get hypothermia.
9. Slippahs and Socks
There's a very specific combo that means business in Hawaiʻi. It's the pairing of cheap plastic slippahs—preferably from Longs or another local drugstore—and white tube socks. This is the true attire of locals who are still dedicated to the slippah lifestyle—as we all should be—but want to keep their little piggies warm too.
10. Somehow Everyone's Even Nicer in December
The great thing about Hawaiʻi is that, for the most part, people are already pretty nice. Maybe it's the aloha spirit, or just the fact we all live in Hawaiʻi. But during December, that giving attitude gets put up a notch, and the aloha spirit mixes a little with that holiday cheer for a truly pleasant societal vibe—at least for a month.