5 Hawaiʻi Landmarks—And What They're Actually Called
It's not Diamond Head, it's Lēʻahi.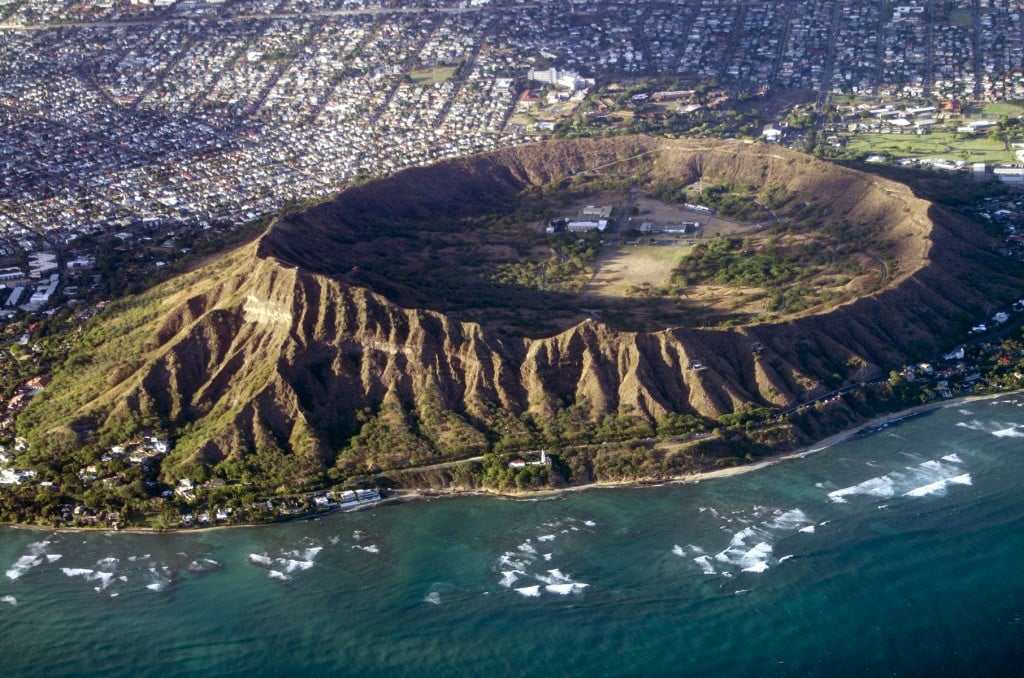 As much as we love Hawaiʻi's large variety of landmarks, there is a bit of a problem in the way we go about addressing them. While many of us know these natural wonders by the names they've been given in modern times, it is much less likely to hear them go by their original names, the ones bestowed upon them by the Native Hawaiians. And those names are so much more than just names. They're stories, linked to Hawaiian culture using the truly expressive vocabulary of ʻōlelo Hawaiʻi. So, let's learn!
1. Lēʻahi (Diamond Head)
Diamond Head sure is a weird name, isn't it? There are no diamonds—nor have there ever been diamonds—located in the postcard-famous crater, and while the name is quite nice to say, it doesn't really make much sense. Its given Hawaiian name Lēʻahi, literally translates to the "forehead of the ʻahi fish," which if you look at the crater from the east, is a strikingly true comparison. In Hawaiian legend, this observation was first made by the goddess of hula, Hiʻiaki.
2. Kūkaemoku (ʻĪao Needle)
Traditionally known as Kūkaemoku, the needle that abruptly rises 1,200 feet into the sky at ʻĪao Valley is one of the most photographed landmarks on the island. In Hawaiian culture, the needle is the phallic stone of Kanaloa, the Hawaiian god of the underworld and ruler of the ocean. The peak of Kūkaemoku was also used as a lookout during periods of war, but your guess is as good as ours as to how ancient Hawaiian warriors made it to the top of this mighty rock.
3. Nounou Mountain (Sleeping Giant)
In a rare occurrence, Nounou Mountain's nickname, Sleeping Giant, actually lines up with the myths and legends associated with the Kauaʻi landmark—which really does look like a reclining human of giant proportions. One legend believes that a giant by the name of Puni was sent to Wailua to gather firewood for menehune, but got so tired on his way back laid down to rest and fell asleep. While he was sleeping, armies from Oʻahu attacked Kauaʻi, and in a last-ditch effort to raise him from his sleep, the Menehune threw rocks at him to no avail. This also tracks with the name of the mountain, Nounou, with nou in ʻōlelo Hawaiʻi translating to "throw, pitch or hurl."
4. Mokoliʻi (Chinaman's Hat)
A striking figure in the crystal-clear Kaneohe Bay waters, Mokoliʻi Island is one of Oʻahu's best islets to visit—there are so many ways to get out there—but its Western name, Chinaman's Hat, has not aged well, to say the least. Its given Hawaiian name, Mokoliʻi, sounds much better and has a great story to tell. In an abbreviated version, Hawaiian moʻolelo (legend) says that the islet is the remains of a giant lizard's tail, which was thrown into Kāneʻohe Bay by Hiʻiaka, the goddess of hula, who had slain the monster. The island's name, Mokoliʻi, actually translates to "tiny lizard" in ʻōlelo Hawaiʻi.
5. Waiānuenue (Rainbow Falls)
If you visit Waiānuenue around 10 a.m. on a nice, sunny day, you'll understand why it has been colloquially called Rainbow Falls by visitors and locals. If the sunlight hits the mist of the falls just right, rainbows will appear. Before it was called Rainbow Falls, however, kanaka maoli referred to the landmark as Waiānuenue, which means "rainbows seen in the water." Makes sense. The falls also happen to flow over a naturally formed lava cave which is said to be the mythological home to the ancient Hawaiian goddess Hina, mother of the Hawaiian hero Māui.