11 Ways to Deal with Hawaii's Rainy Days
Hawaii weather can go from blue skies to torrential in a heartbeat, so here are a few ways to wait out the rain.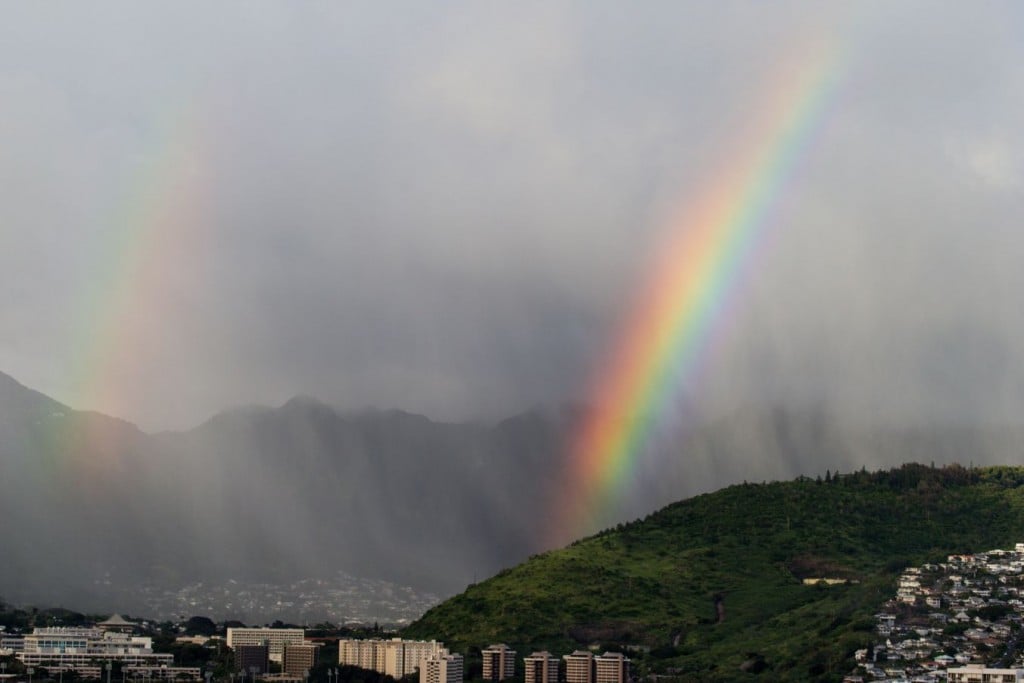 Being a tropical island, Hawaii gets rain, and sometimes it gets a lot of rain. So what do you do when your weekend itinerary filled with hikes and beach days starts to see grey skies and a 100 percent chance of precipitation? Well, you can do the fun activities we've previously written about, or you can try some of these new methods to bypass those rainy day blues.
1. Just go to the beach anyway.
If you're going to the beach, you're probably going to end up getting wet anyway. So posting up at your favorite cove or coast on a rainy day will ensure that you get most, if not all, of the beach to yourself. And if you do want to stay dry, a beach umbrella or tarp will do the trick.
2. Grab the boogie board and hit the streets.
3. Finally wear that cute puffy jacket you bought.
Everyone who lives in Hawaii has that one jacket they bought on a whim, thinking it looked really cute, only to realize it's about 3 inches too thick to wear on a normal Hawaiian day. Well, today's not a normal day, and that jacket has finally found its time to shine. Throw it on and take a walk around the block, nodding subtly at others wearing their puffy winter jackets, too.
4. Have food delivered to your doorstep.
Eating out is great, but eating in is magical, and this is doubly so on a rainy day. Services such as Bite Squad and Uber Eats will pick up food from local restaurants and bring it straight to you. No longer do you need to run through the rain only to feel the shame of asking the cashier at Dominos for four extra large cheese crust pizzas with double pepperoni. Now you can have someone do all that for you.
5. Drive up the H-3.
If you're game to drive in the rain and deal with others driving in the rain, the Interstate H-3 is a must. The highway takes you past, and through, the Koolau Mountain Range, which on a normal day is lush and green. However, if it's pouring, expect to see waterfalls in every crack and crevice. And remember, even if it is an awe-inspiring sight, keep your eyes on the road.
6. See how many naps you can take in one day.
7. Get thrifty.
There's no better way to kill time and spend cash indoors than hitting up your local thrift shop and buying things you probably don't need. Barrio Vintage sells barely used shirts, dresses and accessories from the '70s and '80s, and is a great place to peruse while waiting for bluer, sunnier skies. Honolulu, Oahu, (808) 674-7156, barriovintage.com.
8. Catch an indoor luau.
Another indoor activity that will pass the time, Te Moana Nui: Tales of the Pacific exchanges the green, sunset-backed outdoor luau experience with a closer, more intimate show. Hosted in the second-floor ballroom of the Sheraton Princess Kaiulani, general admission tickets start at $60, however the dinner buffet package will run you $105. Honolulu, Oahu, (808) 922-5811, princess-kaiulani.com.
9. Sip on a cup of coffee, watch the rainfall and embrace the mood.
If you're looking for a café to appreciate this wet weather from, check out our café guide.
10. Say goodbye to Netflix.
Watching Netflix and binging on onion chips may be the coziest option, but hitting up a theater to watch the latest blockbuster is a fun alternative. If you're sick of movie theater seats, most consolidated theaters offer some sort of luxury seating option. So cough up a little extra cash and set that recliner all the way back for maximum comfort.
11. Get yo drank on.
Whether you're sipping a mai tai at La Mariana Sailing Club or pounding back a few Corona's on your lanai (porch), nothing makes a rainy day go faster than getting a little tipsy.