18 Hawaiʻi Foods to Make Your Mainland Friends Try When They Visit
Be a good host and give them a taste of local culture they won't forget.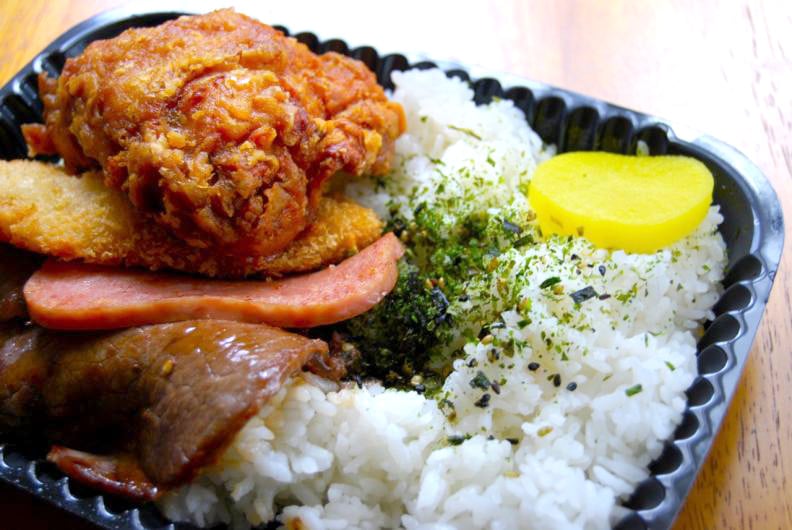 Your friends and extended family have their tickets to Hawaii booked and now you're in the influential position to play host. That means aside from showing them tucked-away beaches and a cool scenic hike, you'll also need to guide them towards satisfying places to eat.
We're sure you already have traditional malasadas, Spam musubis, a gigantic-sized plate lunch, shave ice, poke and that real Hawaiian food joint you swear by written on the itinerary. Beyond those staples, here are a few more unique eats across the Islands that are also little adventures in their own right.
1. Manapua
Meet Hawaii's version of the char siu bao—steamed or baked buns typically filled with salty-sweet minced pork, however there are tons of savory fillings to choose from these days.
When the Chinese immigrated to the Islands to work on the plantations they brought this icon of their cuisine with them and it has surely left an impact on ours. Manapua, which is a shortened Pidgin version of the Hawaiian phrase mea ʻono puaʻa ("delicious pork pastry"), can be found across the Islands, in little hole-in-the-wall shops to street trucks.
Popular favorites: Libby Manapua Shop in Kalihi, and Chun Wah Kam in Pearl City, Honolulu and Kalihi on Oahu; The Manapua Bakery in Wailuku on Maui
2. Loco moco
Hawaii has a phrase that goes "broke da mouth" when something is so overwhelming delicious it just shuts down your entire face. Loco mocos may have been the original inspiration for that—just look at that thing! A hamburger patty over scoops of white rice topped with a fried egg and smothered in brown gravy. Believe it or not, this is considered breakfast here.
Popular favorites: Rainbow Drive-In in Honolulu, and The Alley Restaurant and Bar in Aiea on Oahu; Broke Da Mouth Grindz in Kailua-Kona on Hawaii Island; Café 100 in Hilo on Hawaii Island; Aloha Mixed Plate in Lahaina on Maui
3. Poi malasadas
We know you already have Leonard's or Tex Drive-In's lined up on the itinerary for some malasadas, but these poi versions are another unique spin on an already original local favorite. (It's also a great way to trick your more suspicious friends to try poi.) Just when you thought Portuguese doughnuts couldn't be any more addicting, a handful of bakeries have mastered adding taro to them.
The only favorite: Kamehameha Bakery in Kalihi on Oahu
4. Saimin
Saimin is another byproduct of Hawaii's plantation era—an egg noodle soup that traditionally takes its cues from ramen (Japanese), mein (Chinese) and pancit (Filipino). Nowadays, inside the broth you'll find even more cultural influences with different meats, vegetables, even Spam. These "thin noodles"—that's what "saimin" means in Chinese—can be found everywhere throughout the Islands, from mom-and-pop shops to local McDonald's franchises.
Popular favorites: Hamura's Saimin in Lihue on Kauai; Shige's Saimin Restaurant in Wahiawa on Oahu; Big Island Grill in Kailua-Kona on Hawaii Island; Waikapu on 30 in Wailuku on Maui
5. Ube pancakes
Already one of Oahu's most photogenic plates of food (that purple really pops #nofilter), these vividly colorful pancakes are made with ube, which is what they call the purple yams used to make this breakfast item in the Philippines.
The only favorite: YogurStory in Honolulu on Oahu
6. Chantilly anything
You've been warned: Once your friends have Chantilly cake, it will become their favorite cake. This buttery frosting—the toppings you find on Liliha Bakery's famous Coco Puffs—is a favorite in Hawaii and unique to the Islands in that it's a modified version of German chocolate cake frosting. In place of pecans and coconut you'll usually find macadamia nuts instead.
The only favorite: Liliha Bakery in Honolulu on Oahu
7. Strawberry-filled mochi
This is actually a treat for many non-Hawaii Island residents as well in that the only place to get this stuff fresh is in Hilo. You can get mochi, a Japanese rice cake, all across Hawaii almost anywhere (they're shelved as impulse buys at the registers of Long's Drugs here), but these huge fresh strawberry and tsubushi an (sweet bean paste) stuffed ones are like the holy grail of mochi.
The only favorite: Two Ladies Kitchen in Hilo on Hawaii Island
8. Li hing margaritas
View this post on Instagram

It might be difficult to get your non-Hawaii friends to try li hing mui (the salty dried plum is considered an acquired taste), but if they're of drinking age, a little tequila should help do the trick. In this local version of a margarita, powdered li hing laced around the rim is comparable to chamoy, a Mexican mix of savory sauces and spices, used for a michelada.
Popular favorites: Side Street Inn, Honolulu, Oahu
9. Guri-guri ice cream
Light and creamy, this Hawaiian ice cream originating on Maui is a local family recipe passed down through generations. The sherbet-ice cream hybrid is served in strawberry and pineapple flavors and is the perfect pick-me-up on a hot, humid day.
The only favorite: Tasaka Guri Guri in Kahului on Maui
10. McDonald's Taro and Haupia pies
We're serious. Now it's not nearly the best taro or haupia (the gelatinous Hawaiian coconut dessert) you'll have here, but it's definitely a unique fast-food purchase you can't really make anywhere else in the world.
Popular favorites: Most Hawaii McDonald's locations for a limited time
11. Kulolo
A traditional Hawaiian pudding, kulolo is made from steamed or baked kalo (taro) corms mashed into a texture similar to tapioca. This is actually a great option for any of your vegan friends who probably can't eat most of the items on this list since kulolo recipes only really require kalo, sugar and coconut milk.
Popular favorites: Haili's Hawaiian Foods in Honolulu on Oahu; Kapaa Poi Factory products made in Kapaa on Kauai, sold at Kauai farmers' markets; Hanalei Taro & Juice Company in Hanalei on Kauai
12. Banana fro-yo papaya bowl
Banan, this barely-a-year-old food truck on Oahu, sources only local bananas to create their frozen yogurt creations that range from a simple sliced banana to limed-papaya. Served in a locally-sourced papaya, it also comes with various topping options like crispy quinoa and bee pollen. This is another great dairy-free option for your vegan friends.
The only favorite: Banan in Honolulu on Oahu
13. Hurricane popcorn
An Asian-inspired popcorn snack that sprinkles in mochi crunch rice crackers and nori (seaweed). If you find you and your friends catching a movie sometime during their trip, most movie theaters sell it.
Popular favorites: Carousel Candyland in Kahala on Oahu; most local movie theaters; make your own!
14. Chocolate haupia pies
A local dessert with a rich chocolate custard cream and a thick layer of haupia on a macadamia nut crust topped with whipped cream. Need we say more?
Popular favorites: Ted's Bakery in Haleiwa on Oahu; Leoda's Kitchen and Pie Shop in Lahaina on Maui
15. Kakimochi cookies
Kakimochi, what Hawaii residents call arare (crispy Japanese rice crackers), are mixed into your traditional chocolate chip cookies adding a local crunch to a timeless favorite.
Popular favorites: Wholesale Unlimited for Betty's Best creations in Aiea on Oahu, Big Island Delights in Kakaako on Oahu; Foodland and Longs Drugs locations across the Islands
16. Butter mochi
Another addicting local-style creation you'll find at the dessert table of pretty much any party in Hawaii. It takes the popular Japanese rice cake to another plane with coconut and, you guessed it, melted butter.
Popular favorites: Foodland locations across the Islands and KTA Super Stores in Keauhou on Hawaii Island; Four Sisters Bakery in Wailuku on Maui
17. Hawaii-style mochiko chicken
A Japanese favorite here, this Hawaii-style fried chicken is incredibly crispy with a delectable crunchy bite to it thanks to that mochiko batter, a sweet rice flour. Once they have it, one of your friends is bound to crave it for lunch some time during the duration of their trip.
Popular favorites: Ethel's Grill in Kalihi, and Diamond Head Grill in Honolulu on Oahu; Surfside Spirits & Deli in Kihei on Maui; 808 Grindz Cafe in Kailua-Kona on Hawaii Island
18. Zippy's Zip Pac
Because Zippy's is practically it's own food group. Generally open around the clock, there are 24 locations across Hawaii (most on Oahu, one on Maui and another on Hawaii Island) with a diverse menu of pretty much every local favorite you can think of.