20 Monumental Happenings in Hawaii in the Past Decade
From volcanic eruptions to the banning of plastics (and sunscreen) and everything in between, it's been a wild 10 years in Hawaii.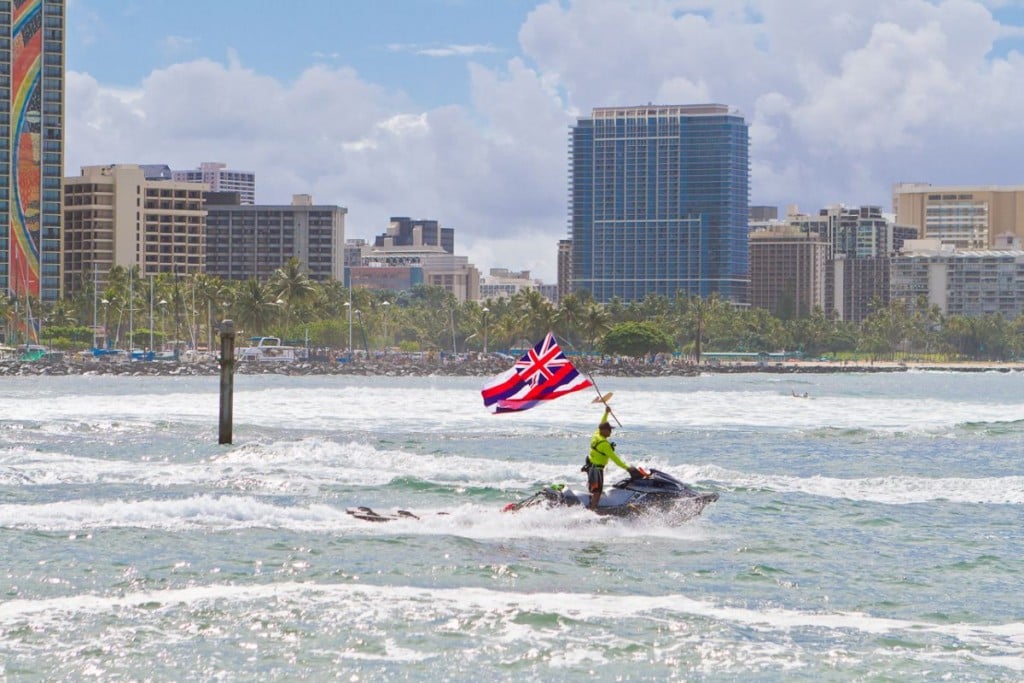 It's been an active decade for the Aloha State, which has been in the news a lot these past 10 years. We had our biggest volcanic eruption in recent memory; one of our own served two full terms as president of the United States, most of them in the 2010s; and Zippy's finally expanded out of Hawaii. Here's a list of some of the 20 biggest happenings in the past decade.
1. Hokulea Completes its Worldwide Voyage
Beginning its journey in 2013, the
Hokulea
, a traditional Polynesian double-hulled voyaging canoe, and its crew members began their journey across the South Pacific and the Tasman Sea, the Indian and Atlantic oceans, and the Caribbean. The mission was to educate and be educated by local communities on how to live sustainably. After three years of sailing, using only traditional Polynesian and Hawaiian sailing techniques to navigate many miles of ocean,
the Hokulea returned to its home island of Oahu
in 2017 for a well-deserved rest.
2. Hawaii's Last Sugar Mill Closes
Sugar has played an important role in Hawaii's modern history, serving as one of the Islands' top crops for decades. However, the production of sugar had waned greatly over the years, and in 2016, the last sugar mill, Puunene Mill on Maui, shut its doors for good.
3. "Hawaii 5-0" Back on the Beat
With its first episode airing on Sept. 20, 2010, "Hawaii 5-0" has now run for 10 seasons and has entered the "TV shows based in Hawaii" hall of fame, right along with Tom Selleck's "Magnum, P.I." and, well, the original "Hawaii Five-O," which ran from 1968-1980.
4. A False Missile Alert Puts the Isles on Edge
On Jan. 13, 2018, an alert message reading "BALLISTIC MISSILE THREAT INBOUND TO HAWAII. SEEK IMMEDIATE SHELTER. THIS IS NOT A DRILL" was sent to every phone in the state. And it wasn't a drill, it was a mistake. During a shift change at the Hawaii Emergency Management Agency, an employee inadvertently released the message to the masses, which resulted in widespread panic until a false alarm notification was sent out 38 minutes later.
5. Local Boy Serves Two Full Terms as POTUS
Born at Kapiolani Medical Center for Women and Children in Honolulu, Barack Hussein Obama II was elected president of the United States in 2008 and served until Jan. 20, 2017. The Punahou graduate is known to
vacation with family on Oahu
, and has been seen bodysurfing at Sandy Beach and dining at Alan Wong's Honolulu.
6. Hawaii Bans Reef-Unsafe Sunscreens
Hawaii became the first state in the nation to
ban the sale of sunscreen deemed toxic to coral reefs
. The Senate bill, initially proposed by Sen. Mike Gabbard, will prohibit the sale of sunscreens that contain oxybenzone and octinoxate. The chemicals have been scientifically proven to induce coral bleaching and can harm and even kill coral larvae. The law will go into effect Jan. 1, 2021.
7. Hawaii Bans Disposable Plastics
Keeping up with being first in the nation, Oahu will
ban the use of disposable plastics
. The bill, which was supported by local environmentalist groups, was approved by the Honolulu City Council on Dec. 4, 2019, in a 7-2 vote. The new law will partially go into effect on Jan. 1, 2021, at which time plastic knives, spoons and forks will be banned on Oahu. On Jan. 1, 2022, numerous other single-use plastics will also be banned, including plastic bowls and plates.
8. The Eddie Went
The Eddie Aikau Big Wave Invitational at Waimea Bay is one of the biggest events in surfing. But since the event requires extra-large waves—in the 30- to 40-foot range—it rarely goes off. The last time it did was in 2016, when North Shore local and two-time World Surf League champion John John Florence won the event, a perfect cap to a perfect day of surfing.
9. Polynesia Gets its First Disney Princess
On Nov. 23, 2016, "Moana" hit the big screens. It got good reviews, sold like gangbusters at the box office and gave Polynesia (and Hawaii) its first Disney princess, Moana. The character was voiced by Aulii Cravalho, a kanaka maoli (Native Hawaiian) actress born on Hawaii Island and raised in Mililani on Oahu.
10. After Heavy Volcanic Activity, Kilauea Stops Erupting
It was in early March that folks at the Hawaiian Volcano Observatory began noticing rapid inflation at Puu Oo, a volcanic cone in the eastern rift zone of the Big Island's Kilauea volcano. Volcanic fissures then broke out in Leilani Estates, a subdivision in lower Puna, and flowing lava consumed many homes. It was a monumental moment for residents of the area and the volcano, too, which had been actively erupting on a much smaller scale since 1983. By the time August rolled around, the eruptions had stopped and for the first time in decades, there was no flowing lava on Hawaii Island.
11. Surfing Makes it into the 2020 Tokyo Olympics
12. First Native Hawaiian Fashion Takes to New York Fashion Week
Born on Hawaii Island, Native Hawaiian fashion designer Manaola Yap made history in 2017 when he
debuted his runway collection at New York Fashion Week
. The patterns applied to Yap's pieces and clothing were heavily influenced by Hawaiian design practices such as
ohe kapala
(traditional bamboo stamping) and materials like
kapa
, a traditional Hawaiian cloth made from
wauke
or
mamaki
bark.
13. The State Cracks Down on Illegal Vacation Rentals
The regulation of
nonhosted, transient short-term vacation rentals
has been a hot-button issue that impacts visitors as well as locals. The City and County of Honolulu finally picked a side on the issue by signing Bill 89 on June 25, 2019. Those in violation of the new law—individuals who are running vacation rentals without proper permitting—could face fines of up to $10,000.
14. Larry Ellison Buys 98% of Lanai
After visiting the island of Lanai, Oracle Corp. founder Larry Ellison, whose net worth is in the billions, decided to buy the majority of the island for a cool $300 million in 2012.
15. Zippy's has Finally Reached the Mainland
One of Hawaii's best-known chain restaurants announced that it
will make its first foray into the Mainland
, stating in a 2019 news release that it expects to build a 7,000-square-foot restaurant, takeout, and retail bakery, in addition to a 12,000-square-foot central kitchen/bakery in Las Vegas. That means those not in Hawaii can finally dig into the restaurant's
ono
(delicious) chili bowls, loco moco, saimin and chicken katsu plates.
16. Consumer Fireworks are Banned
Aside from the numerous hotel fireworks shows around Oahu, don't expect to hear as many aerial blasts or streaming fireworks fountains on the streets. In 2011, almost all consumer fireworks were banned to combat fires caused by the pyrotechnics.
17. Southwest Airlines Lands in Hawaii
In early 2019, Southwest Airlines wowed Hawaii travelers and residents with its
low-cost, no-frills service
. Finally, there is an alternative for economically minded flyers who maybe wouldn't mind passing on an in-flight meal as long as they can save on the cost of their ticket.
18. Wailana Coffee House Closes
Known for being open 24 hours a day, Wailana Coffee House, an iconic Waikiki diner that served coffee and pancakes to hungry locals and visitors for years, is no more. Originally started as a concession stand at the Honolulu Zoo in 1947, Wailana Coffee House moved to its landmark location in 1949 before closing its doors for good in October 2018, bringing an end to an era.
19. Kauai Experiences Record-Breaking Rainfall and Flooding
Kauai's northern coastline has only just recovered from the record-breaking rainfall of April 15, 2018. The
region was soaked
with 49.69 inches of rain in just 24 hours, the highest 24-hour rainfall total in the U.S. The floods caused by this unprecedented precipitation are well-documented, however, after some
repairs and rebuilding
, the communities in and around Hanalei and Princeville are once again beginning to thrive.
20. No Solution in Sight for Thirty Meter Telescope
Mauna Kea is known for being
an astronomer's dream
thanks to its high altitude, dry environment, stable airflow and minimal light pollution. Those factors are why Mauna Kea's summit was chosen as the site for the Thirty Meter Telescope. But it's not just astronomers who love the
mauna
(mountain); the site is also
sacred to Native Hawaiians
, who came together on July 15, 2019, to block Mauna Kea Access Road and stop the delivery of TMT construction materials. Although protesters have cleared the road, they are still adamant about not letting any construction materials through.