22nd annual Waimea Cherry Blossom Heritage Festival on Hawaii Island, Feb. 7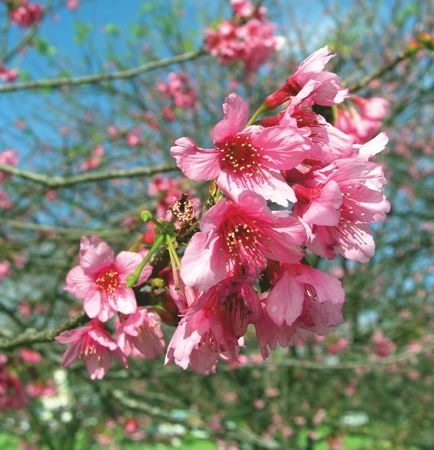 The 22nd annual Waimea Cherry Blossom Heritage Festival will celebrate the upcountry Hawaii Island town's blooming cherry trees this Sat., Feb. 7.
The free and open to the public festival is a traditional Japanese hanami, which literally means "cherry blossom viewing party." But there's more to do than just gaze at the pretty pink blossoms.
A multicultural performance lineup includes a local hula halau (hula troupe), Chinese Lion Dancers, and a guided sing-along to traditional Japanese folk songs. Hands-on activities and demonstrations will teach visitors about Hawaiian quilting, how to make feather leis or bonsai trees, offer origami and furoshiki folding instruction or the chance to try mochi pounding (and taste it afterward), and even sample a drop-in dance class. There will be more than 100 craft and food vendors as well as a gallery of cherry blossom art, cherry tea tasting and a baked cherry pie contest that continue the cherry theme.
The fest will run from 9 a.m. til 3 p.m. and is sponsored by the Hawaii County Department of Parks and Recreation, Culture and Arts Section. Events take place across 10 designated sites throughout town.
Waimea, a small land-locked community east of the Kohala Coast, celebrates its cherry blossom festival around the time it expects blossoms—the first Saturday in February—every year. The first of town's Japanese cherry trees was planted 62 years ago to commemorate an important Japanese community member. Since then, dozens of cherry trees have joined the first along the central Church Row Park loop.
A shuttle route links three designated parking lots with the cherry trees and all of the festival's main sites. For additional information about the fest, click here.