22nd Ohana Festival to share Japanese culture and New Year's traditions, Jan. 11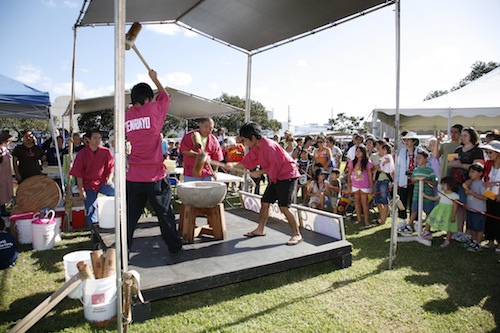 The Year of the Sheep has already begun, but if you're on Oahu this weekend you can ring it in all over again. The Japanese Cultural Center hosts its 22nd annual New Year's Ohana Festival this Sunday, Jan. 11 in Honolulu. The family-friendly celebration will share Japanese cultural and New Year's traditions with residents and visitors alike.
The annual event, always held on the second Sunday of the year, is free and open to the public. Thousands are expected to attend the festival, which includes interactive activities, demonstrations, food booths, craft vendors and live music.
Two stages, on the Cultural Center's lawn and the adjacent field, will provide entertainment including drumming by the Taiko Center of the Pacific, musical guests such as The Royal Hawaiian Band, and Japanese dance groups. The Cultural Center's Kenshikan Dojo will also host martial arts demonstrations showcasing karate, aikdo and kendo.
A mochitsuki (mochi pounding demonstration) is a popular festival event and audience participation is encouraged. Mochi, a festive Japanese treat, can be bought year-round in stores throughout Hawaii, but was traditionally served only during holidays and special occasions in Japan. The process to make the confection from scratch is labor intensive and involves pounding steamed rice with an usu (mortar) and kine (wooden mallet).
Other cultural demonstrations and exhibits will introduce visitors to various Japanese arts including chigiri-e (torn paper art), kumihimo (Japanese braiding), shippoyaki (Japanese enameling), tea ceremonies, origami, mini ikebana (flower arranging), bonsai and Go (a Japanese board game). Some of the demonstrations require additional fees to cover the materials needed to participate.
The Cultural Center's Historical Gallery will be open to the public and free to enter during the festival.
This year 18 food vendors will serve Japanese fare such as andagi (fried buns) and okonomiyaki (savory pancakes), as well as local Hawaii favorites like waffle-wrapped hotdogs, shave ice and frozen gourmet Hawaiian ice pops.
Parking for the festival is available at the University of Hawaii at Manoa structure on Dole Street. There is a flat fee to park, but a free shuttle service to the event is provided.