The 38th Honolulu City Lights Flips the Switch on the Holiday Season this Weekend
Mark your calendars for the comeback of the popular light parade.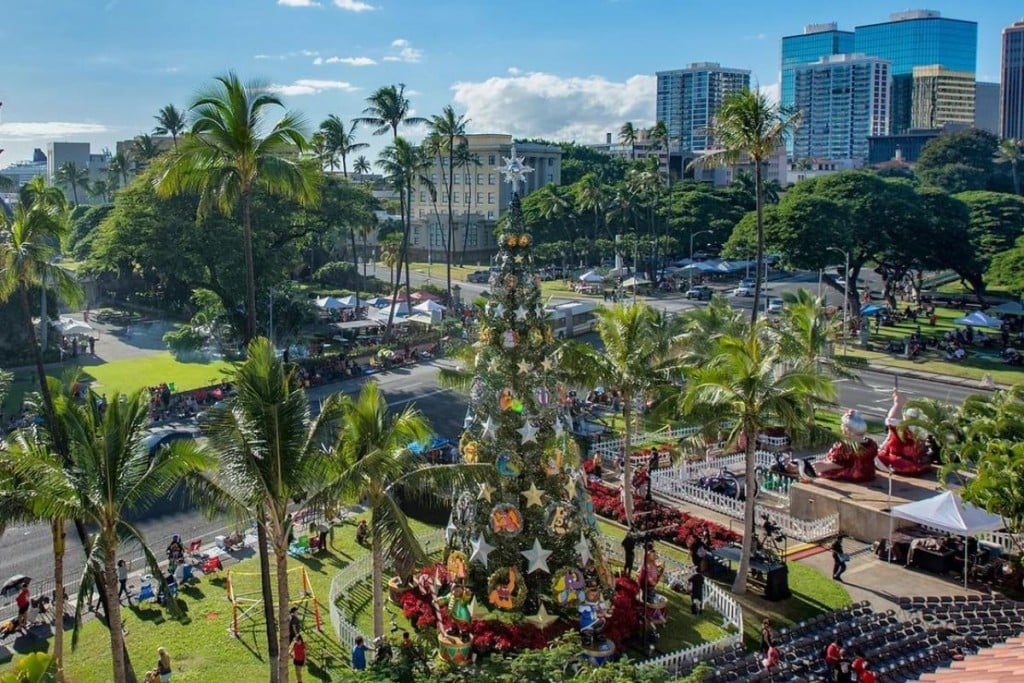 You know there's something in the air when you see a jolly 21-foot Santa Claus flashing a sky-high shaka outside Honolulu Hale.
Although there's no sled riding or frosted windowpanes and the weather outside isn't frightful, Hawaiʻi is still full of holiday cheer. After all, it's the most magical time of the year.
In the Islands, we have our own traditions to celebrate the season. On Oʻahu, the annual Honolulu City Lights is one of the most anticipated holiday festivals every year. Residents and visitors alike walk around larger-than-life Christmas-themed displays and say aloha to giant Mr. and Mrs. Claus. And up until the Covid-pandemic, the annual Public Worker's Electric Light Parade illuminated Downtown Honolulu with colorful floats and brightly lit vehicles while local marching bands filled the streets with spirited anthems.
The festival is presented by the City and County of Honolulu in partnership with the Friends of Honolulu City Lights, a nonprofit organization dedicated to the event. This year, the 38th annual Honolulu City Lights celebration returns to the Frank F. Fasi Civic Center and after a two-year hiatus, so will the parade.
The month-long event kicks off on Saturday, Dec. 3 at 5:30 p.m. with a tree lighting ceremony. Mayor Rick Blangiardi will illuminate Honolulu Hale's 50-foot holiday tree along with the light displays adorning the grounds. Be sure to stick around for the block party to enjoy live performances, food trucks and the bright Christmas displays.
"The holiday season is a truly special time of year, and we are thrilled to bring the Honolulu and Kapolei City Lights back to full capacity in 2022," Blangiardi said in a news release. "Looking back, we have so much to celebrate in 2022 and even more to look forward to in 2023." Blangiardi added he's delighted to see the wreath contest in Honolulu Hale Lane Gallery and most of all, the Electric Light Parade.
After a two-year hiatus, the electric light parade makes it comeback on Dec. 3, celebrating its 30th year being a part of the Honolulu City Lights festivities. Various high school marching bands, agencies and this year's sponsors will entertain the crowds along King Street from ʻAʻala Park to Honolulu Hale. The parade starts at 6 p.m.
For more information, visit honolulucitylights.org.