5 Beautiful Versions of 'Aloha Oe,' Queen Liliuokalani's Most Famous Song
The last ruling monarch of the Kingdom of Hawaii composed this gem in 1878 and the beautiful mele lives on.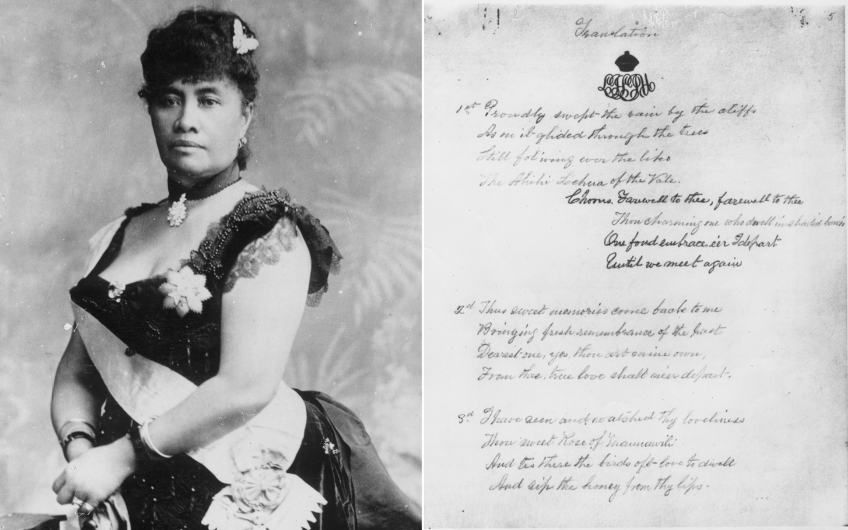 Queen Liliuokalani was the last ruling monarch of the Kingdom of Hawaii, remembered for her intellect, elegance and diligence towards Hawaii's citizens even in the face of the injustice she endured in the overthrow of her governance. Her nobility is readily apparent in her writings—famously, the historical memoir "Hawaii's Story by Hawaii's Queen"—but her storytelling prowess and legacy also lives on in her music. Liliuokalani, like many of Hawaii's royals, was also a notable songwriter who composed beautiful mele (songs) throughout her life.
Her most famous, and best known outside of the Islands, was written before she ascended the throne: "Aloha Oe (Farewell To Thee)" which she produced in an afternoon in 1878 at the age of 40. While riding horseback through the Koolau Mountains at Maunawili Ranch back to her home in Honolulu, Liliuokalani was struck by inspiration.
The "fond embrace" and "farewell" referenced in the lyrics, according to researcher Leslie Ann Hayashi's book "Aloha Oe: The Song Heard Around the World," centers around James Aalapuna Harbottle Boyd, a military official from Honolulu who served the Kalakaua family, of which there are varying accounts. What all agree on is that Liliuokalani was touring the island of Oahu, one of her first official acts as the appointed heir-apparent, and made a stop to Maunawili where the Boyds resided. It's said as her riding party was leaving the home she witnessed the colonel receive a lei and aloha, a goodbye, from a young Hawaiian girl. One version, by author Helena G. Allen in "The Betrayal of Liluokalani, Last Queen of Hawaii," claims the woman was Liliuokalani's sister Princess Likelike, which the biographer contends Boyd was having a romantic affair with, infusing the lover's embrace of the song with a more unrequited subtext.
Whatever the song's narrative source, Liliuokalani began humming what would become "Aloha Oe's" melody. By the time she reached Washington Place, it was complete. It's said that years later following the overthrow that she revisited the song and transcribed it again while under house arrest, which is why today, "Aloha Oe" is also seen as a lament of a lost country.
There are countless versions and musical interpretations of this mele, a select handful we've gathered here. Be sure to see the lyrics below after the videos.
Israel "Iz" Kamakawiwoole, Henry Kapono, Cyril Pahinui and Roland Cazimero
This Hawaiian music all-star recording was filmed at a Hawaiian homestead as part of a larger television special in 1991. Watch it
here
.
Tia Carrere
The Hawaiian actress was also the voice of Lilo's sister, Nani, in Disney's "Lilo & Stitch" which also features the song.
George Kahumoku Jr.
Lovely live rendition by a ki hoalu (slack key) master.
Amy Hanaialii
From the Grammy nominated artist's album, "Nostalgia."
Johnny Cash
Did you know the Man in Black recorded a rendition of this? Definitely an "Aloha Oe" you've never heard like this before, from the late rock and roll and blues icon.
---
Lyrics
Haʻaheo ka ua i nā pali                       Proudly swept the rain by the cliffs)
Ke nihi aʻela i ka nahele                     As it glided through the trees
E hahai (uhai) ana paha i ka liko        Still following ever the bud
Pua ʻāhihi lehua o uka                       The ʻahihi lehua of the vale
Hui (Chorus):
Aloha ʻoe, aloha ʻoe                           Farewell to you, farewell to you
E ke onaona noho i ka lipo                The charming one who dwells in the shaded bowers
One fond embrace,                           One fond embrace,
A hoʻi aʻe au                                     'Ere I depart
Until we meet again                          Until we meet again
ʻO ka haliʻa aloha i hiki mai               Sweet memories come back to me
Ke hone aʻe nei i kuʻu manawa         Bringing fresh remembrances of the past
ʻO ʻoe nō kaʻu ipo aloha                   Dearest one, yes, you are mine own
A loko e hana nei                             From you, true love shall never depart
Maopopo kuʻu ʻike i ka nani             I have seen and watched your loveliness
Nā pua rose o Maunawili                 The sweet rose of Maunawili
I laila hiaʻai nā manu                       And 'tis there the birds of love dwell
Mikiʻala i ka nani o ka lipo              And sip the honey from your lip