5 Cool Things We Found at Merrie Monarch Festival's Invitational Hawaiian Art Fair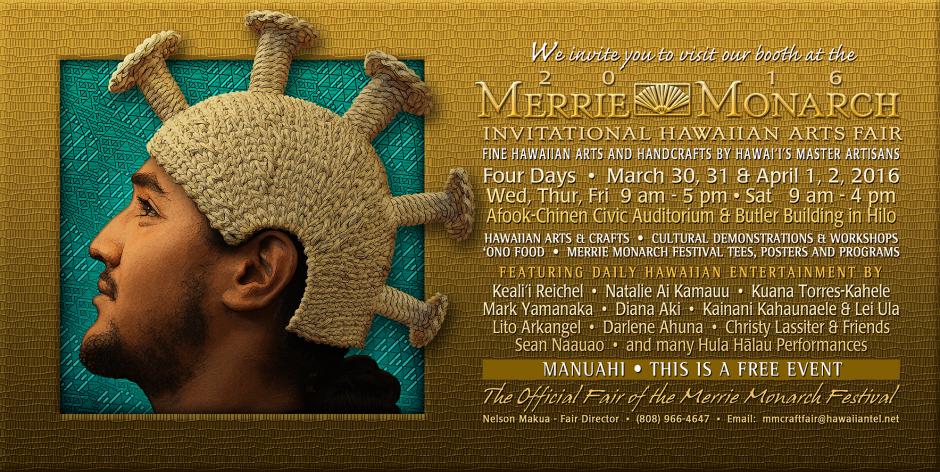 Last week, while the Merrie Monarch Festival's competitive hula dancers performed, the festival's Invitational Hawaiian Arts Fair drew crowds into two buildings on Hilo's Afook-Chinen Civic Auditorium grounds. Dozens of invited vendors offered uniquely Hawaiian products—teas and body tinctures of Hawaiian plants, abundant flower and shell lei, even copies of J.R.R. Tolkien's The Hobbit, translated into Hawaiian.
Here are five cool things we found at this year's art fair:
1. Local Hilo vendor Sew Da Kine's AWA line. In a sort of double whammy homage to Hawaii's multicultural roots, artisan Jessica Cruzan imports Portuguese cork to construct her line of "vegan leather" handbags—some with geometric prints reminiscent of traditional Hawaiian kapa cloth adornments. Cruzan's goal is to bring made-in-Hawaii products to everyone, and she learned her craft making and designing of high-end handbags in New Mexico. Each tote style is named—mahina (moon), niu (coconut), puolo (bag)—and, thanks to its fabric, all are washable, antimicrobial and hypoallergenic.
2. Oahu vendor Rubber Stamp Plantation—usually based behind Honolulu's Ward Village—was selling hundreds of innovative rubber stamp designs reminiscent of the Islands and beyond from its pop-up shop. Debra Zeleznik etches each shape into an eraser before sending it off to make duplicable plates. Her newest line is very geometric and includes interpretations of the Koolaus and the Kakaako skyline. But, you can find a stamp for almost anything Hawaii, from tiki torches and Hawaiiana reminiscent of the 1950s to shaka signs, kalo (taro) leaves, depictions of ipu (gourd drums), awapuhi (Hawaiian ginger) and more.
3. When he's not working as a line cook at Aloha Mixed Plate in Lahaina, Maui artist Daniel K. Kahaialii weaves traditionally shaped mahiole (helmets) from lau hala leaves. Though original mahiole were adorned with feathers, their internal structures sported similar woven frames. Kahaialii sells full-size decorative helmets for displays and popular miniatures that can be hung from the rear-view mirror of your car or pinned to a tightly woven hair bun to add some oomph and Hawaiian pride to your style.
4. Feather standards flown from Molokai filled the table and surrounding floor area occupied by artist Keaohulu. The Hoolehua resident comes from a long line of feather workers and has continued her family's tradition as an apprentice of renowned feather lei maker Aunty Mary Lou (her lei were also on sale at the fair). What made this booth different, however, was the chance to watch Keaohulu's husband in action, selecting tiny tufts of feather clusters and sewing them with tiny stiches to a fishing net, forming a full-blown ahu ula (cape) for his youngest son. The task he said, would take him until he was back for the next Merrie Monarch.
5. The floral fragrance that annually greets visitors from lei vendors lining the auditorium entrance was just as strong this year, even though most vendors opted not to bring any made with ohia lehua, an important cultural flower. The tree on Hawaii Island is afflicted by a contagious fungus and pamphlets about Rapid Ohia Death were prominently placed on several vendor booths.