5 Great Okazuya Lunch Spots in Hilo
Not all that long ago, in a city far, far away (from Honolulu), there were many people who swore Hilo had the best okazuya in Hawaii.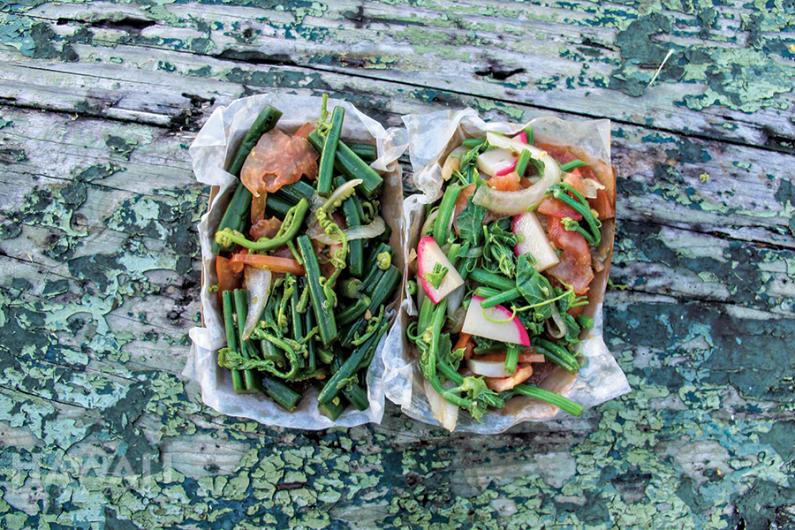 Not all that long ago, in a city far, far away (from Honolulu), there were many people who swore Hilo had the best okazuya in Hawaii.
So what if most of those people lived in Hilo? It was true. The breed of take-out lunch shop known as okazuya—a Hawaii-born amalgam of the Japanese words "okazu" (side dish) and "ya" (shop)—really were better in Hawaii Island's city by the bay. Better local comfort food favorites—nori-wrapped chicken, shrimp tempura, teriyaki beef, sushi and musubi, nishime, shoyu hot dogs and chow fun noodles, among them. Better variety at each shop. And okazuya were plentiful, each stocked with platters loaded with goodies tucked behind glass showcases like mouthwatering culinary jewels.
The unspoken ordering system was simplicity personified. Enter. Select a la carte as a counterperson tidily compartmentalized each choice in a paper box (or two, or three). Pay. Leave. Enjoy!
In the mid- to late-20th century, there were many Hilo okazuya—a remnant of the early days of Hawaii's planation era, when enterprising housewives sold bento lunches to laborers working the fields. Mostly family-run and always open before sunrise, Hilo okazuya lured folks on the way to work with the promise of a plate of their favorite eats, easily tucked away until they were ready for lunch at the desk, on the construction site or in the park outside the office.
Honolulu always had more okazuya. It still does. But Hilo's most popular lunch shops are bonafide institutions. Hilo Lunch Shop, for example, which boasts the largest daily array of classic okazuya options and longtime hot and cold faves from Hawaii's myriad multicultural cuisines. And Kawamoto Store, remaining true to okazuya's no-hot-items roots, its rustic interiors unchanged for as long as most can remember.
On trips back to Hilo since moving away after high school, I've often found favorite okazuya shuttered. Sadly, the reason is less often due to a lack of customers than the disinterest of younger generations in taking over the family business. It's a tough life waking up long before dawn to craft all of the food, closing in the afternoon, sleeping just after sunset and repeating daily.
These days, to please a wider customer base, there are fewer pure okazuya in Hilo than hybrid lunch shops selling hot items, plate lunches or burgers and sandwiches alongside okazuya favorites. But you can still find a good okazuya or old school lunch shop serving okazuya favorites in Hilo if you know where to look. On a recent visit, we hit these five shops and ate takeout until we were tuckered out.
Our best advice? Go early. The best Hilo lunch shops begin running out of favorites mid-morning and sometimes end up closing long before lunch. Really.
Hilo Lunch Shop
421 Kalanikoa St.,  (808) 935-8273
Start figuring out what you want to eat as soon as you approach the door. There's always a horde of hungry Hiloans at Hilo Lunch Shop, and if there isn't, there probably isn't any food either. The line stretches along the lengthy display case of room-temperature okazuya favorites and hot dishes, and over to a glass refrigerator of cold items. Settle down, you'll be spending some time here.
Bring a friend. There's simply too much you'll want to order. Hot dog, teri beef, tuna and Spam musubi. Assorted tempura, with the best of the bunch a veggie tempura ball with slivers of carrot, green bean and onion. The second-best nori (seaweed)-wrapped fried chicken in Hilo. And then there's my small-kid-time favorites from the cold case, both of which I've found for sale a la carte only at Hilo Lunch Shop: pipinola (chayote squash shoot) and hō'i'o (fiddlehead fern) salads.
Must-eat: Everything above, especially the local delicacy hō'i'o (called by its Japanese name "warabi" at Hilo Lunch Shop) and pipinola salads, plus shoyu pork and corned beef hash patties.
Kawamoto Store
784 Kīlauea Ave., (808) 935-8209, kawamotostore.com
Kawamoto Store is the only lunch shop in Hilo that still looks like a classic okazuya, presenting its array of eats behind the paneled glass of a vintage wood-constructed showcase that's as old as the store. The older I get, the more I love that nearly all of the choices here are authentic to a classic okazuya. True to its old-world origins, the showcase has no heating elements. The food is brought hot from the kitchen on trays and placed in the showcase.
Kawamoto Store has the best selection of fish katsu—lightly breaded, salt-kissed ahi, mahimahi and ono (wahoo) fillets—and tastiest shrimp tempura—thin-battered yet mega-crunchy and meaty. You'll also find nishime (a stewed, plantation-era Japanese vegetable and chicken dish), sweet long rice noodles and vegetables, and cone and roll sushi. Bonus? A la carte prices here were the least expensive of all the lunch shops I visited.
Must-eat: Shrimp tempura, all fish katsu varieties, shoyu chicken and sweet chicken tofu with vegetables.
Hiro's Place
50 E. Puainako St., (808) 959-6665
More all-purpose take-out place (there's a burger and loco moco menu) than traditional lunch shop, Hiro's still had the best nori chicken—boneless chicken pieces rolled in mochiko rice flour, wrapped with a strip of seaweed and deep fried—of all the places I visited. The modern-day lunch shop staple was crispier on the outside and more tender and flavorful on the inside than all others. Other than the nori chicken and sweet-and-savory shoyu hot dogs, however, the okazuya selections I tried here were largely mediocre.
Must-eat: Nori-wrapped fried chicken.
Asami's Kitchen
308 Kīlauea Ave., (808) 935-2242
Asami's doesn't offer as large a selection of okazuya and lunch shop favorites as Kawamoto Store and Hilo Lunch Shop. I did appreciate, however, that the downtown Hilo establishment's menu largely stuck to old-school lunch shop tradition (no burgers or sandwiches, no plate lunches). The boneless fried chicken—skin-on floured, deep fried and simply salted—was crunchy, flavorful and went perfectly with a nori-wrapped musubi, plump shoyu hot dogs and an order of salty-sweet teriyaki mini-meatballs. Simple goodness.
Must-eat:  Boneless fried chicken.
Kum-Yo's Okazuya
399 E. Kawili St., (808) 933-1335
Kum-Yo's doesn't serve classic okazuya fare. Save for Spam musubi, it also doesn't really sell traditional lunch shop faves either. What Kum-Yo's does, however, is take the okazuya concept of ordering items a la carte and apply it to Korean food favorites. Cool idea, if you're really hungry for a variety of Korean eats. I've had better Korean food elsewhere, tho'.
Must-eat:  Nothing in particular stood out.