5 Hawaiʻi Children's Books Sure to Please Your Favorite Keiki
Here are some lively reads by local authors about the 50th state.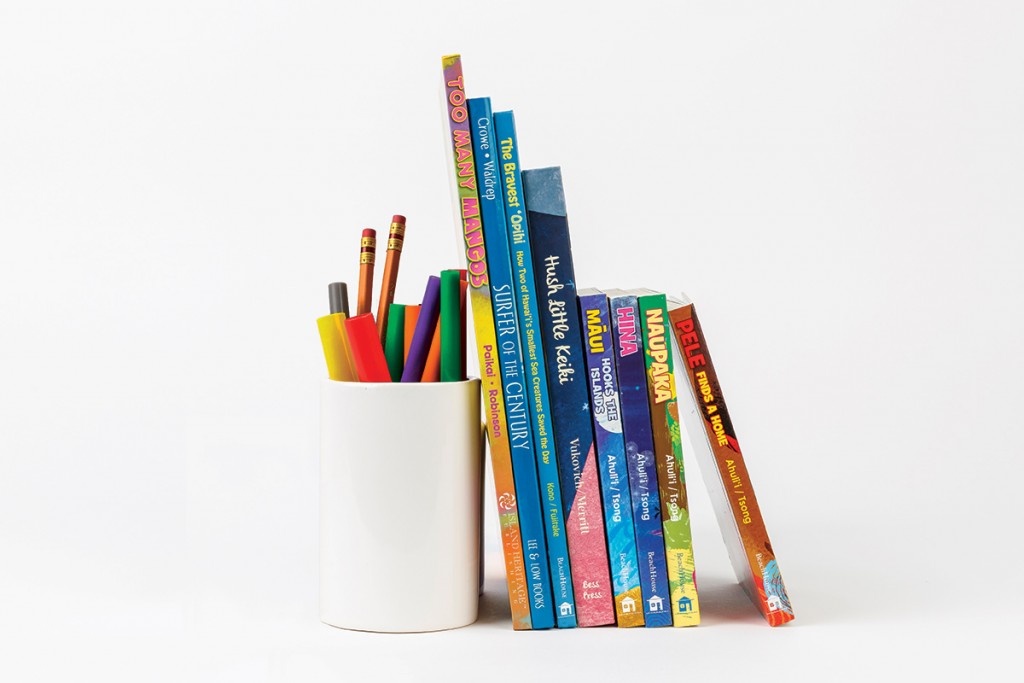 Hawai'i has a thriving regional publishing industry, complete with a children's book scene crowded with fantastic titles. It's also a favorite topic for national children's book publishers looking to celebrate the story of diversity in America. Here are five favorites by local authors about the 50th state.
Hawaiian Legends for Little Ones: Naupaka, Hina, Maui Hooks the Islands and Pele Finds a Home by Gabrielle Ahuli'i (Beach House Press)
Childhood is the right time to introduce age-old cultural stories—and it's never too early with Beach House Press' excellent board-book series of Hawaiian legends. Some of Hawai'i's most famous legends are featured in these sturdy little tomes, just right for small hands, from the riveting tale of how the demigod Māui accidentally fished the Hawaiian Islands up from the ocean floor to the enchanting tale of why Hawai'i's beloved native naupaka plants, found in mountainous and shoreline regions, seem only to bloom with half a flower.
Hush Little Keiki by Kim Vukovich (Bess Press)
Keiki is the Hawaiian word for child, and in this tender board book readers are taken on a gentle journey toward bedtime, around some of the Hawaiian Islands' most peaceful scenes: a humpback whale frolicing in the ocean, mynah birds gliding across the sunset, nightfalls crowded with stars. This Hawai'i take on the traditional lullaby, "Hush Little Baby," which celebrates the enchanting natural bounty of the Hawaiian Islands, will feel both new and comfortingly familiar.
The Bravest 'Opihi by Juliet Kono (Beach House Press)
This now-classic picture book retells a favorite Hawaiian legend for children: the story of two tiny creatures that save the day. When a young girl is kidnapped by the Great Puhi, an evil eel, and held captive in his deep ocean cave, her brother begs all the sea creatures in turn to help him and is refused by everyone—until he asks the smallest of them all, the tiny limpets, or 'opihi. This story of how even the smallest creature can make a big difference will resonate with children everywhere.
Surfer of the Century: The Life of Duke Kahanamoku by Ellie Crowe (Lee & Low Books)
Duke Kahanamoku was quite real, but this Native Hawaiian waterman lived a legendary life. As a child, Kahanamoku loved the ocean and surfed the waves on his papa nui, a traditional Hawaiian longboard. His early training served him well, as he became a five-time Olympic gold medalist and world record-holder for swimming. Kahanamoku, who was also a lifeguard, actor, businessman and cultural ambassador, also brought the Hawaiian sport of surfing to the world. This inspiring biography from diversity-oriented children's book publisher Lee & Low and Honolulu author Ellie Crowe tells a story of perseverance and the aloha spirit.
Too Many Mangos by Tammy Paikai (Island Heritage)
One of the best things about Hawai'i's older neighborhoods is the profusion of backyard mango trees, their branches loaded with the heavy, perfumed red and orange fruit every summer. This nostalgic picture book, inspired by the author's childhood memories and illustrated in glowing pastels, follows Kama and Nani as they get a bit too enthusiastic about their grandpa's request that they pick some mangoes—and then embark on a neighborhood sharing adventure that teaches them about the beauty of community.
Lavonne Leong is a journalist, mom of two girls, grandma of two guinea pigs and the author of the children's book "Up in the Hawaiian Sky" (Beach House Press).