5 Hawaiʻi Coffee Table Books You'll Love
From Hawaiian cuisine to perfect shorebreak waves and kanaka maoli literature, these five coffee table books are necessary additions to any Hawai'i lover's library.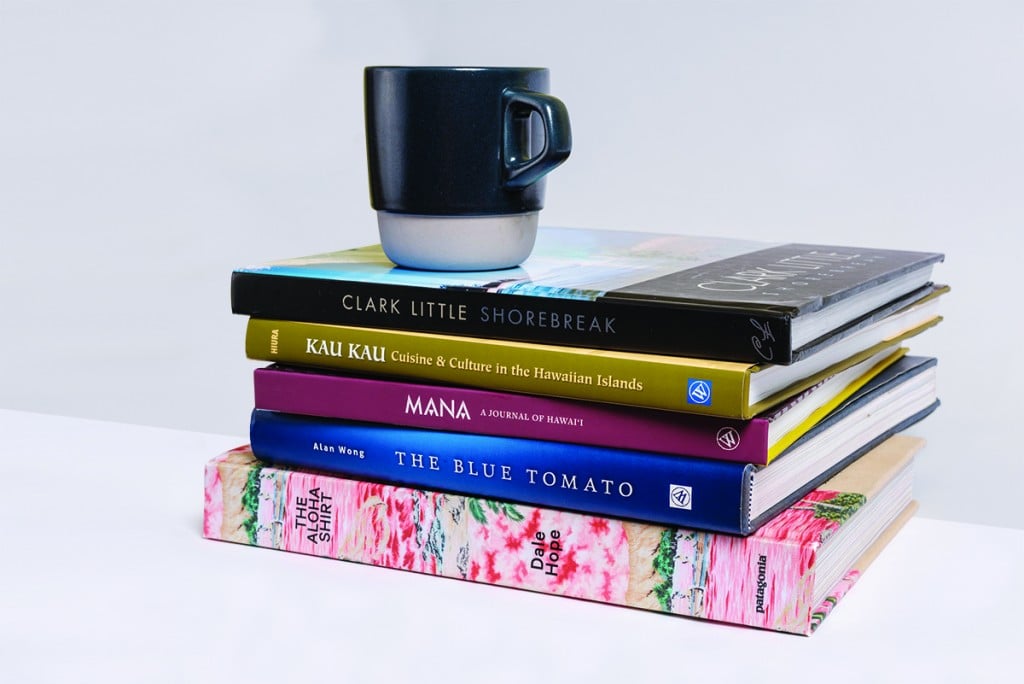 From the history of high-end audio design to unfiltered glimpses of Brooklyn's intimate inner-city streets, it seems there's a coffee table book for every subject. Fortunately, that applies to Hawai'i, too. So if you're looking to spruce up your home with Island-inspired tomes filled with glossy pages and attractive covers, check out these five coffee table books. 
If you want to learn and understand modern Hawai'i culture, look at what locals eat: Many of our comfort foods are products of our multicultural population. Hawai'i Island-based writer and editor Arnold Hiura knows this, and has curated historic photos, nostalgic menus and more than 70 Island-style recipes in this love letter to local-style cuisine.  
An anthology of articles from Mana Magazine—published by the parent coʻi 'll mpany of HAWAI'I Magazine from 2012 to 2015 to give a voice to the Native Hawaiian community—this book gathers some of the magazine's most insightful pieces and inspiring photographs and puts them into one gorgeous coffee table book filled with kanaka maoli (Native Hawaiian) culture and history.  
One of the 12 co-founders of the Hawai'i Regional Cuisine movement, James Beard Award-winning chef Alan Wong is one of the state's top culinary icons and restaurateurs. The local boy even put together a lū'au at the White House for President Barack Obama in 2009 and served as a guest judge on Bravo's "Top Chef" in 2006. In this cookbook—his second—Wong shares his personal journey to becoming one of Hawai'i's top chefs. The book also includes over 200 recipes, from coconut butter-poached lobster to wagyu-wrapped 'ahi.  
An intimate look at the history of one of the Islands' most revered pieces of apparel, Dale Hope expertly stitches together bodies of text that detail the aloha shirt's past and present, while also touching upon numerous aspects of Hawai'i's history and beach culture. Within the pages of this book are countless prints and designs of vintage aloha shirts, many of which are collector's items from Hope's personal inventory.  
"
Shorebreak
," by Clark Little, $75
There's something endlessly alluring about the perfectly oval and relentlessly turquoise waves featured in the photography of Clark Little, a master at capturing waves breaking on Hawai'i's shorelines on camera. While buying just one of his prints could cost hundreds of dollars, "Shorebreak" features over 100 photos of waves taken across the globe, from O'ahu's North Shore to Japan and French Polynesia, at a much more affordable price.