5 Maui Mocktails That Will Rock Your Boat
These handcrafted zero-proof tropical drinks are so good you might not even notice they're booze-free.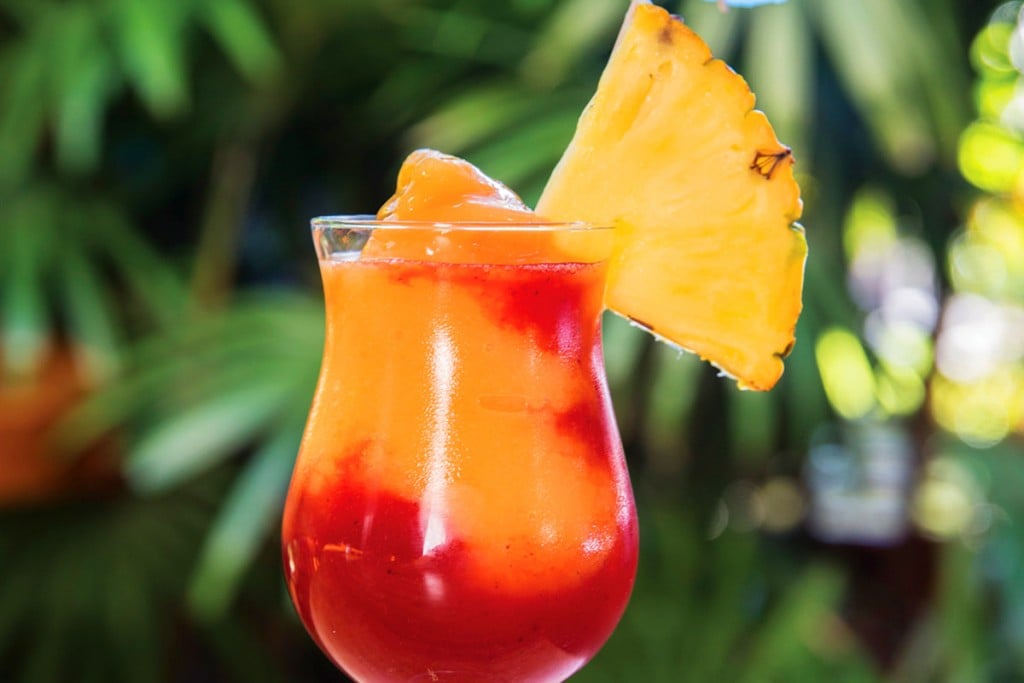 Several Maui restaurants have dedicated zero-proof menus for patrons who want to enjoy beverages sans alcohol, which isn't a bad idea following an overindulgence of food and drink during the holidays. Dubbed mocktails—mock cocktails—these handcrafted drinks are made with fun ingredients such as housemade syrups, local fruit juices and muddled herbs. They're so good, you might not even notice they don't have any booze in them.
The Frida Refresher
Located at the south end of Front Street in Lahaina is Frida's Mexican Beach House Restaurant. While the hip, oceanfront eatery is known for its extensive tequila and mezcal menu, including top-notch margaritas, owners Judy and Mark Ellman created an "On the Wagon" drink menu featuring lemonades and teas. The standout, though, is The Frida Refresher. This drink says it all in the name. It's made with fresh lime, agave, coconut water and verdita. Meaning "little green" in Spanish, verdita is made with cilantro, mint, jalapeños and pineapple juice. This green elixir is sure to reinvigorate you. 1287 Front St., Lahaina, (808) 661-1287, fridasmaui.com.
Ginger Rosemary Lemonade
This isn't a humdrum, saccharine lemonade we're talking about. The Pour House Italian Kitchen and Wine Bar specializes in farm-to-glass cocktails, including its nonalcoholic housemade lemonades. We enjoyed the ginger rosemary version. It's a spicy yet sweet beverage made with ginger, lemon, honey, soda and rosemary. This lemonade both tastes and smells delicious. 700 Office Rd., Kapalua, (808) 214-5296, thepourhousekapalua.com.
Lime in the Mac Nut
This milky-looking drink, made at The Mill House, is crafted with macadamia nut, fresh lime and soda. The sharpness of the citrus hits you first and rounds out with a smooth, almost creamy aftertaste thanks to the mac nuts. Lime in the Mac Nut is part of the restaurant's alcohol-free menu, featuring Fresca, fresh-squeezed juices and plantation ice tea. Maui Tropical Plantation, 1670 Honoapiilani Hwy., (808) 270-0333, millhousemaui.com.
Maui Cruiser
If you're craving a tropical cocktail such as a lava flow, Blue Hawaiian or strawberry daiquiri, look no further than the Maui Cruiser. Part of the mocktail menu at Hula Grill Kaanapali, this drink is a flavorful fruit smoothie and is even served in a hurricane glass with a tiny umbrella like its boozy cousins. The Maui Cruiser is made with fresh pineapple, orange, guava, passion fruit juices and is blended with strawberry and mango purée. Whalers Village, 2435 Kaanapali Pkwy., Lahaina, (808) 667-6636, hulagrillkaanapali.com.
Mint and Lemongrass
Ko Restaurant at the Fairmont Kea Lani in Wailea has its own special zero-proof menu. For a mocktail with a kick, order the Mint and Lemongrass. This tangy drink is made with lemongrass simple syrup, freshly squeezed lime juice, muddled mint and tonic water. The end result is a light, fizzy citrus drink. 4100 Wailea Alanui Dr., Wailea, (808) 875-2210, korestaurant.com.