5 Must-See Oahu Historic Sites You Haven't Been To Yet
It's not uncommon to walk right past an important archaeological site on Oahu and not even know it.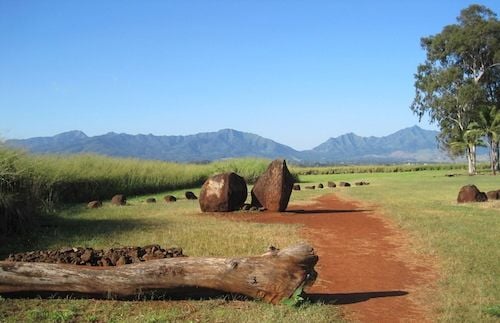 It's not uncommon to walk right past an important archaeological site on Oahu and not even know it.
It happens all the time in Waikiki.
Right outside of a police substation on Kalakaua Avenue, near the beachside statue of Hawaii Olympian Duke Kahanamoku, stands a cluster of rocks. Most people walk right past the four stones, surrounded by a metal fence. Actually healing stones, the pohaku (sacred stones) are a part of Hawaiian history and culture.
The legend of the pohaku tells of four healers—Kapaemahu, Kapuni, Kinohi and Kahaloa—who arrived from Tahiti, settled in Waikiki and became renowned throughout Oahu. Eventually planning their return to Tahiti, the healers wanted their presence and power to remain on Oahu in a tangible form. So they placed their healing powers—or mana—in each of these stones to be used by the Hawaiian people in their absence.
The stones were lost for decades and later found after the demolition of a bowling alley in 1958. (They were used in the building's foundation.) The stones were relocated to Waikiki's Kuhio Beach in 1963, then moved in 1980 to where they remain today.
Inaccruately called "wizarding stones," this important archaeological site is now called Na Pohaku Ola Kapaemahu a Kapuni.
Travel around Oahu and you'll find even more culturally and historically significant sites. Some are more accessible than others, but all are worth visiting.
Here are five to get you started:
Ulupo Heiau State Historic Site
You wouldn't expect to find a heiau (a Hawaiian temple) right behind a YMCA. But that's exactly where you'll find Ulupo Heiau, the second-largest such temple on Oahu.
The structure, located in the Windward Oahu town of Kailua, measures 140 feet by 180 feet with walls up to 30 feet in height. Built on the eastern edge of protected Kawai Nui Marsh, another site important to the Hawaiian culture, Ulupo Heiau may be more than 400 years old.
According to legend, the heiau was built by menehune (a legendary race of little people in the Islands). Oahu chiefs such as Kakuhihewa and Kualii participated in ceremonies at this sacred site, later abandoned in the 1780s when O'ahu was conquered by Kamehameha the Great. The structure's origins may have been as an agricultural heiau, with springs feeding crops of taro, sweet potato and banana. Kualii, however, may have converted it in his time to a heiau luakini (sacrificial temple), with an altar, an oracle tower and wooden images.
A short drive north on the Windward Oahu coast from Ulupo Heiau is another historic site that anyone can visit, tour and, on certain days in the summer, fish.
One of Oahu's most historic Hawaiian fishponds, He'eia Fishpond hosts community fishing events over several days each summer, where people can cast their fishing rods into the 800-year-old fishpond, currently under restoration.
A source of food for ancient Hawaiians who lived in this area, the walled fishpond encloses 88 acres of brackish water. It is built on a fringing reef extending from the shoreline into Kaneohe Bay. The ocean-facing wall of the fishpond is 1.3 miles long, forming a circle around it.
The nonprofit Paepae O Heeia (www.paepaeoheeia.org) cares for, protects and is in the midst of restoring this natural resource. The organization offers two types of fishpond tours: a one-hour guided walking tour and three-hour field trips for larger group. The three-hour trips include a service project working in the fishpond.
Kukaoo Heiau
Located in the backyard of one of Oahu's most prominent homes, Kukaoo Heiau in urban Honolulu's Manoa Valley is an ancient agricultural temple believed built hundreds of years ago by the valley's earliest Hawaiian residents.
Restored in 1933, the heiau neighbors a Tudor revival style residence built in 1911 and also considered a historic site.
The nonprofit Mānoa Heritage Center (808-988-1287, www.manoaheritagecenter.org), which is housed on the property, offers one-hour guided tours of the historic home and this heiau.
Puu o Mahuka Heiau
O'ahu's largest heiau is Puu o Mahuka Heiau, overlooking O'ahu's North Shore.
Perched on the Pupukea cliffs above Waimea Valley and Bay, and believed to be more than 400 year sold, the heiau is comprised of three adjoining walled enclosures covering nearly two acres. The temple was once an important element of the social, political and religious systems of the valley's earliest Hawaiian residents.
Down below, Waimea Valley itself claims 78 archaeologically significant sites, including religious temples, fishing shrines, fishponds and house sites.
Kukaniloko Birthstone State Monument
Kukaniloko Birthstone State Monument is located on a five-acre field in the central Oahu's upland Wahiawa town, considered the piko (Hawaiian for "belly button") of the island. The roughly 180 lava-rock stones of the monument, once used as a royal birthsite, are believed to possess the power to ease the labor pains of childbirth. It is also estimated to be more than 900 years-old.
Tips for visiting Hawaii archeological sites:
Hawai'i's archeological sites are fragile and subject to damage and collapse. Pay proper respect these historic and cultural places by following these tips.
• Learn some history before you go. Doing some research on the culture and history of these sites before you visit is always a good idea. Many of the sites lack interpretative signs or brochures, so learning  a bit about their importance will give you a great appreciation for and deeper connection to the site.
• Be quiet. Being respectful of these sites—many of them sacred to Hawaiians—is important. Sometimes, that means taking in everything you see in silence.
• Visit from the outside. This is particularly true for places with rock walls. Don't climb on the walls or over them as the stacked rocks may be unstable and collapse.
• Don't take anything. It's unlawful to take, excavate, destroy or alter any historic site on state land. Any person who violates this law is subject to a fine of $10,000.
• Don't leave anything. It's not appropriate to leave offerings at these historic and cultural sites. No rocks wrapped in ti leaves. No incense. No bottles of alcohol. This is not appropriate.