5 Places to Get Locally Made Produce and Products on Maui
Looking for made-in-Maui produce? Don't worry, the Valley Isle has it all, from goat cheese to wine and even honey.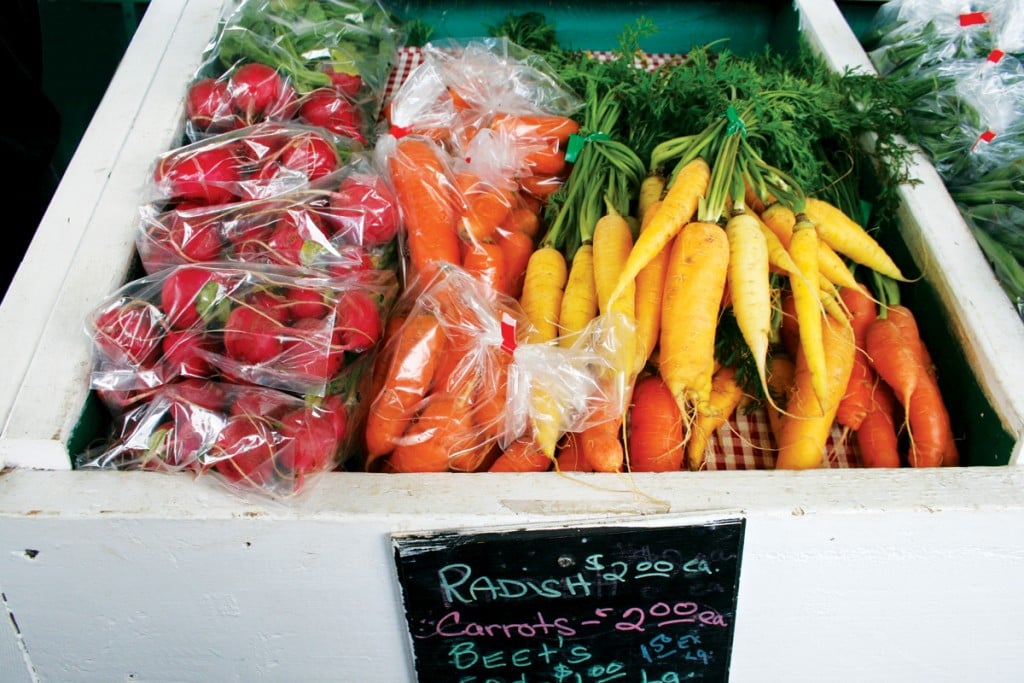 Like its island siblings, Maui is home to an eclectic crew of farmers, growers, goat-raisers, beekeepers and wine tasters. Thanks to the islands and their tropical climes, so much can grow here in Hawaiʻi, and produce flows from every town, farm and valley. So if you're looking for made-in-Maui products, the real challenge is sifting through all of your options and choosing where exactly to spend your money. We've put together a list of five spots that deal in Maui-made goods—from cacao to goat cheese—to make your hunt for island produce even easier.
1. MauiGrown Coffee
While Kona Coffee may be Hawaiʻi's top dog—in terms of island-grown beans—almost every island in the state produces its own variant. MauiGrown Coffee, located in the ever-thriving Lahaina town, is solely dedicated to promoting coffee grown in Maui soil. And while the island isn't known for its coffee, you would be surprised by the number of choices customers are given when perusing MauiGrown Coffee's online store. From the medium-bodied Kaʻanapali Golden Estate to the Lahaina Beach roast, which tickles the tongue with hints of spice, there's almost certainly a Maui-grown bean out to match everyone's tastes.
277 Lahainaluna Rd., Lahaina, the physical location is currently closed due to COVID-19, purchase online at its website.
2. Kula Country Farms
If you're looking for a wide selection of locally grown produce, then you'll want to make your way upcountry, specifically to Kula Country Farms. Known for its succulent strawberries, the farm—which has been in the family for four generations—sells everything it grows at its adorable farmstand. Better yet, the farmstand also acts as a storefront for other Maui farms looking to sell their fruits, veggies and greens, making it a great place to go if you want to get a solid understanding of what local Maui farmers are producing. And if you're visiting in October, you have to check out the Kula Country Farms' fall pumpkin patch, where you and your keiki (children) can go to pick your own pumpkin.
6240 Kula Highway, Kula, open 9 a.m. to 4 p.m. Monday through Saturday, kulacountryfarmsmaui.com.
3. Maui Bees
View this post on Instagram
Another Kula-based business, Maui Bees has been committed to producing quality honey—and educating visitors and locals about beekeeping—for over a decade. Selling two varieties of honey based on the season, the summer honey is tinged with floral notes and subtle spices, while the winter variant comes with caramel undertones. Even if you're not a fan of the sweet stuff, a visit to Maui Bees also offers educational tours as well as a farm kitchen that has new weekly menus concocted by local chef Larry Duran. You could say a day at Maui Bees is … the bees' knees.
150 Pulehunui Rd, Kula, open 8:30 a.m. to 5 p.m. daily, mauibees.com.
4. Maui Kuʻia Estate
Feel like Charlie Bucket and visit this Maui-based chocolate factory—don't worry, no golden ticket required. Located within the ahupuaʻa, or traditional Hawaiian land division of Kuʻia, this cacao farm has over 8,000 trees across twenty-plus acres. While the chocolates are sweet, nothing is sweeter than knowing all profits made by Maui Kuia Estate will go toward Maui charities and nonprofits in the community. And the farm is environmentally responsible, utilizing solar energy as to not leave a carbon footprint and to take care of the aina (land). Now that's sweet.
78 Ulupono St, Ste 1, Lahaina, open 9 a.m. to 3:30 p.m. daily, mauichocolate.com.
READ MORE: 5 Reasons You Want to Eat Maui Kuʻia Estate Chocolate
5. Surfing Goat Dairy
If you love goats, and goat cheese, then oh boy, you'll love the Surfing Goat Dairy. A farm tour at Surfing Goat Dairy gets you a tour of the beautiful property, which rests on the lower slopes of Haleakalā, Maui's largest volcano, and you also get to meet—and feed—the goats who produce the farm's signature goat cheeses. While most think of goat cheese as having a … strong flavor, the cheeses produced by this Maui goat farm are considerably softer and more palatable than other goat cheeses. And the quality of cheese hasn't gone unnoticed, with the farm winning 18 national awards. Why is the cheese so good? Well, the goats get to call Maui home, so they're probably pretty happy about that.
3651 Omaopio Rd, Kula, open 10 a.m. to 4 p.m. Tuesday through Saturday, closed on Mondays and Sundays, (808) 878-2870.