5 Reasons You Want to Eat Maui Kuʻia Estate Chocolate
Not that you really need a reason to try this high-quality, locally crafted chocolate.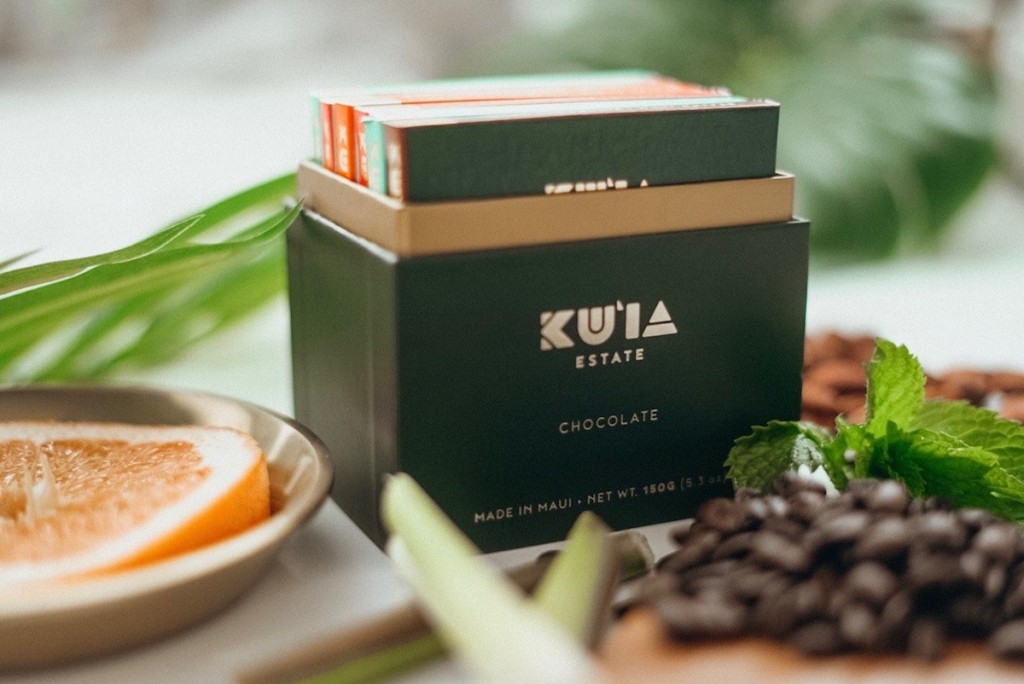 No one ever needs a reason to enjoy chocolate. But Maui Kuʻia Estate Chocolate, which will open its doors to the public in Lahaina next month, is a must-try when visiting Maui.
Kapalua resident and former biotech scientist Gunars Valkirs started the company in 2013 with new cacao trees on 20 acres of former sugarcane land in Lahaina. He harvested the first cacao crop in 2018, and the process of creating Maui's first farm-to-bar chocolate experience.
I got a chance to tour the brand new factory, located at the top of the industrial area on Kupuohi Street across Star Noodle. The facility is as beautiful as it is functional, built to process the cacao and make the chocolates in the back, while offering a retail shop and chocolate-themed café in front. This space will also feature a chef's table for private dinners and workshops, while the open-air pavilion on the second floor—which has 360-degree views of West Maui—can be rented for private parties.
So why do you want to try this new chocolate?
1. For one thing, it tastes good.
The factory uses state-of-the-art machinery and technology to ensure the chocolate produced is extremely high quality. Even for my untrained palate, I could tell the chocolate flavor was nicely balanced and had a very silky texture. Maui chef Ed Morita could tell instantly that the chocolate was superior—"rich, smooth and fruity"—and immediately ordered some to use at Old Lahaina Lūʻau, Star Noodle and Aloha Mix Plate.
2. There's a variety of flavors.
Valkirs is a chocolate purist—and a dark chocolate purist at that. But knowing that many people around the world have different tastes, his team developed 10 flavors to start: dark, dark Maui coffee, dark peppermint, dark blood orange, dark lemongrass, dark milk, dark milk Maui coffee, dark milk peppermint, dark milk blood orange and dark milk lemongrass. (Morita's—and my–personal favorite is the coffee blend.)
3. It's locally made.
Some of the chocolate is currently a blend of cacao grown on farms in Ecuador and in the Amazon in Brazil. These chocolate products will be designated as "Made in Maui" and sold as Kuʻia Estate Chocolate. As production increases on the farm, so will production of products made exclusively with cacao grown at Maui Ku'ia Estate. All chocolate made from cacao grown on the Maui Kuʻia Estate Cacao farm will be designated "Grown and Made in Maui" will be sold as Maui Kuʻia Estate Chocolate.
4. It benefits Maui nonprofits.
Valkirs came out of retirement to start the company and increase what he gave back to the Maui community. Maui Ku'ia Chocolate's price list to wholesalers is completely transparent to ensure that 100% of net profits go to Maui charities and nonprofits in the community.
5. It's environmentally responsible.
At 9,000 square feet, the chocolate factory is the largest in the state of Hawai'i—yet it's thoughtfully designed to leave a negative carbon footprint. It's powered by solar panels and stored in Tesla batteries; even the parking lot offers free Tesla car charging stations.
You don't have to wait until the factory opens to get your chocolate fix: Maui Kuʻia Estate Chocolate is already available online at mauichocolate.com.