6 Hawaii bakeries you haven't visited yet but should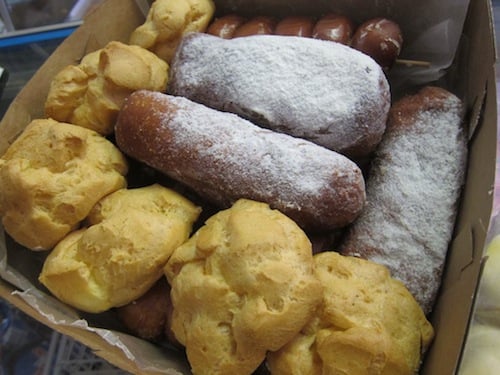 There's no shortage of bakeries across Hawaii, serving everything from exotic Japanese cake rolls to old-fashioned apple pies to extravagant modern desserts.
There are old-time neighborhood bakeries like Kamehameha Bakery in Kalihi on Oahu that sells some of the best—and inexpensive—glazed donuts around. Or donut shops like Regal Bakery—three locations on Oahu—with its creative donuts, including a popular maple-bacon yeast donut and its version of the layered (and trademarked) Cronuts invented by James Beard-nominated pastry chef Dominique Ansel in New York City. There are ethnic bakeries, French patisseries and the hole-in-the-wall shops that sell their own unique desserts.
There really is something for everyone with a sweet tooth.
So much so, in fact, that we decided to pull together a list of our 6 Favorite Hawaii Bakeries You Might Not Have Visited Yet But Should. Our list spans the Islands from downtown Hilo to Lihue, Kauai, and points in between.
Haven't had dessert yet today? Get that sweet tooth sated with these 6 great Hawaii bakeries.
• Deluxe Pastry Shop
45-1042 Kamehameha Highway, Kaneohe, Oahu, (808) 247-4235
Deluxe Pastry has an unusual assortment of pies—and we mean that in a good way—and, arguably, the best cream-filled Long Johns on Oahu. Custard pie lovers will also be in heaven here, as the bakery makes several different versions of the pie including apple, coconut and a unique lemon custard with a spongy cake and a tart lemon cream. Check out next-door neighbor Kaneohe Bakery, too, which also has a solid collection of pies and pastries.
• T. Komoda Store & Bakery
3674 Baldwin Ave., Makawao, Maui, (808) 572-7261
This old-time bakery in Upcountry Maui first opened as a neighborhood general store in 1916. When it moved to its current location across the avenue in the '40s, it began selling baked goods, too. Though still a general store, T. Komoda is more famous these days for those baked goods and pastries—in particular, its cream puffs, long johns and glazed donut sticks—and popular with residents and visitors.
Sweets at Short N Sweet Bakery in Hilo, on the Big Island
• Short N Sweet Bakery Market Cafe
374 Kinoole St., Hilo, Big Island, (808) 935-4446, www.shortnsweet.biz
Its offerings dreamy and creative, Short N Sweet's fresh pastries, desserts, artisan breads, bagels and croissants are some of the best you'll find on the Big Island. Its menu also includes breakfast and lunch items such as salads, sandwiches and paninis, and quiches. For dessert, try the fresh mango custard torte, lemon clouds or flourless chocolate cake topped with an airy dollop of whipped cream.
• Fendu Boulangerie
Manoa Marketplace, 2752 Woodlawn Drive, Manoa Valley, Oahu, (808) 988-4310
There aren't many bakeries in Hawaii that specialize in European-style breads and pastries. But Fendu Boulangerie, located in a small neighborhood shopping center in Oahu's Manoa Valley, offers some of the best Euro dessert treats you'll find in the Islands, including classic Danish pastries, croissants and macarons. One of Fendu's most popular menu items is its lychee streusel Danish with frangipane, sweet lychee and a nutty streusel. Don't miss Fendu's Valrhona chocolate mousse—silky-smooth and perfectly paired with a fresh lilikoi (passion fruit) sauce.
Lemon crunch cake from The Alley in Aiea, on Oahu
• The Alley at Aiea Bowl
99-115 Aiea Heights Drive, Aiea, Oahu, (808) 488-6854, www.aieabowl.com/restaurant
It's not often you find a great little bakery in a bowling alley. The Alley, though, is more than just a bakery. It also serves a full menu of food items including a popular oxtail soup (voted "Best Oxtail Soup" in HAWAII Magazine's 2013 "Best of Hawaii" issue), fried noodles and its award-winning Tasty Chicken. But hungry fans of The Alley come for the desserts, too—blueberry and cream cheese scones and chocolate and marshmallow blondies are favorites. The bakery's main attractions? Cakes! In particular, The Alley's lemon crunch cake, with layers of sponge cake and a rich, homemade lemon curd, all of it topped with whipped cream and bits of toffee.
• The Right Slice
1543 Haleukana St., Lihue, Kauai, (808) 212-8320, www.rightslice.com
The best place on the Garden Island for edible omiyage is also the best place to sate your sweet tooth. Baker/owner Sandy Poehnelt's pies are the best on Kauai, crafted with as much locally procured ingredients as she can find. The pies here come sweet or savory. When angling for something sweet, we go for the mango-lillikoi, tropical trio (with mango, pineapple and candied ginger), island lime or lemon, or seasonal mountain apple pies. Savory? You won't go wrong with The Right Slice's classic chicken pot pie, shepherd's pie or special savory of the day.