7 Fruits You May Not Know But Can Find in Hawaii
These exotic fruits give you a tasty reason to venture into ethnic neighborhoods, farm stands and farmers markets across the Islands.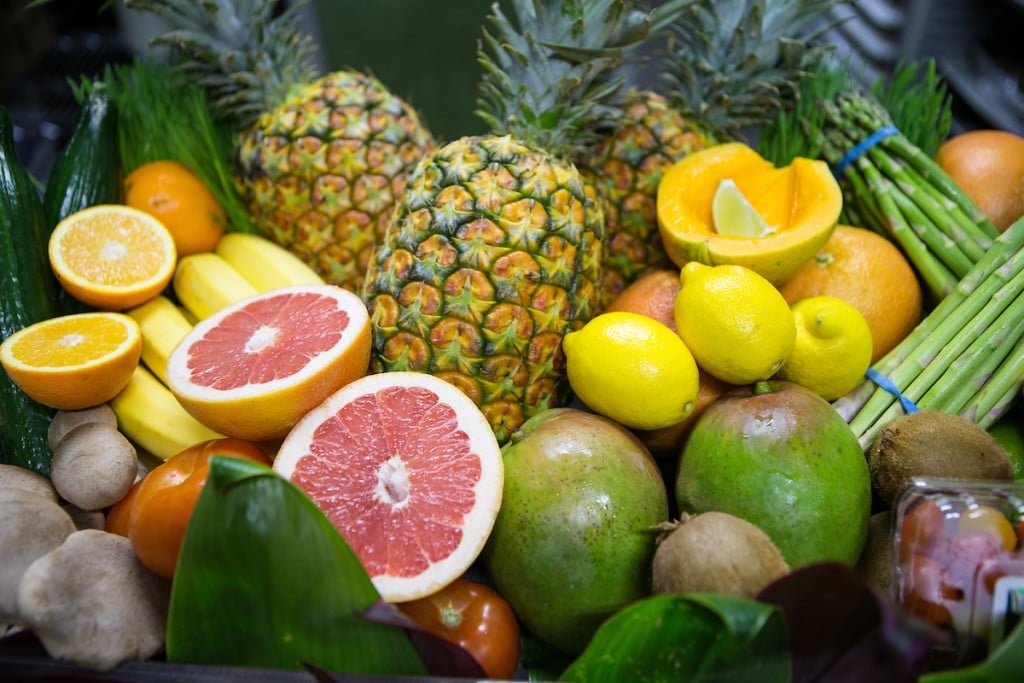 When you think of Hawaii fruits, images of freshly picked pineapples, papayas and coconuts probably come to mind.
But what about rambutan or cainito?
In Hawaii, a slew of unusual fruits can be found at local farms, specialty grocers and farmers markets across the state.
SEE ALSO: 3 Hawaii Farmers Markets Locals Love
Here are seven fruits you may never have heard of—but you can find in Hawaii:
Rambutan
Don't let the rambutan's hairy red and green shell scare you: Slice it open and you'll find a golf ball-size nugget of sweet, creamy flesh that's ready to eat. Rambutan, which comes from the Malay word rambut, meaning "hair," is native to Southeast Asia. Plant varieties from Malaysia, Indonesia, Thailand and the Philippines can be found growing in Hawaii during the peak months of February and March, so get it while you can at various farmers markets across the state. The jellylike fruit inside tastes similar to lychee but slightly tarter. Rambutan is a great source of fiber and vitamin C, so you can enjoy this tropical treat guilt-free.
Longan
If you miss rambutan season, not to worry! Try the less colorful but equally delicious longan, which is available in the Islands all year long. Longan comes from the Chinese word longyan, meaning "dragon eye" since its translucent flesh and black seed resembles an eyeball. Rambutan, longan and lychee are all part of the soapberry family. Longan, native to southern China, is known to be the most tart of the three but is just as juicy. Pick it up at any farmers market or at Sun Chong Grocery ($5.99/lb.) in Chinatown in Honolulu.
Canistel or Egg Fruit
Egg fruit, one of the most prolific fruits from Central America, gets its name from its bright yellow flesh and texture, which are similar to a hard-boiled egg yolk. While its taste has been compared to chestnuts, sweet potatoes and kabocha (Japanese winter squash), this savory, soft fruit that comes into season in the colder fall and winter months, shines as a star ingredient in jams, custards, shakes, eggnog or just on its own. Snag some canistel at Thoune Farm's booth at the Kapiolani Community College Farmers Market in Honolulu ($3.99/lb.) or in Chinatown for as little as $2.99.
Loquat or Biwa
Loquats may resemble canistel, but this yellow pear-shaped fruit has a distinctly different taste and mouthfeel. Loquats are known for their sweet yet acidic taste and are native to southeastern China. They may have been introduced to the Islands as early as 1787 by Chinese visitors and can still be found in cooler regions. Check out Chinatown or various farmers markets in the spring since loquats are in season from May to December in Hawaii. If you're feeling under the weather, keep an eye out for honey-loquat syrup, sold at most traditional Chinese medicine shops. Since ancient times, loquat leaves—because of its anti-inflammatory effects.have been used to treat the lungs and prevent vocal strain and laryngitis
Starfruit
For those of us living in Hawaii, it's not uncommon to receive a generously packed bag of starfruits from a relative or neighbor's backyard tree. Starfruits are native to the Malesia region, which encompasses Indonesia, the Philippines and Malaysia. This crunchy, juicy fruit is in season from September to April and is packed with antioxidants, potassium and vitamin C. You can easily get your starfruit fix at any farmers market. Visit Lei's Farm stand ($3.99/lb.) at the Kapiʻolani Community College Farmers Market for a beautiful array of produce. Looking for a way to take starfruit home? Be sure to check out the Maui Upcountry Jams & Jellies' lilikoi starfruit syrup at Whole Foods ($7.99/bottle), which goes great with waffles, ice cream or even as a garnish for chicken, pork and fish dishes.
Ulu or Breadfruit
It's no wonder that the early Polynesian settlers chose to bring ulu along on their journey to Hawaii centuries ago, since it can be eaten at all stages. In its immature stage, it's green and can be cooked as a vegetable. In its mature stage, ulu becomes firm and starchy like a potato. Wait a little longer for it to ripen and the fruit will turn sweet, soft and custardy. Ulu season stretches from November to June and the fruit can be found in Chinatown and at farmers markets around the island. Honolulu-based Ulu Mana uses breadfruit to make hummus in a variety of flavors; its products are sold at farmers markets and select grocery stores and specialty shops on Oahu, Maui and Kauai. Click here to learn how to handle and prepare ulu with local chef Sam Choy as part of the Hooulu ka Ulu (Revitalizing Breadfruit) Project.
Cainito or Star Apple
Cainito is characterized by dark purple or green skin and white pulp, resembling the texture and taste of soft persimmons. Although its origins are disputed, prominent botanists Paul Standley and Louis Williams claim that the fruit is indigenous to the West Indies. Cainito was introduced to Hawaii before 1901 and comes into season in the spring and summer. You can find it in Chinatown in Honolulu for $4.59/lb. It's best eaten chilled, cut in half and spooned out like a kiwi. If you're a fruit fanatic, try making the Jamaican dessert matrimony. Simply peel and section grapefruits, oranges, mangoes and cainito and mix with nutmeg, sherry and condensed milk for a heavenly treat.