7 Ways to Experience Japan In Hawaii
From hole-in-the-wall ramen shops to cherry blossom festivals, here are just a few ways to experience Japanese culture in the Islands.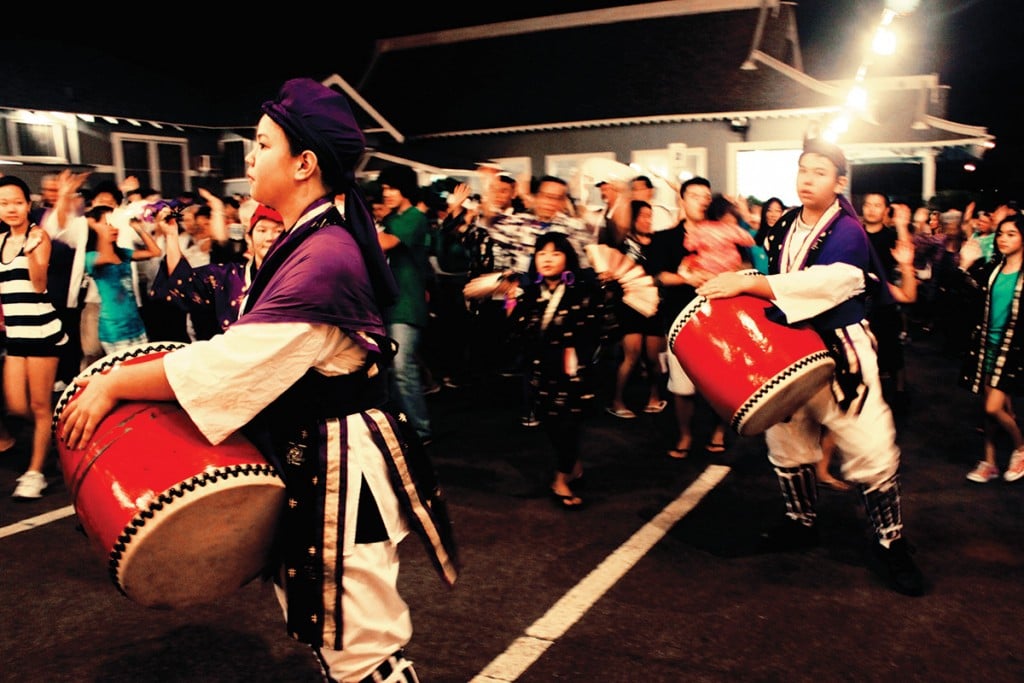 Being in Hawaii means you're able to experience all sorts of cultures. Fortunately for those looking to eat Japanese foods and participate in Japanese traditions, Hawaii is home to a sizable population of Japanese residents, whose ancestors immigrated to the Islands to work during Hawaii's booming sugarcane plantation era starting in 1885. The multiple generations of Japanese-Americans living in Hawaii, including a constant influx of new immigrants, have continued to perpetuate Japanese culture and cuisine, and those seeking Japanese activities, arts and flavors will want to check out these spots.
1. Indulge in a bowl of ramen at Waikiki Yokocho
In Japanese culture, to slurp loudly while eating a bowl of ramen is considered good manners. It means you're enjoying the food! So at Waikiki Yokocho, right down the road from the International Market Place, you'll be slurping a lot. There are multiple ramen restaurants to choose from, each serving authentic, hearty bowls of ramen, along with classic Japanese appetizers such as crunchy on the outside, creamy on the inside Hokkaido croquette, which uses potatoes from Hokkaido, and miso soup. While you're there, be sure to stop at Nana's Green Tea, which serves matcha-based parfaits, soft serve and other cold treats. 2250 Kalakaua Ave., Honolulu, waikiki-yokocho.com.
2. Lose yourself in the lush landscape of Byodo-In Temple
Located in the foothills of the mystic and often cloud-covered Koolau Mountains on Oahu's Windard Side, the Byodo-In Temple is literally a piece of Japan in Hawaii. The nondenominational temple is actually a replica of a 900-year-old temple located in the Kyoto Prefecture of Japan. Just walking around this east side sanctuary calms the mind, as peacocks and cats wander the grounds and koi (carp) swim lackadaisically in the temple's flowing pond. Don't forget to ring the large bon-sho, or sacred bell, which creates a tone that is said to cleanse the mind of evil and temptation. 47-200 Kahekili Highway, Kaneohe, byodo-in.com.
3. Snap a selfie with a cherry blossom tree
Did you know that we have sakura, or cherry blossom, trees on the Big Island? In fact, there's a whole festival dedicated to them. If you're in Waimea, Hawaii Island, during the first week of February, check out the Cherry Blossom Heritage Festival and participate in the Japanese tradition of hanami, or viewing and appreciating the ephemeral beauty of cherry blossom trees. The festival will also feature hands-on Japanese cultural activities, such as origami folding, traditional tea ceremonies and mochi pounding. For more information about the Cherry Blossom Heritage Festival, visit its Facebook page. 
4. Take classes at the Japanese Cultural Center of Hawaii
If you're looking to immerse yourself in Japanese culture, head over to the Japanese Cultural Center of Hawaii, located in Honolulu. Here you can take instructive courses on a variety of Japanese traditions, such as chado (the way of tea), kumihimo (Japanese braiding) and shodo (Japanese calligraphy). The center also hosts annual events, such as the New Year's Ohana Festival in January, as well as a summer workshops series for adults and children. 2454 South Beretania St, Honolulu, jcch.com.
5. Learn to clap, step and dance at an obon festival
During Hawaii's summer months, you can't miss obon festivals, colloquially known in Hawaii as bon dances, at Buddhist shrines and temples across the state. At these events, you can find Japanese treats, gifts and clothing, such as yukata, kimono and happi coats. The food booths are a draw, too, with vendors selling fried noodles, teri burgers, saimin and andagi, an Okinawan doughnut. And, of course, there's dancing, simple, rhythmic movements to live drums and wind instruments. The obon season perpetuates the Buddhist tradition of honoring ancestors and celebrating life. If you're feeling intimidated by the large crowd of people dancing around the yagura (the tower where musicians beat on taiko drums), watch from a distance at first. Once you're in the circle, it's easy to learn as you go, as long as you don't forget the cardinal rule of bon dances: Don't stop moving!
SEE ALSO: What Hawaii's Colorful Obon Festival Season is All About
6. Find inner peace at the Liliuokalani Park and Gardens in Hilo
Sprawling across 24.7 acres along Hilo Bay, Liliuokalani Park and Gardens is one of the largest Japanese gardens outside of Japan. It was dedicated in 1917 as a tribute fo Hawaii's first Japanese immigrants who worked on the sugarcane plantations on Hawaii Island. Visitors will find a strikingly red torii gate in the center of the park's main pond, bamboo outcroppings that provide ample shade for visitors and a traditional Japanese teahouse, which is situated in the middle of the park. Hawaii-specific features can also be found on the grounds, such as a massive banyan tree and views of Hilo Bay. 189 Lihiwai St, Hilo.
7. Take a walk through Ala Moana's Shirokiya Japan Village Walk
There are a lot of things to love about Ala Moana Center's Shirokiya Japan Village Walk. The food court is built to mimic the shopping district of a Japanese monzen machi (a Japanese town that is developed around or near a shrine or temple) and even features a Guardian Spirit Sanctuary. And whether you've got a craving for Japanese curry, takoyaki or really cheap beer, you can find it in this food court. 1450 Ala Moana Blvd. Suite 1360, shirokiya.com.
SEE ALSO: 6 Delicious Eateries Inside Oahu's New Shirokiya Japan Village Walk