7 Must-Try Maui Hole-In-the-Wall Eateries
For a unique and delicious food adventure, track down these hidden gems all over the island of Maui.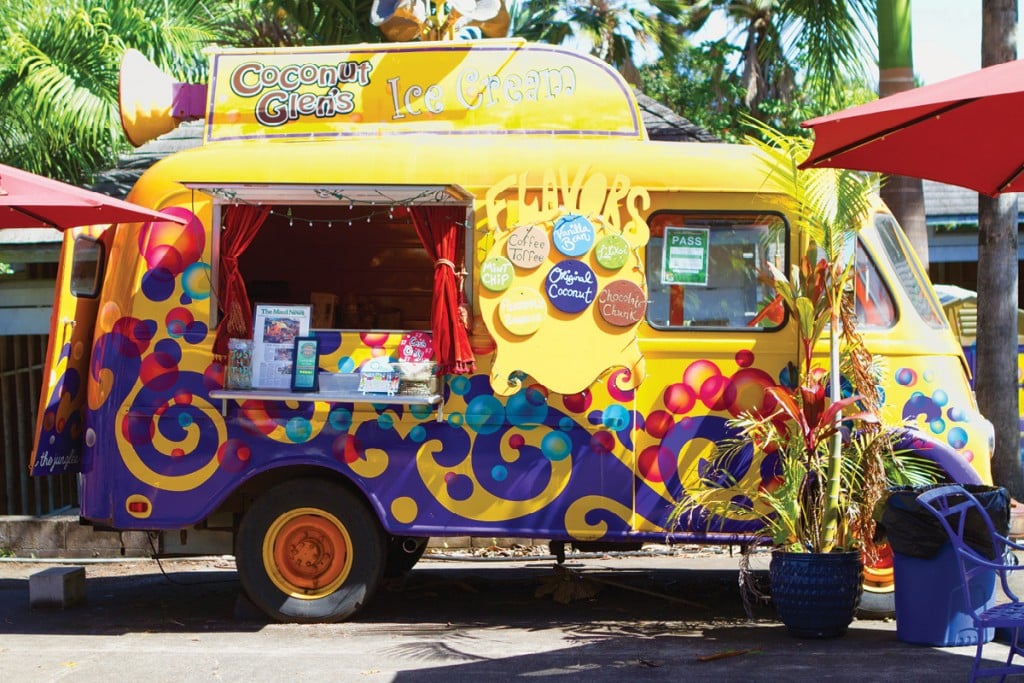 From vegan ice cream to a coffee shop where you can watch magicians or take a dance class to the Maui-style hot dog, the different and delicious is waiting just around each curve on the island of Maui. For a unique culinary adventure, follow our picks to find the best hidden food gems on Maui.
Maui Coffee Attic, Wailuku
Walking into Maui Coffee Attic's first floor is a truly, wonderfully weird experience. Resembling a furniture store that has gone out of business, mismatched chairs and tables are sprawled out seemingly at random around a large well-worn stage. It's here that this Wailuku-based shop hosts shows and performances, which follow no distinct theme. Some nights, 13 magicians—yes, 13—take the stage; on other days, a Latin fusion dance class uses the space to share the basics of salsa, cha-cha and samba.
And then it gets weirder (in a good way). Head upstairs to the shop's second floor and you'll find yourself in a lounge and café that feels more like a comfy living room. Guitars and ukulele hang on the walls, as well as framed pics of the celebrity weddings shot by John Henry, who owns the café with his wife, Gwen. The café serves a variety of drinks, from a purple-hued ube latte to imported Japanese green tea. Or choose from an assortment of home-baked pastries, including creamy cheesecakes, haupia (coconut dessert) panna cotta and lilikoi bars. Those craving a heartier meal can even pick up one of the café's flatbread pizzas or grab something from the breakfast menu.
59 Kanoa St., Wailuku, (808) 250-9555, mauicoffeeattic.com.
La Provence, Kula
This charming family-run café, nestled on a quiet hillside in Kula, is a perfect respite for weary travelers. Opened in 2003, La Provence offers a variety of French-inspired breakfast and lunch dishes, from eight kinds of eggs Benedicts to a tasty oven-roasted chicken sandwich topped with avocado and melted Brie cheese. The crème de la crème, though, are the classic French pastries and desserts, including buttery croissants, sticky buns, cream horns and fruit tarts that we finished before we started our lunch. Cash only.
3158 Lower Kula Road, Kula, (808) 878-1313,  laprovencemaui.com.
Tiffany's Bar & Grill, Wailuku
Next to a shop that sells mopeds and across the street from a gas station, Tiffany's Bar & Grill in Wailuku has been serving up local-style staples, from gravy-smothered hamburger steak to kimchi fried rice for more than a decade. The menu has strong Asian influences, from Korean-style bibimbap to deep-fried chicken katsu. Popular dishes include honey-walnut shrimp, house chow fun noodles and steak bites that arrive at your table on a sizzling platter with grilled onions. Tiffany's boasts a full bar and great cocktail list—including a signature mai tai with pineapple and lilikoi juices—and karaoke.
1424 Lower Main St., Wailuku, (808) 249-0052, tiffanysmaui.com.
Donut Dynamite, Wailuku
This is no ordinary doughnut shop. These artisanal, brioche-based doughnuts—in innovative flavors such as lilikoi-caramel meringue and a combination of Molokai sweet potato and poi—are as gorgeous as they are delicious. Everything, from the purée used as fillings to the colorful candy sprinkles, are made from scratch. The shop even serves a savory doughnut packed with eggs, cheese and ham. But don't wait: Donut Dynamite often sells out before 11 a.m. Insider tip: Check out the shop's Instagram (@donutdynamite) before 7 a.m. and find out what the flavors are that day. Then call and reserve your order. (Minimum dozen for preorders.)
1246 Lower Main St., Wailuku, (808) 280-6442, donutdynamite.com.
Fukushima Store, Haiku
Chicago has its own hot dog, with neon-green sweet pickle relish and tomato slices in a poppy seed bun. New York City's dogs come topped with mustard, kraut and onions. Turns out, Maui has its own style of hot dogs too, and you can find it at the unassuming Fukushima Store in Haiku. At the counter of this old-school convenience store, you can order its famed hot dog: a red Redondo's dog topped with a mustard-relish-mayo sauce, chopped white onions and a pickle spear in a warm bun for $1.25. The store has been selling it since it opened more than 40 years ago, explains second-generation owner George Fukushima. It's the same hot dog that was served at the old Wimpy's Corner, a lunch counter his late father, Tadashi, started in the '40s where Paia Fishmarket now stands.
815 Haiku Road, Haiku, (808) 575-2762.
Coconut Glen's, Hana
View this post on Instagram
Vegan ice cream that actually tastes amazing? You bet. If you've made it all the way to Hana, pull over to the cute little Coconut Glen's shack just after mile marker 27.5 or find the colorful "bubble bus" right after Travaasa Hana for some of the richest, most delicious frozen treats on Maui. Eccentric ice cream lover Glen Simkins, a former Boston resident trained as a chef, is known for his Willy Wonka-esque persona. He takes great pride in locally sourced flavors such as lilikoi, coconut, coffee toffee and ginger lemongrass, all so creamy you won't believe it's dairy-free.
1200 Hana Highway, Haiku, (808) 248-4876, coconutglens.com.
Sam Sato's, Wailuku
Dry mein—a bowl of seasoned saimin-like noodles with very few garnishes and soup served on the side—is the quintessential Maui comfort food. You'll find it in restaurants ranging from the down-home Sam Sato's in Wailuku to trendy Star Noodle in Lahaina.
"Dry" refers to the dish's soupless presentation. Unlike other, similar bowls of noodles—ramen, saimin, pho—dry mein comes either sans soup or, as at Sam Sato's, soup on the side to be used for dipping, sipping or pouring over the noodles. While dozens of restaurants serve the uniquely Maui dish, the Wailuku restaurant has nearly become synonymous with dry mein.
When Sam Sato's, which opened in 1933, moved from Spreckelsville to Puunene in 1963, the dish debuted on the menu, created by one of the kitchen's Chinese cooks. This version of dry mein is now easily the restaurant's best-seller, its combination of al dente noodles, bits of char siu pork, bean sprouts and cut green onions is the epitome of local comfort-food simplicity at its best.
The key, though, is the noodles. Sam Sato's has been using the same noodles crafted by the Iwamoto Natto Factory in Paia for decades—a slightly thicker and chewier version of traditional saimin noodles.
Sam Sato's, 1750 Wili Pa Loop, Wailuku, (808) 244-7124.