7 Perfect Places to Sip on Spirits in Hawaii
These Island cocktail lounges, unique tastings, brewpubs and toes-in-the-sand beach bars are great spots to get your drink on.
1. Hotel Wailea, Kihei, Maui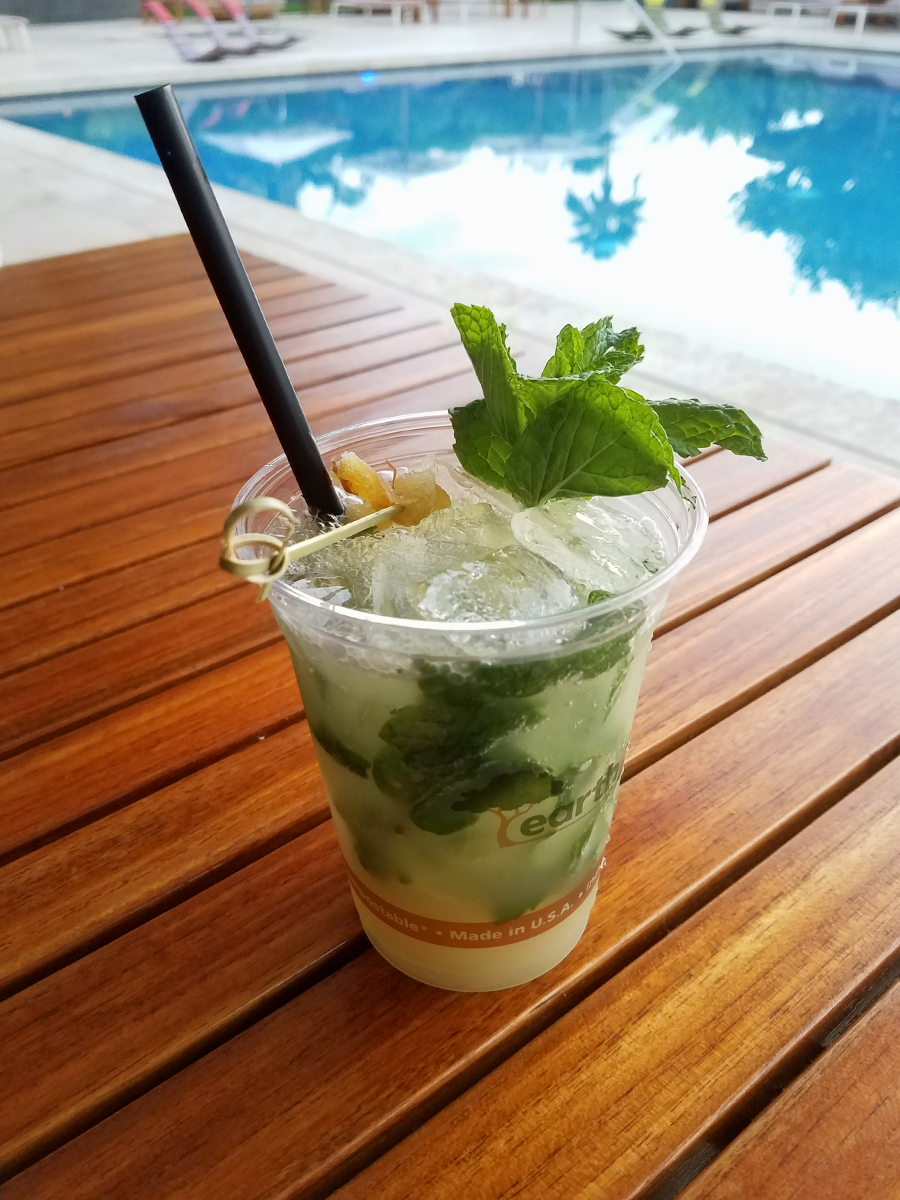 Clink cocktail glasses 300 feet above sea level at the renovated Hotel Wailea, a gorgeous, adults-only boutique getaway with a serene poolside where you'll find The Cabanas, an orchard-to-glass apothecary bar so remote that visitors claim to not see more than a handful of guests there. Sip on their signature cocktails, carefully prepared with house-made sodas and simple syrups, or fresh-pressed juices and frozen smoothies while you relax poolside. Noon to 5 p.m., 555 Kaukahi St, Kihei, Maui, (808) 879-2224, hotelwailea.com.
2. Bar Leather Apron, Honolulu, Oahu
If you're looking for an exclusive, intimate cocktail lounge, check out this swanky watering hole by Leather Soul men's luxury shoe retailer Tom Park and former Manifest bar manager Justin Park in downtown Honolulu. The carefully handcrafted cocktails are made with only the highest of top-shelf ingredients and the luxurious list of whiskey is catered to the most cultured of palates. Reservations are recommended. 4 p.m. to midnight, 745 Fort St #127A, Honolulu, Oahu, (808) 524-0808, barleatherapron.com.
3. MauiWine, Kula, Maui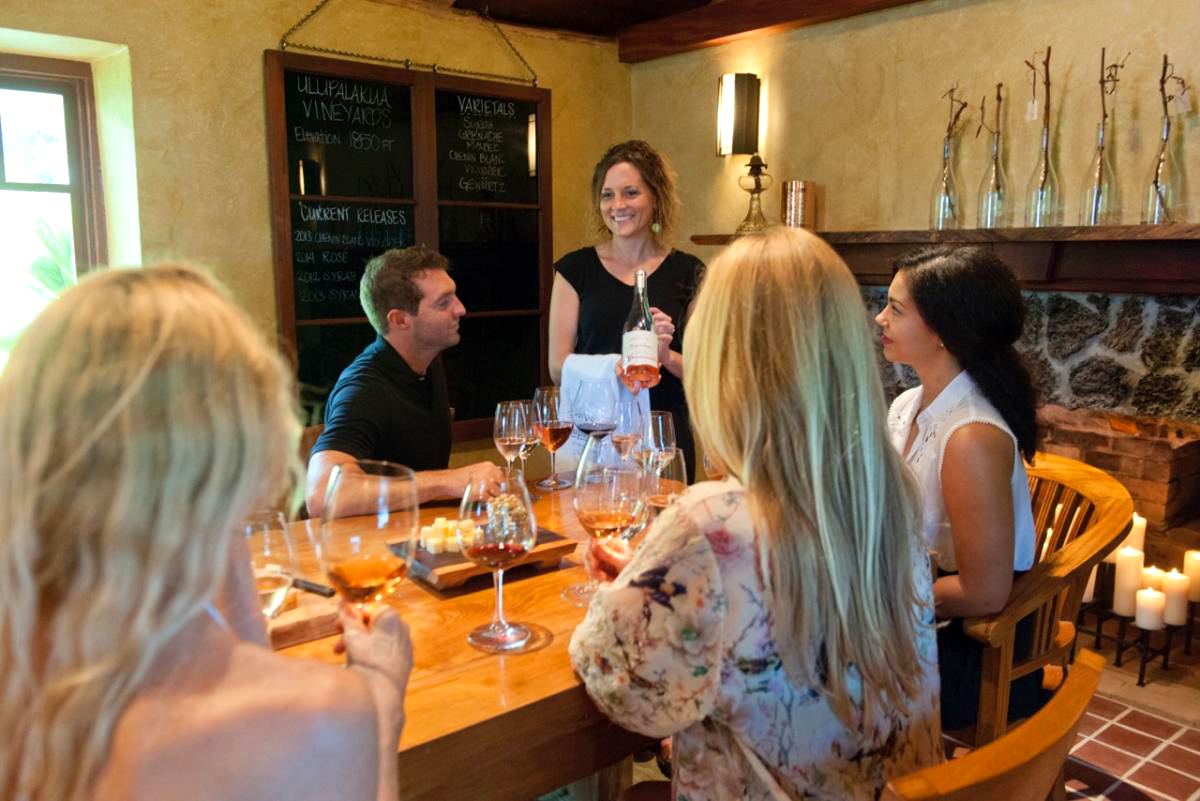 Being in jail never sounded better. For a really unique experience, go on a private MauiWine tasting tour of exclusive and limited edition Ulupalakua Vineyard wines with 10 of your friends at this Upcountry winery that houses the Old Jail, a single-room stone cottage which was used as a jail in the late 1800s. 10 a.m. to 5:30 p.m., 14815 Piilani Hwy, Kula, Maui, (808) 878-6058, mauiwine.com.
4. Huggo's Bar, Kailua-Kona, Hawaii Island
Rather than going back to the hotel after dinner, continue with drinks at the famous Huggo's beachfront hBar, serving small plates and handcrafted cocktails all night, like a classic and much talked-about mai tai, made from scratch with a secret almond syrup recipe. There's also live music on Thursday, Friday and Saturday, and if you're lucky, you'll spot graceful manta rays gliding in and out of the reef. 4 to 10 p.m., 75-5828 Kahakai Rd, Kailua-Kona, Hawaii Island, (808) 329-1493, huggos.com/hbar.   
5. Sky Waikiki, Waikiki, Oahu
Lounge on a roof 20 stories above the city at Sky Waikiki, an upscale urban club and open-air lounge with an amazing view. There's also food, cocktails, DJs, live music and dancing till 2 a.m. 5 to 11 p.m., 2270 Kalakaua Ave, Waikiki, Oahu, (808) 979-7590, skywaikiki.com.
6. Lava Lava Beach Club, Kapaa, Kauai
Hang barefoot on the beach at this lounge, the island's only on-the-beach dining experience at the Kauai Shores Hotel. Order a fruity drink like the Gilligan's Girl, a lustful concoction of coconut vodka, ginger liqueur, pineapple juice and lilikoi, or the Ocean Potion, a refreshing mix of citrus vodka, Pama pomegranate liqueur, lilikoi and fresh lemons, and enjoy the incredible view while burying your feet in the sand. 11:30 a.m. to 9 p.m., 420 Papaloa Rd, Kapaa, Kauai, (808) 241-5282, lavalavabeachclub.com.
7. Honolulu Beerworks, Honolulu, Oahu
Quench your thirst with local craft beer at Honolulu Beerworks, where new brews made in-house are on rotating tap every month. This rustic neighborhood craft brewery offers suds for every palate, from barrel-aged brews to Belgian-style farmhouse ales and seasonal fresh-hop IPAs. 11 a.m. to 10 p.m., 328 Cooke St, Honolulu, Oahu, (808) 589-2337, honolulubeerworks.com