7 Romantic Spots in Hawaiʻi Perfect for Couples
Celebrate Valentine's Day in one of the most romantic places on Earth.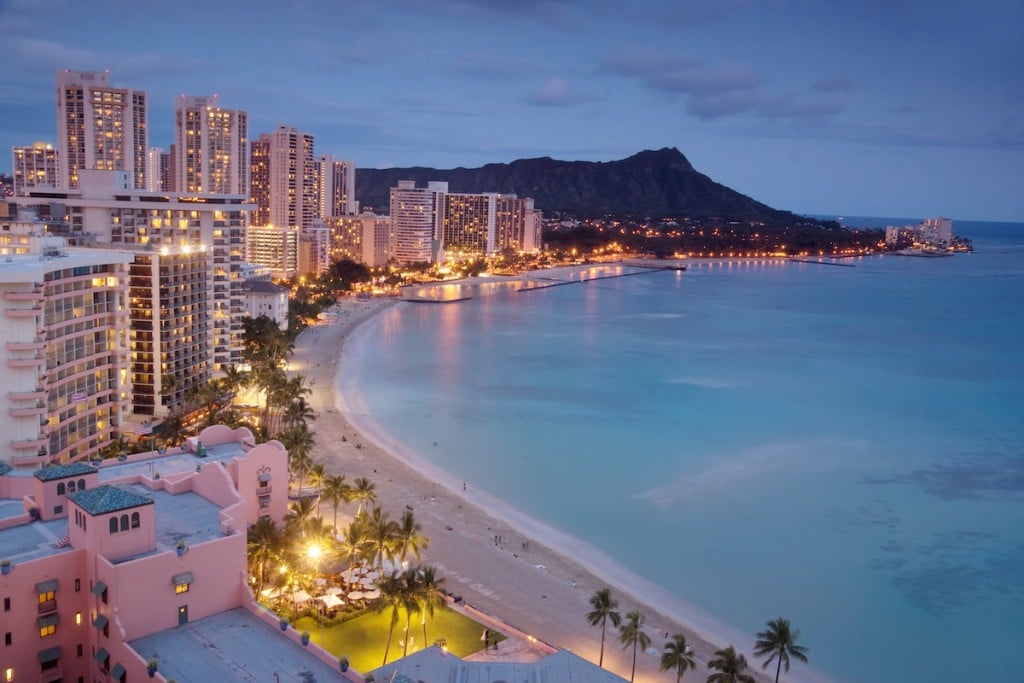 Romance and Hawaiʻi seem to go hand-in-hand.
If you happen to be in the Islands for Valentine's Day—lucky you!—here are some of the most romantic beaches, lookouts and places in Hawaiʻi. (We'll leave the wine and charcuterie board up to you.)
1. Watch the Sunrise at Lanikai Beach
Imagine watching the sunrise from one of the most beautiful beaches in the world. Lanikai means "heavenly sea," and this Windward Oʻahu beach lives up to its name. This mile-long stretch of powdery sand offers stunning views of the Mokulua Islands offshore. Parking in the neighborhood is very limited and not allowed on holiday weekends, so consider parking at the nearby Kailua Beach Park and walking there. (It takes about eight minutes to the first beach access.) Trust us, it will be worth it.
2. Get a Massage on Kāʻanapali Beach
The mile-long Kāʻanapali Beach on Maui is famous for its golden sands lined with high-end resorts, restaurants and shops. While walking the beach is nice, enjoying a languid massage here is next level. Book a couples' massage at The Spa at Black Rock, where you will pampered in an open-air treatment room while relaxing to the soft sounds of the beach nearby. Sunsets on this beach are incredible, too.
3. Walk to Puʻu Pehe
There's a reason it's called Sweetheart Rock. This natural rock formation—called Puʻu Pehe—rises 80 feet from the waters between Hulopoʻe and Mānele bays on Lānaʻi. Legend tells of a beautiful Maui girl of similar name who was captured by a young warrior from Lānaʻi. Afraid of losing her, he brought Puʻu Pehe to the area's cliffs and kept her hidden in a sea cave. One day, a storm arose on a day he'd left the cliffs. Huge waves devastated the cave and drowned his beloved. Stricken with grief, the warrior retrieved her body and carried it to the top of the steep rock formation for burial before leaping to his death in the ocean below. It's a quick walk from the Four Seasons Resort Lānaʻi—and if you're already staying there, we'd say you got the romance part already covered.
4. Cuddle at Hanalei Bay at Dusk
There's something magical about Hanalei Bay on Kauaʻi—and it's even more extraordinary at dusk, just after sunset. Bring blankets and get cozy. If you want to see the moon, it'll be a waxing crescent. You're welcome.
5. Stroll through Waikīkī
Yes, it's a bustling city. But right now the COVID-19 pandemic has meant a much quieter Waikīkī. Beaches aren't crowded, restaurants are slowly reopening, and the magic of this place, once the playground of aliʻi (Hawaiian royalty), is all yours.
6. Camp at Waiʻānapanapa State Park
Don't just visit Paʻiloa—Maui's famous black-sand beach in Waiʻānapanapa State Park—for the day. Stay overnight. You can camp at this beach—spend the day exploring the freshwater lava tube caves and tide pools and go to sleep listening to the waves crashing on the beach. The state park campsite has 12 furnished cabins with electricity (reserve ahead because they can fill up fast) and full campsite amenities like restrooms, outdoor showers and picnic tables, as well as a designated grassy area for tent camping. Call (808) 984-8109 or visit here.
7. Marvel at Kīlauea
Watch an eruption under starry skies at Hawaiʻi Volcanoes National Park (which is open 24 hours) on Hawaiʻi Island. A new eruption started in December at Kīlauea's Halemaʻumaʻu crater this morning, and it's one of the most spectacular things you'll see in your lifetime. Stay safe (read this first) and bring something warm—and let Kīlauea spark the romance.