8 Cool Ways to Cool Down This Summer on Oahu
As summer heats up, check out these sweet spots serving up desserts that'll be sure to take your temperature down.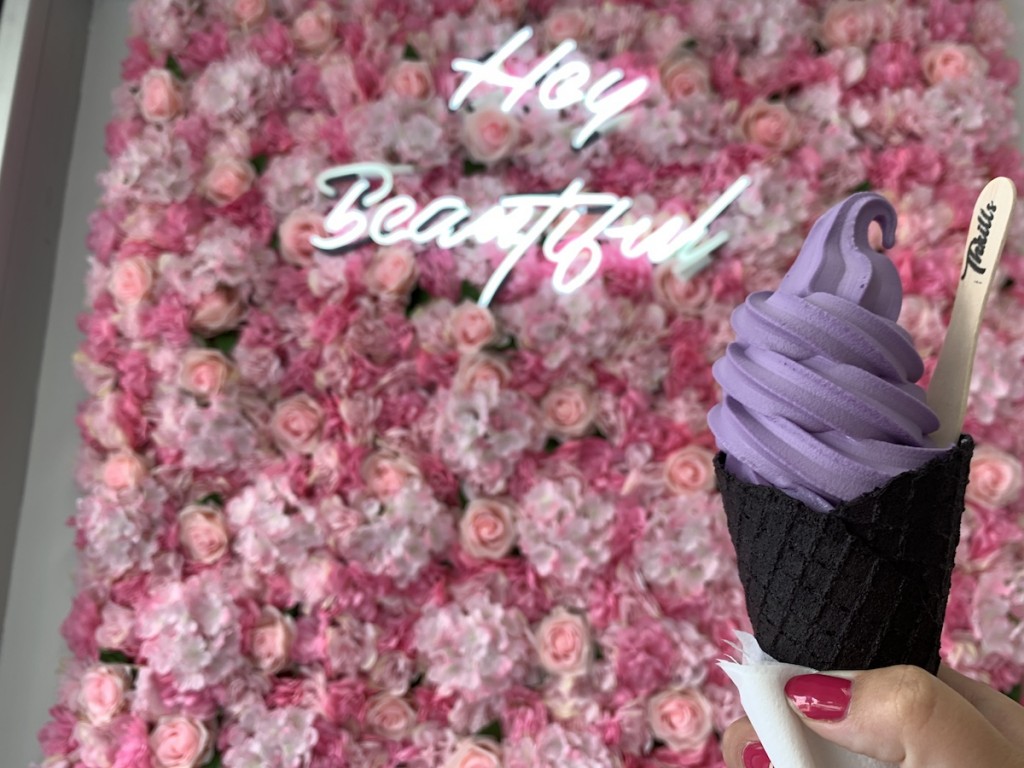 (Editor's Note: As of 2022, Lucy's Lab Creamery is permanently closed.)
While the Islands are known for warm weather, especially in the summer, the past few weeks on Oahu have been stickier than usual, with temperatures reaching up into the 90s. As we wait for our beloved trade winds to return, cruise over to these spots—dishing up ice cream, shave ice and unique cold goodies—that will have you leaving refreshed.
1. Uncle Clay's House of Pure Aloha
No artificial flavoring here—Uncle Clay's in Aina Haina and Ala Moana makes all of its syrups with fruit and natural cane sugar. We tried one of the shop's most popular flavor combinations, the Classic Rainbow (above), which includes strawberry, mango and pineapple syrups and is topped with locally made vanilla ice cream and a heart-shaped strawberry slice. Its shave ice is smooth and satisfying—it tastes like you're biting into fresh fruit. Choose one of its creations or design your own, topping your treat with house-made mochi, fresh fruit, all-natural li hing powder or one of Uncle Clay's many sauces. You can even enjoy Uncle Clay's all-natural flavors on the go in new shave ice drinks, cups of shave ice flooded with flavored plantation iced tea or cold brew coffee. Check out for yourself why this aloha-centric hidden gem is such an Island favorite. 820 W. Hind Drive, #116, Aina Haina, (808) 373-5111, houseofpurealoha.com
2. Black Sheep Cream Co.
A switch from the average ice cream scoopery, Black Sheep Cream Co. in Waipahu and Wahiawa boasts memorably named flavors such as Buckle Up, It's Gonna Be a Rocky Road—served with roasted marshmallow on top—and Mojo Jojo—coffee ice cream with cookie brittle made from scratch. With so many tempting options to choose from, we recommend getting an ice cream flight for $10.50. You get four scoops and a bowl of house-made hot fudge or caramel on the side. Our favorite is the Buttah Cakes (above), a cream cheese base with chunks of butter cake made in-house, which you can smell baking in the on-site kitchen. If you need a caffeine kick or want ice cream on the go, check out the shop's affogato—two shots of espresso poured over a scoop—or grab a milkshake. Two locations: 94-1235 Ka Uka Blvd., Waipahu, (808) 620-5550; 43 South Kamehameha Highway, Wahiawa, (808) 620-5550
3. Butterfly Ice Cream
Don't be fooled—this isn't just a scoop of vanilla ice cream. It's Hibiki Suntory Whisky ice cream (above), one of Butterfly Ice Cream's many house-made flavors, combining the warmth of the alcohol with hints of vanilla and caramel. Its whisky batch is just one of the shop's popular alcoholic flavors, with others including cherry moscato and rum raisin. Splurge a little and get your scoop in a fresh Belgian waffle or waffle cone—both made in-house. Most flavors cycle weekly, but some crowd favorites such as black sesame and brownie batter can always be found at the small ice cream shop, tucked within SALT at Our Kakaako. 324 Coral St., Suite 103, Honolulu, (808) 429-4483, butterflycreamery.com
4. Lucy's Lab Creamery (Closed)
Who knew Froot Loop vodka ice cream existed? And who knew it tasted so good? Lucy's Lab Creamery in South Shore Market in Ward Village has been experimenting with wild flavors such as this since it opened in 2014. The small ice cream "lab" cycles its homemade flavors weekly, except for the popular flavors like birthday cake, honey lavender and blueberry cheesecake (above), which are menu staples. If you're trying to avoid dairy, the shop also makes coconut-milk-based vegan ice creams and even offers 75-cent Lactaid pills for its lactose-intolerant customers. Named after the owner's mother, who passed away from breast cancer, the shop donates part of the profits to cancer research. This creamery also serves boba milk tea and ice-cream filled Filipino pan de sal, a type of bread roll. 1170 Auahi St., Suite 143, Honolulu, lucyslabcreamery.com
5. Thrills
This soft-serve spot near Ala Moana Center has only been open for a little over a month, but we're already in love. Even with just four flavors to choose from each month (our options when we went were ube (above), Oreo, melona and orange dreamsicle) you won't get tired of this sweet and creamy dessert. For $1 extra, we got ours on one of its fresh homemade cocoa vanilla butter waffle cones. Its pink-flower selfie wall—complete with a neon sign that says "Hey, Beautiful"—is the perfect place to level up your Instagram game and show off your colorful and edgy soft serve treat. Cash only. 510 Piikoi St., Honolulu, (808) 888-6860
6. Banán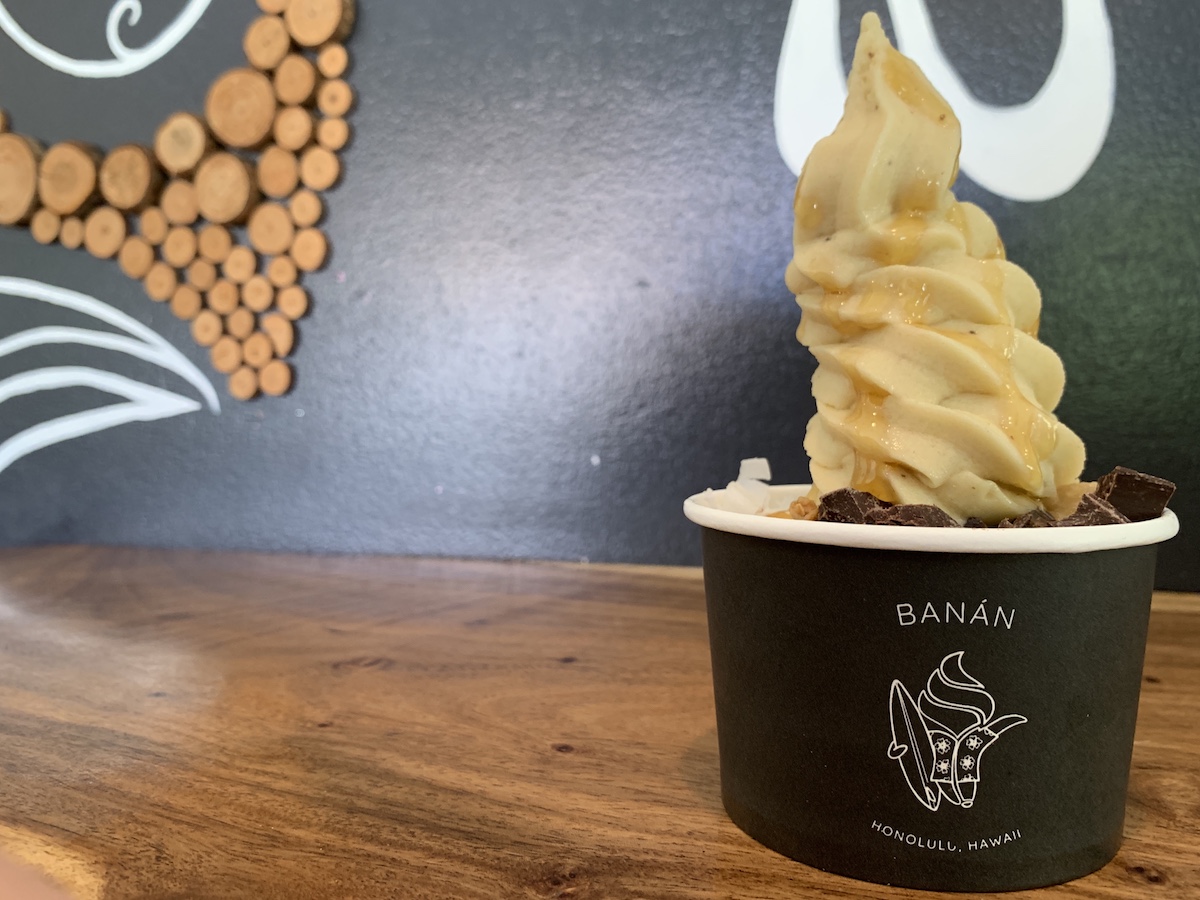 Looking for a summer treat with none of the guilt (or dairy)? Head on over to Banán, whose mission is "make the Earth happy, make people happy, serve righteous food." Its soft serve is made from bananas, with flavors ranging from sweet chocolate macadamia to flavorful olena (turmeric) with ginger and black pepper. Get it by itself or order a "creation," a soft-serve sundae with toppings such as macadamia nut butter, guava jam and local dark chocolate. Some locations even offer matcha, cold brew or coconut milk floats. The company sources the majority of the ingredients locally—some locations list each ingredient's home farm—and work to use the food scraps as compost or slop for pigs on farms in Waiahole and Waianae. You can even get your Banán in a papaya boat for added fruit and minimized waste. Who knew dessert could be environmentally conscious, healthy—and still taste so good? Four locations in Honolulu: 3212 Monsarrat Ave., (808) 563-0050; Kahala Mall, 4211 Waialae Ave., (808) 953-8200; 1810 University Ave., (808) 517-3072; 2301 Kalakaua Ave., (808) 200-1640; bananbowls.com
7. Shimazu Shave Ice
At Shimazu Shave Ice, you can select from more than 70 homemade syrups, including its milk-based signature flavors. For $5, you can get a small size, but don't be mistaken: This shave ice, even a small, is anything but little. One is probably good enough for two hungry people to share. If you're feeling daring, order the strong smelling (but delicious) durian syrup made from the potent tropical fruit—just know you're going to be asked to eat it outside. You can have up to three flavors on your shave ice—we ordered blue pineapple, soursop and lilikoi—but you'll likely be back again and again to try the shop's wide array of syrups. Its School Street location also offers halo halo (a Filipino shave ice dessert), flavored popcorn and wet li hing mui snacks. Cash only. Two locations in Honolulu: 3111 Castle St., (808) 744-0465; 330 N. School St., (808) 721-2441; shimazu-store.business.site
8. Pipeline Bakeshop & Creamery
There's no way ice cream could get any better, right? Try stuffing some into a malasada, a Portuguese doughnut, then frying it. Trust us, it's sinfully good. Pipeline Bakeshop & Creamery in Kaimuki has been making its homemade ice cream-filled Malamodes for about a year. You get to choose the ice cream flavor and the sugar dusting—classic sugar, cocoa, coffee, li hing or one of the rotating specials. We recommend the classic malasada filled with Malafrozada ice cream, the shop's cream base studded with chunks of malasada. Another popular combination is the li hing malasada with strawberry ice cream for a sweet and sour bite. The malasadas are made to order, with the doughy treat fried with the ice cream inside, so be prepared to wait a little—only about five minutes or so—before you can chow down. 3632 Waialae Ave. #102, Honolulu, (808) 738-8200, pipelinebakeshop.com