8 Ways to Be a Conscious Traveler in Hawaiʻi
Here are ways to help you better understand and appreciate what makes the Islands so unique.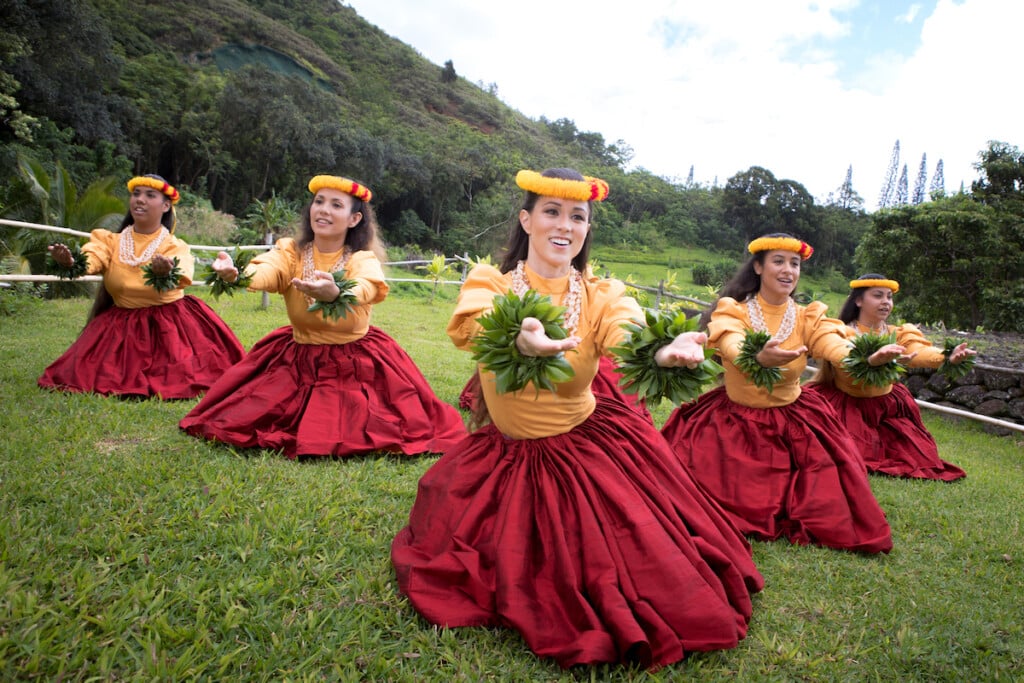 Hawaiʻi has long lured visitors with its tropical climate and golden beaches. But recently there has been concerns about how tourism—particularly overtourism—is impacting Hawaiʻi's natural environment. And, maybe more importantly, how Hawaiʻi has changed to accommodate visitors. Traditions are ignored, culture is dismissed, and visitors aren't experiencing what really makes the Islands so unique and beautiful.
But there are renewed efforts to promote more conscious travel in the Islands, from hotels offering authentic cultural programs to visitor attractions—like Hawaiʻi Volcanoes National Park—using the Hawaiian names for places. (Like saying Lēʻahi instead of Diamond Head.) More environmental and cultural organizations are welcoming visitors to volunteer and more resorts are employing Native Hawaiian cultural practitioners to educate visitors.
And there are ways you can be a more thoughtful, conscious traveler to the Islands, too. Here are a few.
1. Get To Know the Native Hawaiian Culture
One of the main things that makes Hawaiʻi so unique is its deeps roots in the Native Hawaiian culture. Skilled navigators, Polynesians migrated to Hawaiʻi more than 1,600 years ago. After hundreds of years of isolation from the rest of the world, a unique culture developed. And this culture can be experienced through the learning of traditions and customs, from hula to lei-making to learning ʻōlelo Hawaiʻi (Hawaiian language). Look for cultural education programs at the hotel or resort where you're staying, and visit heritage and cultural sites, like ʻIolani Palace, Bishop Museum and Waimea Valley. Take time to learn about the culture, values and etiquette of the Islands. It will help you gain a better understanding and appreciation for the place and the people who live here.
2. Respect the Lei
A lei is so much more than something pretty you wear around your neck. Lei is sacred, and there's a lot of meaning behind them. Hula dancers make lei out of plants and flowers they harvest in native forests, and each part of the lei has a deity or significance attached to it. When you receive a lei, you should lower your head to allow the giver to put it over your head and onto your shoulders; it's considered rude to take the lei from the giver. And keep it on. Don't put lei in the trash, either. It's better to place the lei nicely on a table—like in your hotel room—instead of tossing it.
3. Use Hawaiian Place Names
Whenever you can, use the Hawaiian name of a location—not the English version or nickname. It's an easy way to show respect for the place. There was a time, in 1896, that the Hawaiian language was not allowed to be used or taught in public schools. (That has since changed.) For many places in Hawaiʻi became known by their Western names. For example, Mākua Beach on Kauaʻi is more commonly known as Tunnels, and Lēʻahi on Oʻahu is called Diamond Head. The Hawaiian names often tell a story about that specific place, so perpetuating its proper name is perpetuating the story behind it.
4. Don't Stack Rocks
The stacking of stones is not a traditional practice in Hawaiʻi. Hawaiians did build altars, or ahu, for ceremonial purposes or for markers, but they wouldn't have modified the environment for no reason. Even now places like Hawaiʻi Volcanoes National Park uses ahu to mark trails; moving these rocks or stacking others can create confusion for hikers and park-goers. Best to leave the rocks where they are.
5. Not Every Local Person is Hawaiian
It's a common mistake to use the word "Hawaiian" to mean anything from Hawaiʻi—the way Californian and Texan are used. But "Hawaiian" doesn't mean a person from Hawaiʻi. A Hawaiʻi resident is someone who lives in the state, but they may not be ethnically Native Hawaiian. (We call Hawaiʻi residents kamaʻāina.) A Native Hawaiian—or Kanaka ʻŌiwi or Kanaka Maoli—is someone who is ethnically Native Hawaiian, whose ancestors are Native Hawaiian.
6. Volunteer or Give Back
There are so many ways to volunteer on vacation in Hawaiʻi, from preparing taro to process into poi at the Waipā Foundation on Kauaʻi to collecting plastic bottles and other trash from Oʻahu beaches with Sustainable Coastlines Hawaiʻi. There are even historic fishponds—like Heʻeia Fishpond on Oʻahu—that hosts monthly community workdays to help restore these important cultural and environmental resources. You'll learn a lot about the places and culture—and give back to the community, too.
7. Buy and Eat Local
When you support a local business, you help the local economy—and local communities thrive. Plus, you're buying something that's unique to the Islands—better yet if it's made by a Native Hawaiian. Seek out locally owned boutiques, shops and companies, especially ones that make their products in Hawaiʻi. For example, the three women who founded Kealopiko focus their designs on the plants, animals, language and moʻolelo (stories) of Hawaiʻi, with much of their apparel made on Molokaʻi. Same goes for restaurants. Eat at places that serve local ingredients and source from local farmers, ranchers and fishermen. Not only will you feast on fresher, tastier dishes, but you'll learn about what grows and thrives in the Islands.
8. Make as Little Impact as Possible
This is good advice no matter where you are, even in your hometown. Walk, bike or take public transportation as much as possible. Bring reusable bags and water bottles. Recycle. Pick up trash. Be kind. You want to leave Hawaiʻi a little better than when you came.