9 Tips for Visiting Kōkeʻe State Park on Kauaʻi
Everything you need to know on your next visit to the 4,345-acre park on the west side of the Garden Isle.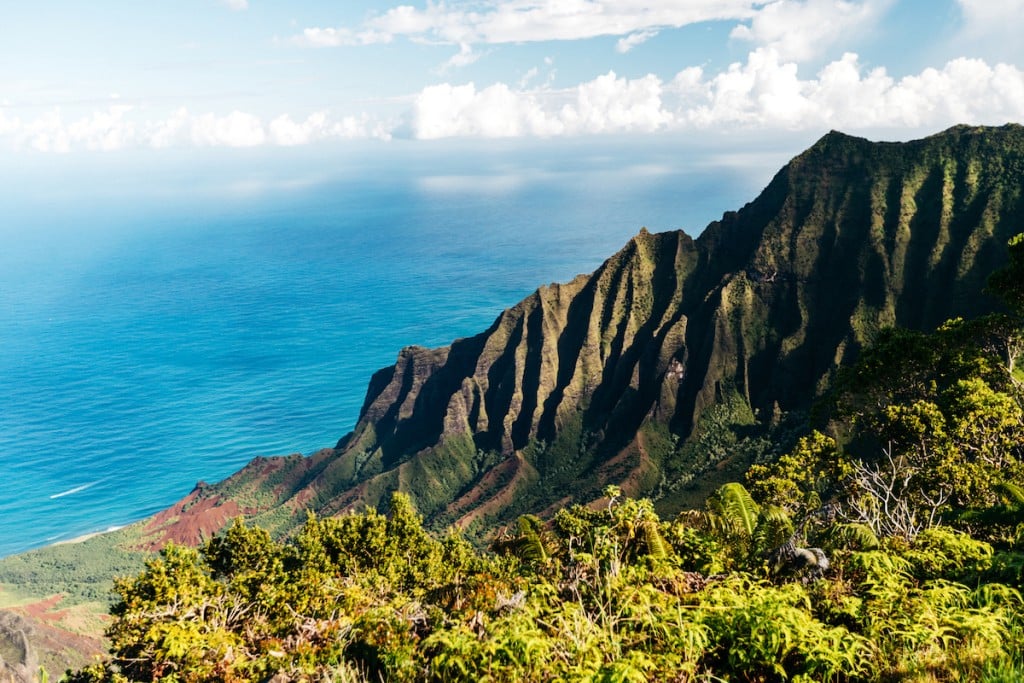 Kōkeʻe State Park is a hiker's dream, with 45 miles of hiking trails that offer breathtaking views of Kauaʻi's fabled Nāpali Coast. But as someone who has made all sorts of travel mistakes in my life—including thinking we could grab dinner at the park's restaurant only to find out it closes at 4:30 p.m. and not packing any food—I know the importance of getting all the information about a destination ahead of time.
So here are my nine tips for anyone planning a visit—day or longer—to this expansive state park.
1. Know When To Go.
Kōkeʻe State Park sprawls over 4,345 acres on a plateau between 3,200 and 4,200 feet above sea level in west Kauaʻi. Because of the elevation, the park tends to be cooler than other spots on the Garden Isle. Temperatures range from 45 degrees in January to 68 degrees in July, with an annual rainfall of about 70 inches. It's not uncommon for rain or heavy cloud cover in the park, obscuring views along hiking trails. No matter what time of year—or how warm it may be at the beach in Poʻipū or walking around Kapaʻa—bring a jacket. Trust me. You won't regret it.
The park is located about 42 miles west from Līhuʻe Airport and it will take about 90 minutes to get there. Follow Route 550, or Waimea Canyon Drive, to the top. (Route 552, or Kōkeʻe Road, also takes you there; it meets up with Waimea Canyon Road.) The road is winding—similar to the Road to Hāna on Maui—so those prone to motion sickness should drive or sit upfront.
If you're coming from Hanalei on the island's north shore, it will take more than two hours to get to Kōkeʻe State Park, so plan ahead.
Because of the elevation, it's recommended, if you plan to scuba dive on your vacation, to wait at least 24 hours before visiting here.
There are numerous pull-off areas on the drive, where you can glimpse views of Waimea Canyon. The best view, though, is at the Waimea Canyon Lookout. (There's a fee. See No. 2 below.) It's at mile marker No. 10.
Kōkeʻe State Park, which is open daily during daylight hours, has restrooms, camping and picnic areas, a gift shop, restaurant and museum. But cell service is next to nil.
2. There's a Fee.
Starting in 2019, there's a fee for non-residents entering both Kōkeʻe State Park and Waimea Canyon State Park (where the lookout is). Non-residents pay $5 per person. Children 3 and under and Hawaiʻi residents with a valid ID are free. Non-residents have to pay $10 per vehicle to enter the park; Hawaiʻi residents are free. The fee applies to both Waimea Canyon State Park and Kōkeʻe State Park, so you only need to pay once. Kiosks take credit cards and tickets are valid for one calendar day—as opposed to 24 hours. You don't need a reservation, unless you plan to camp at the park.
3. Stop at the Museum.
The nonproft Hui o Laka operates the Kōkeʻe Natural History Museum as a visitor center for both state parks. The museum is open from 9 a.m. to 4 p.m. daily, including major holidays. This is a great place to stop and learn more about the park; the museum offers trail maps and has a knowledgeable staff that can help you plan your visit.
4. The Restaurant Closes at 4:30 p.m.
View this post on Instagram
Nearby is the Kōkeʻe Lodge, which has a great restaurant that offers a variety of ʻono dishes, from kālua pig nachos to cornmeal pancakes to its popular chili made with local beef. It also boasts a full bar, live music and a welcoming fireplace. But note: It closes at 4:30 p.m. daily. (The kitchen closes at 4 p.m.) So if you're staying at the park—camping on site or staying in the lodge—you'll need to eat an early dinner, bring your own food or head into Waimea for an evening meal. The gift shop at the lodge is a must-stop for locally made and sourced gifts and souvenirs. It also closes at 4:30 p.m.
5. Visit the Lookouts.
There are two great lookouts in Kōkeʻe State Park: Kalalau and Puʻu o Kila. Both offer commanding views of the towering emerald cliffs along the Nāpali Coast and the expansive Pacific Ocean. The Kalalau Lookout is the highest elevation most people can reach on Kauaʻi by road, at about 4,000 feet. From here, you can see Honopū and Kalepa ridges. A quarter of a mile further up the road is Puʻu o Kila, where you can glimpse the remote Kalalau Beach. Both lookouts have picnic tables and restrooms. Check weather conditions, as heavy clouds can block these views.
6. Look for Native Plants and Birds.
Native plants and birds thrive at Kōkeʻe State Park. Even if you're not an avid birder, you'll appreciate the sightings of Hawaiʻi's rare and endangered endemic forest birds, like the white-rumped ʻapapane, the scarlet-red ʻiʻiwi and the friendly ʻelepaio. Nēnē, the Hawaiian goose and state bird, can be found here, too. The trails are lined with native ʻōhia lehua trees, with their delicate red flowers. You can also see native koa, pūkiawe, ʻaʻaliʻi and ʻiliahi (sandalwood) on the trails here. (Note: ʻŌhia, the most abundant native tree in the state, are dying from a new fungal disease called Rapid ʻŌhia Death. Learn more here.)
7. Research Hikes First—and Be Prepared.
There are roughly 45 miles of hiking trails within Kōkeʻe State Park—and some of them are my favorite in the state. Some trails lead to views of Waimea Canyon—like the 3-mile Canyon Trail to Waipoʻo Falls—and others take you through native forests with glimpses of the island's north shore. The 6-mile (roundtrip) Awaʻawapuhi Trial ends at an overlook at 2,500 feet above the Nāpali cliffs; it's downhill to the lookout, which means it's uphill the entire way back. Iliau Nature Loop is an easy trek (less than half a mile) through dry shrubland with sweeping views of Waimea and Waiʻalae canyons. My favorite is the Alakaʻi Swamp Trail, a 3.5-mile trail through a native wet forest—an otherworldly swamp—to the rim of Wainiha Pali with stunning views of the north shore; the birding here is amazing, too.
8. Consider Camping or Booking a Cabin.
There are two ways you can stay at Kōkeʻe State Park: book a cabin or get a permit to camp on site.
Kōkeʻe Lodge offers cabins thought West Kauaʻi Lodging, starting at $89 a night for a duplex. Other cabins are run by Akamai Kauaʻi Properties. These are not luxurious accommodations; the cabins are older and rustic, with kitchens and baths and heated by an old fireplace. But you can't beat the convenience of being right at the park.
If you want to camp instead, you can get a permit for a campsite at the park. Non-residents pay $30 per night per campsite; residents pay $20. You can book 90 days in advance. The largest campsite can accommodate up to 10 people; the rest are six max. Reserve your spot here.
9. Stop in Waimea Town.
On your way to Kōkeʻe State Park, you'll pass through Waimea Town on the island's west side. This is close to where Capt. James Cook first landed in Hawaiʻi in 1778. (There's a statue of the British discoverer in the middle of town.) Find food trucks, souvenir shops and convenience stores here. We love the kālua pig-topped hot dogs from Porky's Kauaʻi, which recently opened a brick-and-mortar in town, and JoJo's Shave Ice, perfect after long day of hiking. For dinner, I'd recommend Wrangler's Steakhouse; it serves kīawe-grilled steaks and burgers and has live music.