A 3-Day Oahu Itinerary for the First-Time Visitor
From historic monuments to a scenic road trip, there's a lot to pack in on this energetic island.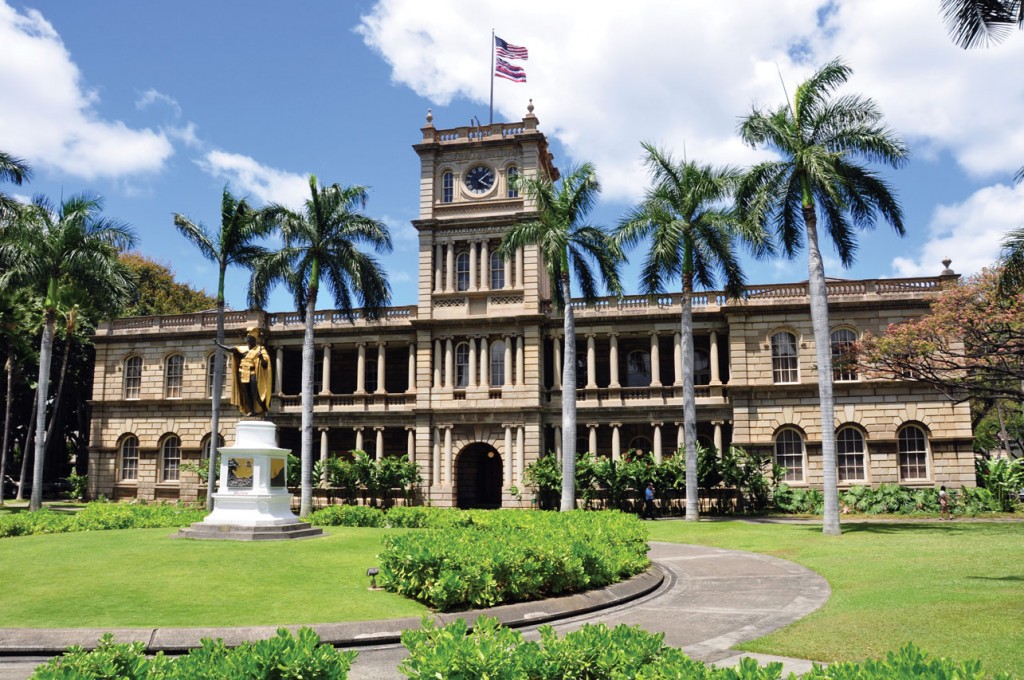 Day One
Wake up with the sun at the summit of Leahi (aka Diamond Head). Its moderate, 1.6-mile jaunt up the famous summit will give you a bird's-eye view of Waikiki, Honolulu and West Oahu. Skip the food vendors at the park, and drive to local favorite Waiola Shave Ice for your reward—a round of Azuki Bowls, shave ice topped with azuki beans, condensed milk and mochi balls.
Make one more stop at Leonard's Bakery for a box of malasadas (because this is a vacation, after all), before returning to your hotel on Kalakaua Avenue. Walk to Tucker and Bevvy to grab a picnic lunch, then lazily sunbathe or surf Waikiki Beach's fun waves the rest of the day. After traveling thousands of miles, you deserve this. Dine at Duke's Waikiki in the evening for Hawaiian music, mai tais and a Hula Pie.
Day Two
Choose between Cinnamon's, Eggs 'n' Things or Cream Pot for an early morning breakfast, then go for a drive through Downtown Honolulu to take photos at the Kamehameha Statue, Iolani Palace, Kawaiahao Church and the state Capitol. There's no rush, because you booked your USS Arizona Memorial tour two months in advance for 3 p.m.
Drive up Punchbowl Street toward the National Memorial Cemetery of the Pacific, located inside a crater nicknamed "Punchbowl," where approximately 53,000 veterans of World War I and II, and the Korean and Vietnam wars are buried. Leave town by 12:30 p.m. and head to the World War II Valor in the Pacific National Monument, where you'll want to spend a good chunk of time at its two large exhibits before your tour, which includes a 23-minute documentary on the Attack on Pearl Harbor and a boat ride to the memorial.
In the evening, eat at the award-winning Alan Wong's, a fine-dining restaurant on King Street, and taste the meaning of Hawaii Regional Cuisine from one of the innovative chefs who founded it. (This restaurant closed in 2020.)
Day Three
Pack your rental car with bottled water, beach towels, snorkel gear and snacks, because today you're going on a circle island tour. Your first stop is the Nuuanu Pali Lookout, where you'll be blown away by its panoramic views of the Windward Side, and also its strong winds that sometimes clock up to 60 miles per hour. Exit Pali Highway's tunnels and see the enormous Koolau Mountain Range up close, the remains of a shield volcano.
Take the detour to Kailua, where you'll find popular breakfast and lunch spots Kalapawai Market and Boots & Kimo's. Step out onto the shores of the often Instagrammed Kailua and Lanikai Beaches, before taking the scenic route to the North Shore on Kamehameha Highway. On the way, you'll pass Kaneohe Bay, Waiahole Poi Factory (stop here for Hawaiian plate lunches), Kualoa Ranch and a natural landmark known as Crouching Lion. You'll see coastal views of beaches and undeveloped valleys before entering Laie, where the Polynesian Cultural Center and Mormon Temple are located. Stop in Kahuku, the next town, for shrimp at any one of its food trucks, before driving to Ehukai Beach Park, also known as the renowned surf spot Banzai Pipeline.
Down the road, at Shark's Cove, you'll want to walk in its tidepools and snorkel its fairly shallow depths, before stopping at world-famous Waimea Bay. Choose a beach to lounge at for the rest of the day, before exploring Haleiwa Town and getting an early dinner at Haleiwa Beach House. Instead of ending your day on the North Shore here, consider driving back to the Polynesian Cultural Center for its evening show, Ha: Breath of Life, featuring over 100 Polynesian dancers—one of the best shows in Hawaii. Believe us, it may be out of the way, but it's worth it.