A History of Kona Coffee, Hawaiʻi's Most Caffeinated Crop
There's nothing else like it, really.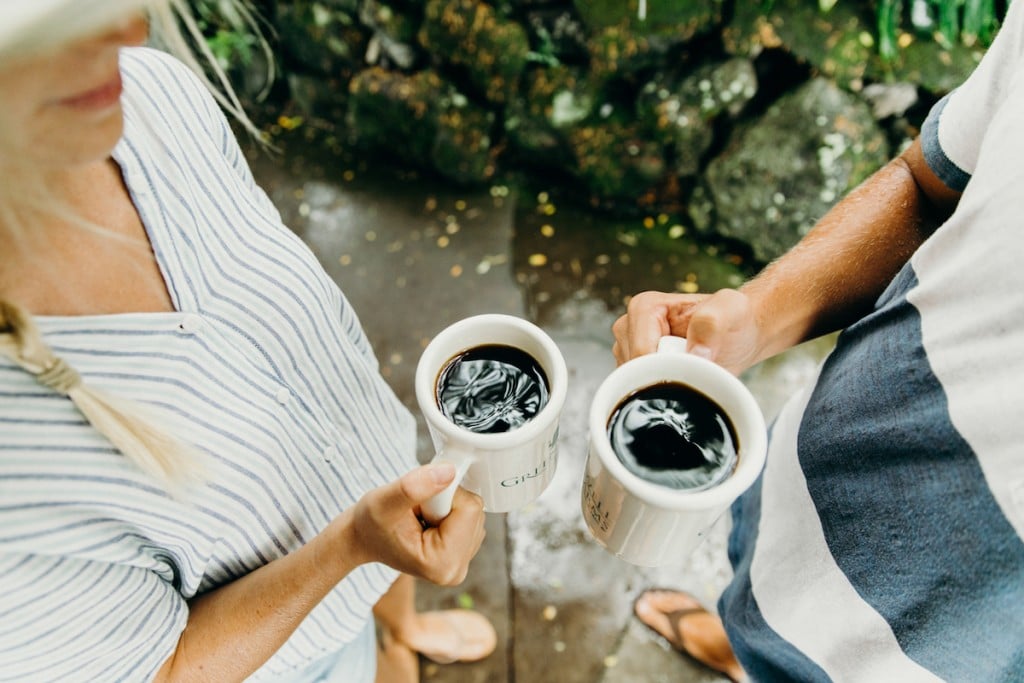 Mark Twain once wrote, "I think the Kona coffee has a richer flavor than any other, be it grown where it may and call it by what name you please." This was after his visit to Hawaiʻi Island in July of 1866, after sailing to the Big Island on his schooner Boomerang from Honolulu. And he's not wrong. Kona coffee—the iconic caffeinated crop of the Big Island's Kona district—has become an international phenomenon, and is known amongst coffee purveyors as being one of the best, and most sought after, beans around the world.
But how did it come to Hawaiʻi in the first place? (No, coffee is not native to the Islands.) And why is it so popular?
First, let's take a look at the roots—figuratively, not literally—of Kona coffee.
Technically, coffee was first planted in Hawaiʻi in 1813 by Spanish physician Don Paulo Marin around his home in Honolulu, however those crops never fully matured. Over a decade later, in 1826, a Brazilian variant was planted in Mānoa Valley on Oʻahu, on the property of the Royal Governor of Oʻahu High Chief Boki by John Wilkinson, an agriculturalist. While those crops did not take well to the environment, more seeds were planted in Hilo, on Hawaiʻi Island in 1828.
Rev. Samuel Ruggles was the first person known to have planted coffee on the Kona side of the Hawaiʻi Island—he used cutting taken from Governor Boki's land in Mānoa—where the crop grew comfortably in its new environment. By the time 1841 rolled around, several coffee plantations and farms had been established in the Kona district, with one of the largest, Greenwell Farms, getting its start in the late 1860s. Its owner, Henry Nicholas Greenwell, played a pivotal role in introducing the coffee to the European market. While the original Brazilian crop had earned a reputation—Greenwell Farms even earned international accolades at the 1873 World's Fair in Vienna, Austria, for the crop—Guatemalan coffee seeds were introduced to the existing stock in 1892 by Herman Widemann. This variant, Guatemalan Typica, soon became the primary coffee plant grown on Hawaiʻi Island.
By this time in Kona coffee's history, things are booming. There are 3 million coffee trees being grown across 6,000 acres by numerous coffee farms and plantations. Hawaiʻi's first coffee mill was constructed near Kealakekua Bay by John Gaspar Machado and as World War I began to ramp up in 1914, the price of Kona coffee skyrocketed due to the U.S. Army purchasing large quantities. And from 1914 to today, the stock of Kona coffee has only risen—despite a brief setback during the Great Depression in 1929. There are now over 650 farms, from smaller independent establishments producing low-quantity batches of premium Kona coffee to much larger suppliers, such as Greenwell Farm—which is still a family-run business. While coffee production has expanded to islands other than Hawaiʻi Island, 95% of all coffee products in the state still come from the Big Island.
Which brings us back to the question, why is Kona coffee so adored by casual drinkers as well as caffeinated aficionados? It may have something to do with how it's grown.
"It's all about the microclimate here in Kona," says Tom Greenwell, current president and co-owner of Greenwell Farm. "Every island has a west side, but not every island has two volcanoes protecting its west side."
This contributes to Kona coffee plants being treated to calm weather patterns, with light breezes during the day and night as well as consistent rainfall in the afternoon.
"Also, a lot of the cultural aspects of growing coffee here really haven't changed," Greenwell adds. "It's all still hand labor."
And while modern farming methods are being used, Greenwell says that farms have phased through various ways of growing the crop, such as using no fertilizer, then switching to chemical fertilizers like nitrogen and potash before finally moving to bio-organic materials to keep the soil alive and well.
"Before people used to use hoes to remove weeds, then they went to herbicides. Now, we encourage weeds and grass to grow under our trees, and we just mow over it to keep the soil active," says Greenwell. "Sometimes, more is less, and less is more."
After years of being cultivated in Hawaiʻi's rich, volcanic soil—under the very specific microclimate that is unique to Kona—Kona coffee is now defined as Kona Typica—instead of Guatemalan Typica. It's become its own variant after growing in Hawaiʻi for so long, and if you put aside its smooth taste and limited supply, you could say that it being completely unique to the Islands—a crop that has evolved from the essence of the land itself—is why it Kona coffee is so beloved by the coffee community and coffee drinkers at large. Kona coffee, without a doubt, tastes like Hawaiʻi—and who wouldn't like that?
The 2021 Kona Coffee Cultural Festival, which celebrates its 50th anniversary this year, takes place Nov. 4 to 7 on Hawaiʻi Island. Click here for more information.