A Gallery Guide: Where to See Maui's Fine Art
From Kula to Kahakuloa, stellar art galleries are in every corner of the island.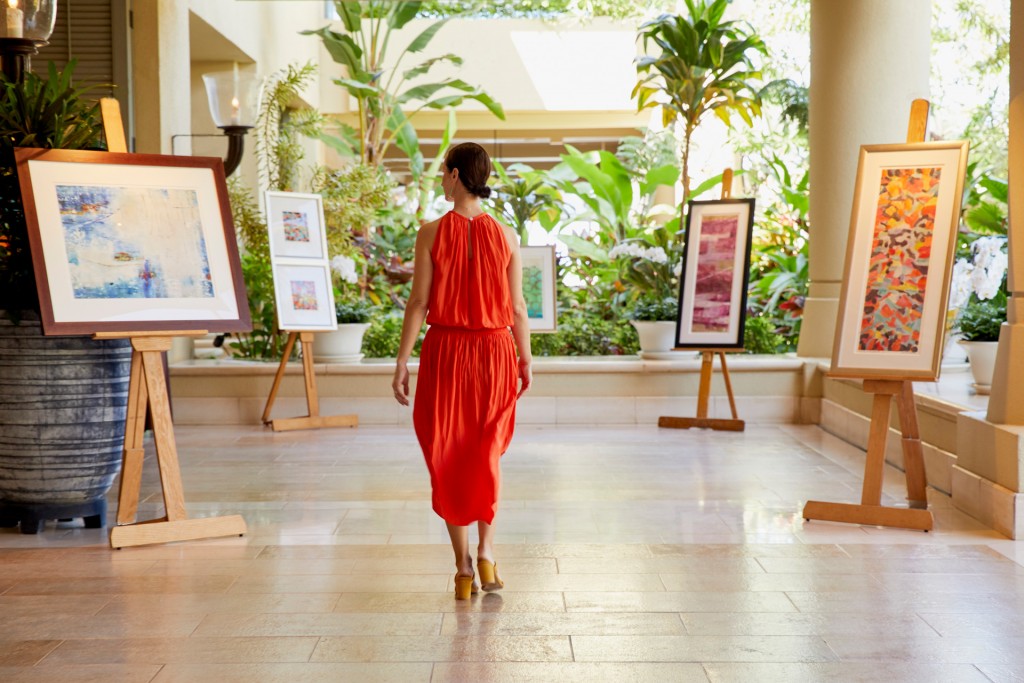 Being surrounded by a sea of inspiration, it's no surprise Maui is home to many talented artists. In every district, local and visiting artists contribute delightful and captivating artwork to the island galleries. And with numerous galleries in every pocket of the island, Maui is truly an art lover's paradise. Spend an afternoon gallery hopping in a local town or dedicate an entire day driving the island's most creative streets.
Lahaina
It seems like there are as many art galleries as there are oceanfront restaurants on Lahaina's iconic Front Street, making it convenient to jump from gallery to gallery.
Kush Fine Art Maui
View this post on Instagram
With Vladimir Kush's distinct style, Kush Fine Art stands out from any other gallery on Maui. Walking past wondrous paintings and elaborate sculptures feels like entering an "Alice in Wonderland" world. Diverging from traditional surrealism that often delineates distortion and gloom, Kush coins his work "metaphorical realism." The artist introduces a more romantic and sanguine perspective to surrealism by connecting unexpected subjects with spectacular, natural motifs.
820B Front St., Lahaina, (808) 667-1989, vladimirkush.com/gallery-maui.
Andrew Shoemaker Fine Art Photography
Just a short seven-minute walk from Kush Fine Art, photography admirers can find Andrew Shoemaker's Fine Art Photography near the Banyon Tree. The Maui-based photographer is known for capturing the energy in landscape shots.
612 Front St., Lahaina, (808) 298-7670, andrewshoemaker.com.
Kahakuloa
On the opposite facing side of Lahaina, away from the restaurants and resorts, lies Kahakuloa. The remote community is known for its lush loʻi (taro patches), Julia's Best Banana Bread and splendid art galleries. If you find yourself on the winding road through the village, make sure to stop at Karen Lei's Gallery and Turnbull Studios.
Karen Lei's Gallery
View this post on Instagram
Karen Lei opened her art gallery on her family's ranchland in Kahakuloa. On property rich in history, the gallery is a hidden art gem showcasing artwork by local artists as well as Karen Lei's own paintings. As Kahakuloa Village provides a glimpse into "old Hawaiʻi," Karen Lei also renders charming island scenes with vintage-style paintings. Alongside the art by the gallery owner, there are works by numerous talented en plein air painters. Karen Lei's Gallery is about a 45-minute drive from Kapalua on Maui's west side. While making the journey to the gallery, you'll understand why Maui is an incredible source of artistic creativity.
Kahekili Hwy., Wailuku, (808) 244-3371, karenleisgallery.com.
Turnbull Studios and Sculpture Garden
After visiting Karen Lei's, take a 15-minute drive east on Kahekili Highway and you'll arrive at Turnbull Studios and Sculpture Garden. The gallery is filled with unique work by dozens of local artists. The internationally recognized sculptors, Steve and Christine Turnbull, welcome visitors to explore their gallery and sprawling two-acre sculpture garden. Turnbull Studios also offers private bookings to tour the grounds and meet the owners. Following a trip to this tranquil property, you're likely to leave feeling inspired by the art, lush greenery and dramatic cliffs.
5030 Kahekili Hwy., Wailuku, (808) 244-0101, turnbullfineart.com.
Wailuku
Nestled below ʻIao Valley, there's an emerging art scene in the funky town of Wailuku. Among vintage clothing boutiques, antique shops and quaint cafes, there are one-of-a-kind art galleries and stores to explore. Just driving through the town, vibrant murals will catch your eye.
Sabado Studios
On Wailuku's bustling Market Street, stop by Sabado Art & Design to peruse Philip Sabado's current collection of paintings as well as ongoing projects. Inspired by a childhood of fishing and hunting on Molokaʻi, Sabado's produces enthralling landscapes of Hawaiʻi and dramatic portraits. His original paintings are available for purchase as well as prints in various sizes and mediums.
38 N. Market St., Wailuku, (808) 242-6762, sabadoarthawaii.com.
Sandell Artworks
From Sabado Studios, take about 10 steps to Sandell Artworks. The neighboring galleries are strikingly different, but that's what makes gallery hopping on Maui entertaining. David Sandell also renders island life, but in a one-of-a-kind style. While his work includes emblematic Maui subjects, such as rugged cowboys and the island's iconic streets, Sandell's art is eccentric and playful. Like Sabado, Sandell has originals available for purchase as well as prints in varied sizes.
34 N. Market St., Wailuku, (808) 249-2456.
Wailea
Over in south Maui, Wailea is known for its golden beaches and world-class snorkeling. However, the neighborhood is also ideal for high-end shoppers and fine art enthusiasts.
Enchantress Gallery
Peruse Enchantress for an eclectic selection of paintings, photography, sculpture and jewelry. Located in the Shops at Wailea, the locally owned gallery includes work by both local and international artists.
3750 Wailea Alanui Dr., Wailea, (808) 495-4161, enchantressgallery.com.
Artist Showcase at the Four Seasons Resort Maui
If you're looking for an intimate art experience, stroll through the open-air gallery at the Four Seasons Resort Maui. From 8 a.m-1:30 p.m. and 5-10 p.m. daily, the halls of the lower lobby are adorned with work by notable Maui artists from various mediums. The artists also frequent the gallery to discuss their pieces, inspiration and creative process.
3900 Wailea Alanui Dr., Wailea, www.fourseasons.com/maui.
Pāʻia
It's no surprise that the vibrant surf town of Pāʻia has a flourishing art scene. With its fascinating history as a plantation community, to its transformation into a colorful surf hub, the island's North Shore attracts troupes of local and international artists. In between the bikini shops and hip eateries, there are brilliant art galleries.
Art Project Pāʻia
Just a few doors away from the popular Flatbread Pizza Company, contemporary art lovers should walk down to Art Project Pāʻia. Using a contemporary perspective, the multidisciplinary gallery shows work that diverges from the typical landscape art found on the island. Contemplative and thought-provoking pieces of photography, painting, sculpture and ceramics are on display. The gallery also represents rising international and local artists with new exhibits every few months.
77 Hana Hwy., Pāʻia, (808) 214-6949, artprojectpaia.com/gallery.
Pueo Gallery
View this post on Instagram
Directly across the street from Art Project Pāʻia, the Pueo Gallery features works by a vast selection of artists as well as photography by Lyle Krannichfeld, the owner of the gallery. Most days, you can find Krannichfeld at the Pāʻia shop eager to discuss the curated selection of work inspired by the island.
86 Hana Hwy. Pāʻia, (808) 446-3974, www.pueomaui.com.
Makawao
Throughout the years, the quiet, paniolo (cowboy) town has attracted a myriad of artists. In the ʻ80s and ʻ90s, artists could be spotted on the street painting en plein air, recreating the allure of small-town life. Now, numerous quaint galleries line the historic streets.
Hui Noʻeau Visual Arts Center
On the drive from Pāʻia up to Makawao, you can't miss the Hui Noʻeau Visual Art Center. Sitting at the top of a beautiful estate, the nonprofit art center hosts an array of art workshops and classes. The center's main gallery holds exhibitions to bring together artists from Maui and around the world. While touring Maui's art galleries, make sure to visit the Hui Noʻeau to see the latest exhibition and stop by their gallery shop.
2841 Baldwin Ave., Makawao, (808) 572-6560, huinoeau.com.
Julia Galeeva Fine Art
Julia Galeeva Fine Art is situated right at the intersection of Baldwin and Makawao Avenue. The artist's little gallery is filled with her island landscapes, underwater seascapes, abstract pieces and impressionist works.
3682 Baldwin Ave., Makawao, (808) 283-6132, juliegaleeva.com.
Kula
From Makawao, venture just a little further to the island's high elevations. Among the botanical gardens and goat farms, take a journey to the hidden art galleries.
Curtis Wilson Cost Gallery
From expansive farmland in Ulupalakua to magnificent mountains in Molokaʻi, the Curtis Wilson Cost Gallery is comprised of his detailed landscapes. Since 1985, the gallery has called the rustic Kula Lodge home. From the lodge restaurant, follow the steps downstairs to find his showroom.
15200 Haleakala Hwy., Kula, (808) 878-6544, costgallery.com.
Hāna
There are many reasons to drive the famous road to Hāna. Around every turn, it seems like there's a picturesque waterfall. Once arriving in Hāna, there are black sand beaches, bamboo forests and tropical gardens. However, don't miss a chance to look at an incredible collection of artwork reflecting on Hawaiʻi's history for a better understanding of the Islands.
Hāna Coast Gallery
Being in one of the most remote areas of Maui perfectly suits the Hāna Coast Gallery. The Hawaiian cultural arts center celebrates the traditional arts of Hawaiʻi's people–and what better place to be located than the town of Hāna. The gallery is a cultural treasure, featuring artwork by local artists, including Herb Kane, who is considered an essential contributor to the Hawaiian Renaissance in the 1970s. The gallery is situated in central Hāna.
5031 Hana Hwy., Hāna (808) 248-8636, hanacoast.com.