A Journey to King Kamehameha's Birthplace on the Big Island
These historic sites tell the story of a legendary king.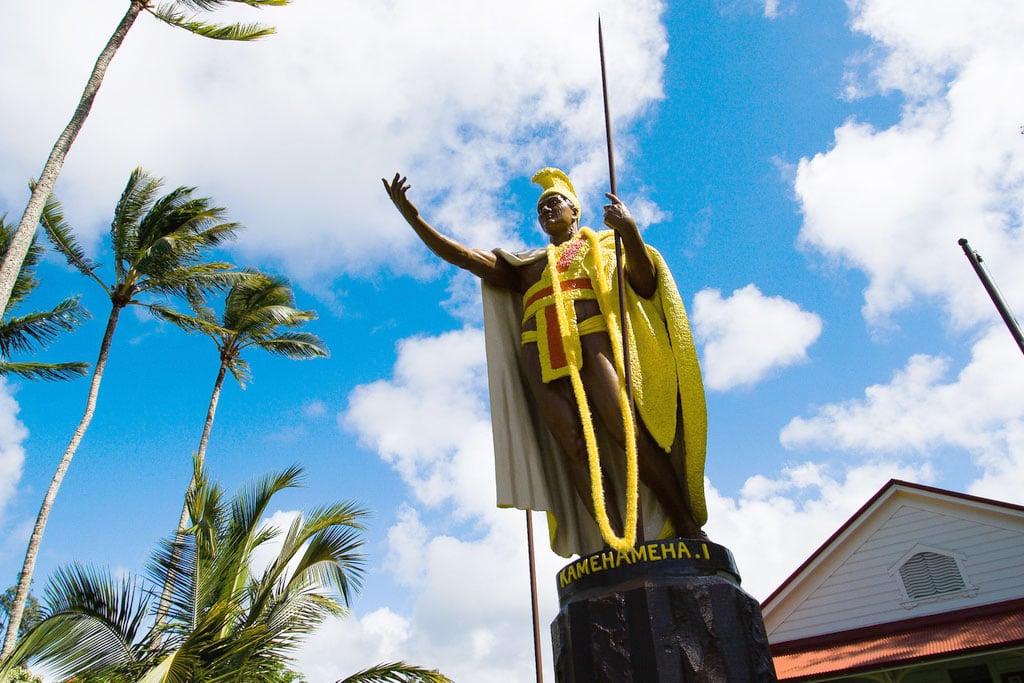 Driving down a one-lane road with no cell signal, I worry that I may have rented the wrong car for this adventure.
I've already taken two wrong turns (thanks to Siri) and am now on Upolu Airport Road, cutting through farms on my left and windmills on my right. The airport at the end of the road looks surprisingly smaller than Hana's, with a tiny building, an airstrip and nothing else. There is nobody in sight to give directions, so we trust our map and take a left onto a dirt road.
I didn't think finding Kamehameha the Great's birthplace would be hard, given the accessibility of other significant historic sites I've visited on the Big Island. Luckily, the road is dry, otherwise I wouldn't have attempted it without a four-wheel-drive vehicle. After about a quarter-mile, we see large rocks in the road ahead and decide to park the car and walk the additional 1.5 miles to the site.
Kamehameha the Great was the first uniter and ruler of all the Hawaiian Islands. I've heard so much about the wars he fought and the legendary stories about him my entire life: He stood almost 7 feet tall, turned over the 5,000-pound Naha Stone (a large volcanic rock now at the Hilo Public Library) and was therefore prophesied to rule the land. I felt the urge to piece all of these stories together by visiting his home district of Kohala and seeing some of the important locations pertaining to his life. And what better place to start than his birthplace in Kokoiki?
Our march up the dirt road along the coast was hot, but otherwise, easy. We pass a sign marking the entrance of Mookini Heiau (a famous, sacrificial temple first built in 500 AD) up the hill to our left, and Kamehameha's Birthplace, it tells us, is straight ahead. Once there, we find a double rock-wall enclosure fronted by a single sign announcing we had made it to this memorial marking such a significant event.
Born on a stormy night in 1758 to a chief named Keoua and his wife Kekuiapoiwa, Kamehameha's birth is said to have coincided with the appearance of Halley's Comet. The chiefs had been camping here with their armies, in preparation for an invasion of Maui. Seeing the east side of Maui so clearly across the ocean, while Mookini Heiau is also in line of sight, I can understand how this could be a good staging area for war.
Later in life, Kamehameha was given an important role as guardian of the war god, Kukailimoku, in Waipio Valley, and, in 1790, he began construction of the sacrificial Puukohola Heiau in South Kohala. Easily found off Highway 270 (Kawaihae Road), the heiau dominates the landscape and is hard to miss. A kahuna (priest) of Kauai prophesied that if Kamehameha built this temple, he would fulfill his destiny of uniting the Islands. A year later, with stones passed hand to hand from Pololu Valley in a 14-mile chain by his men, the heiau was finished. It would be the last major heiau built in Hawaii.
Measuring 224 feet by 100 feet with 16- to 20-foot-high walls, the heiau is now listed as a National Historic Site by the National Park Service. The visitors center has helpful exhibits explaining Kamehameha's life and the role of chiefs in the Islands. An easy, half-mile paved walk around the park will give you different views of the heiau, and it will also take you down to the coast, where another heiau to shark gods lies submerged—black-tipped reef sharks still frequent this spot. You'll also see the remnants of the homestead of John Young, who was a trusted advisor to King Kamehameha, and Pelekana, the site of what was once a royal courtyard.
Soon after Puukohola's construction, King Kamehameha went to war with the chiefs of Maui in the Battle of Kawela, then on to Oahu in a fierce battle at the Pali Lookout, defeating both armies. In 1810, King Kaumualii of Kauai transferred the island peacefully to Kamehameha, who then realized the prophesies by becoming ruler of the Hawaiian Islands.
The last stop in my journey is in Kapaau, where the original Kamehameha Statue sits in front of the North Kohala Civic Center. Kamehameha died in Kailua-Kona on May 8, 1819 and, in 1878, under the reign of King Kalakaua, a statue was ordered to be built in honor of Kamehameha the Great. Completed in Italy and bronzed in Paris, the statue was on its way to Hawaii from Europe when the ship sank. A replica was made, which now sits in front of Aliiolani Hale in Honolulu, and, when the first one was salvaged, it was taken to the hometown of King Kamehameha in Kohala. It's a fitting dedication for such a monumental king.
Kohala Historical Sites
Kamehameha's Birthplace, take Upolu Airport Road, then left at the airport. A four-wheel-drive vehicle is encouraged.
Puukohola Heiau, 62-3601 Kawaihae Rd., Kawaihae, (808) 882-7218, nps.gov/puhe.
Kamehameha Statue, 54-3900 Akoni Pule, Hwy., Kapaau.