A Local's Guide to Hawaii: Chef Alan Wong
Award-winning chef and Hawaii Regional Cuisine pioneer Alan Wong shares his favorite things to do and eat.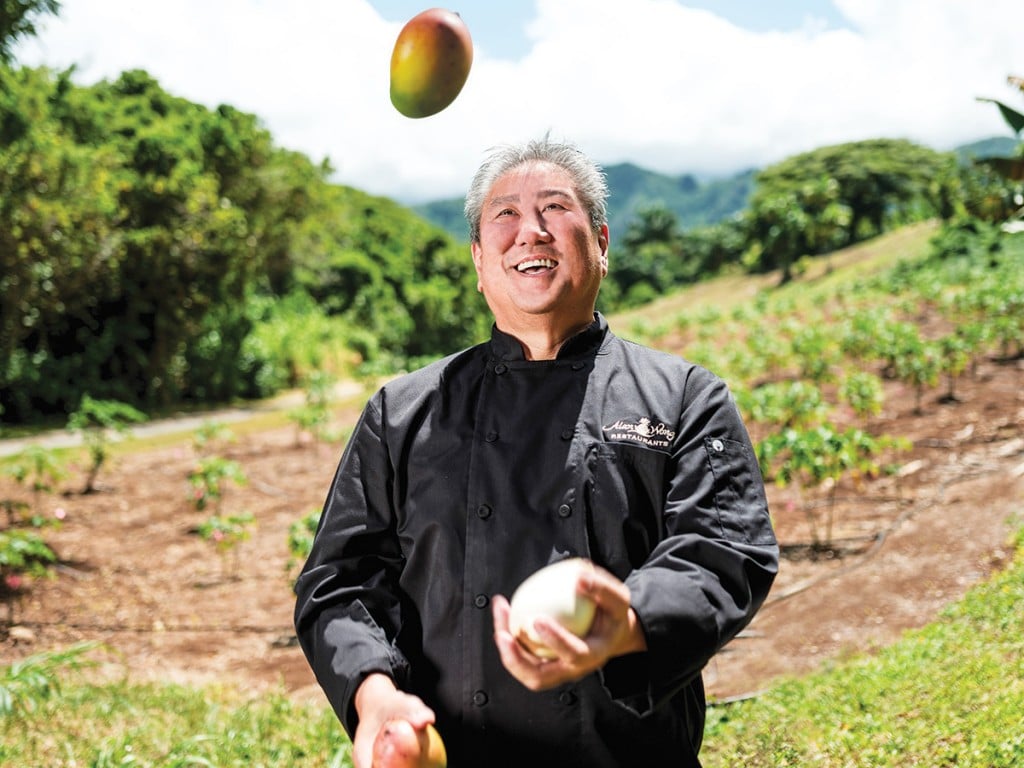 It may seem hard to believe Alan Wong, a James Beard Award winner and pioneer of the groundbreaking Hawaii Regional Cuisine movement, who has cooked alongside some of the world's greatest chefs and reimagined ethnic cuisine in the Islands, would prefer to eat beef stew—"the watery, tomato-y kine, not the thick, brown kine"—than a fancy 10-course meal at some trendy restaurant. Unless you really know him.
"I'm kinda boring," he says, laughing.
Wong grew up in Wahiawa, a rural town in Central Oahu, and those humble beginnings are what has shaped him as a chef and a person. Along with his long list of accolades—his restaurants have won every award imaginable—Wong regularly meets with farmers and ranchers who supply his restaurant, serves on several boards in the community, mentors culinary students and rising chefs, and supports local agriculture with programs like his Adopt-A-Beehive, which helps raise awareness about the critical plight of honeybees.
His restaurant in Honolulu, which he opened in 1995, is still the premier farm-to-table experience in Hawaii.
Q: What's a nostalgic place for you in Hawaii?
a: Waimea Bay [on Oahu]. On the left side of the rock is a big bodysurfing spot. Believe it or not, I used to be into that. High school time, I used to love jumping off the rock and I loved taking people there. I went to the beach so often my hair was orange.
Q: Where do you like to take out-of-town guests?
a: I like to take people to the North Shore, see all the famous beaches, visit a shrimp truck. We always take visitors to Matsumoto Shave Ice at least once. You also gotta have one plate lunch, so I take 'em to Zippy's  to get a Zip Pac. And if these visitors are old enough to drink, we go to the House Without a Key at the Halekulani, listen to music, watch the sunset, do the mai tai thing in Waikiki. At least they can say they did that.
Q: What would you put in a care box to send to friends on the Mainland?
a: I would probably send some cans of Spam and Vienna sausage, kakimochi (Japanese rice crackers) and crack seed.
Q: Where's your favorite place to get a plate lunch?
a: Rainbow Drive-In in Kapahulu. I order the boneless chicken, gravy all over. We always used to go there after the beach if we were on that side [of the island]. It was the perfect place to go.
Q: Where do you like to eat when you're on Hawaii Island?
a: We have our Adopt-a-Beehive program [at the University of Hawaii at Hilo], so we go to Ken's House of Pancakes all the time. I pretty much ate everything on the menu over there already. I always gotta get the corned beef hash. It brings back memories. The last time I was there for breakfast, I had the luau stew. That was good. That's the kind of stuff I like.
Q: What are your favorite things to do on Kauai?
a: I love going up to Waimea Canyon and Kokee State Park. I just find it so relaxing and peaceful. When I'm on Kauai, I always eat breakfast at Tip Top Motel Café & Bakery and order the oxtail ramen or Dani's Restaurant (4201 Rice St.) and get the beef stew. And I always gotta stop by Hamura Saimin Stand (2956 Kress St.). I gotta have a bowl of saimin before I go home. I've brought home the noodles before.