A Look at Elvis Presley's Love Affair with Hawaiʻi
The King filmed movies, held concerts and took family vacations in the Islands.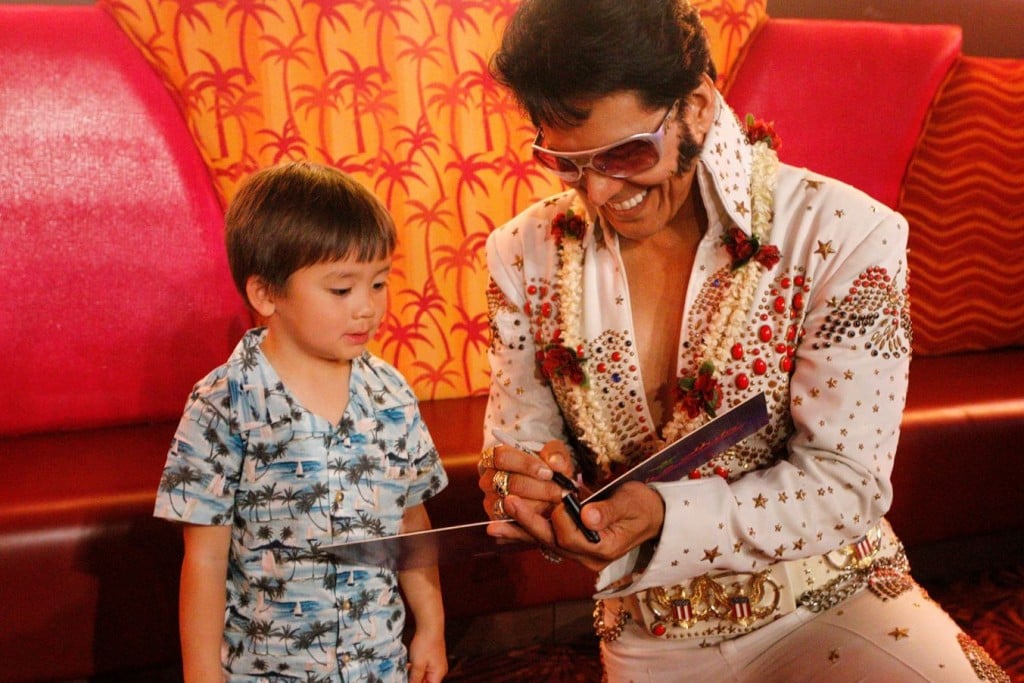 The list of celebrities who regularly vacation or film movies in Hawaiʻi is long and varied, from Adam Sandler to Emma Stone to Beyonce. Then there are the ones own homes in the Islands, too: Oprah Winfrey, Mark Zuckerberg, Roseanne Barr and (soon) President Barack Obama.
But no celebrities has had the kind of love affair with Hawaiʻi—or the massive star power (well, maybe Oprah)—as the late Elvis Presley. (This birthday is today.)
From a blog entry on Graceland.com from 2017: "Elvis loved the beauty of Hawaiʻi and the state's laid-back atmosphere so much that he brought it home to Graceland. The lush greenery, peaceful waters and island feel fueled Elvis to redecorate the den at Graceland—a room we know today as The Jungle Room. Not only did it become a favorite place to hang out, but Elvis also recorded music in that room, too."
Presley's love affair with Hawaiʻi began in November 1957 with he held his first concerts on Oʻahu at the old Honolulu Stadium and Schofield Army Barracks. He traveled to the Islands frequently—to film movies, record music, vacation with his family—until the late '70s.
Want to follow his blue suede shoes next time you're in Hawaiʻi? Here's how.
Visit Film Sites
Presley starred in three movies filmed in Hawaiʻi: "Blue Hawaiʻi" (1961), "Girls! Girls! Girls!" (1962) and "Paradise, Hawaiian Style" (1966). Locations used for these films on Oʻahu include Ala Moana Beach Park, National Memorial Cemetery of the Pacific, Waikīkī Beach, Ala Wai Yacht Harbor, the road leading to Mount Tantalus, Hanauma Bay, the old Waiʻoli Tea Room (now Waiʻoli Kitchen & Bake Shop) and the Polynesian Cultural Center in Lāʻie.
A few scenes of "Paradise, Hawaiian Style" were shot at the Sheraton Maui Hotel Resort & Spa in Lahaina, as well as the private airstrip near the Royal Lahina Resort on Maui.
For "Blue Hawaiʻi," scenes were filmed at the waterfalls at Wailua River State Park and Lydgate Park on Kauaʻi, and the famous wedding scene was shot at the Coco Palms Resort on Kauaʻi, which closed after being severely damaged by Hurricane ʻIniki in 1992 and then a fire in 2014. (It hasn't reopened yet.)
Stay at the Hilton Hawaiian Village
Presley stayed at the Hilton Hawaiian Village in Waikīkī seven times, often arriving by helicopter on the helipad near the Hilton lagoon. In fact, scenes from "Blue Hawaiʻi" were filmed on the property, too. When he stayed at the hotel, he booked the 14th-floor Mahele Suite (now the King Suite) of the Aliʻi Tower, with stunning views of the ocean. hiltonhawaiianvillage.com
Snap a Selfie at the Elvis Statue
In July 2007 a life-size bronze statue of the King was unveiled outside the Neal S. Blaisdell Center in Honolulu, where Presley gave a historic satellite-live TV concert from the then-named Honolulu International Center Arena. It features Presley in a singing pose and wearing a studded jumpsuit replicating what he wore during the historic "Elvis: Aloha From Hawaiʻi" concert on Jan. 14, 1973, seen globally by an audience of 1.5 billion in 40 nations. More than half of the TV viewers in the U.S. also tuned in for that Honolulu concert. blaisdellcenter.com
Visit Pearl Harbor
One of Presley's most famous performances took place at the Bloch Arena on the Pearl Harbor naval base on March 25, 1961. The performance helped raise money to build the USS Arizona Memorial in honor of those who died in the bombing of Pearl Harbor on Dec. 7, 1941. (Presley served in the U.S. Army from 1958 to 1960.) The arena is closed to civilians, but the memorial that Presley often visited is open to the public. nps.gov/pearlharbor
Take in a Tribute Show
The Rock-a-Hula tribute show in Waikīkī features a variety of music and musicians, including Presley impersonator Johnny Fortuno. From Oʻahu, Fortuno was recognized at an early age by the legendary Don Ho and became a part of his famous Waikīkī show. At 18, Johnny was the youngest Elvis tribute artist to hit the Legends' Las Vegas stage. He was also a Top 10 finalist in the Ultimate Elvis Tribute Artist Contest in 2011. The show, which is closed due to COVID-19, is scheduled to reopen in March 2021. rockahulahawaii.com