A Look Back at Hawaii's Earliest, Most Historic Hotels
Travel back in time to the beginnings of Hawaii's tourism industry with these icons in hospitality.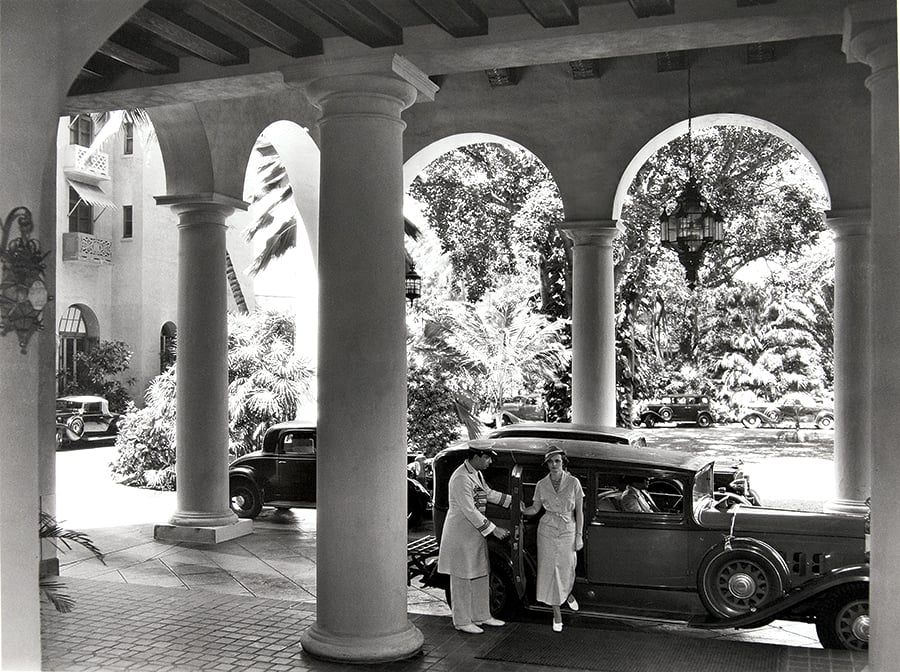 Before the advent of trans-Pacific passenger air travel. Before there were world-renowned resort areas such as Waikiki and its neighbor island kin. Indeed, before the Hawaiian Islands were a destination that worldly, moneyed travelers (who were the only travelers of the day, really) even recognized as desirable, there were Hawaii hotels.
Tiny, transient inns in big-city Honolulu and small neighbor island towns. Grand hotels and simple beachfront bungalows in then-backwater Waikiki. And luxury lodging properties with all the amenities expected by well-heeled travelers of the early 20th century—hot-and-cold running water, private bathrooms, electricity, ice.
In an era when visitors to Hawaii endured days of ocean travel on passenger ships before even glimpsing anything resembling scenic landfall, the best of our Island hotels welcomed guests arriving for typically lengthy, luxurious stays with all the trappings of their prosperous lives back home, transplanted in paradise. If you were a well-to-do visitor to our Islands back in the day, the hotels featured here have been the places you'd have called home.
* * *
HALEKULANI, OAHU
Though now considered one of the top luxury resort hotels in the world, Waikiki's oceanfront Halekulani began its life in 1917 as a modest beachfront compound—a two-story, wood-frame home built by Honolulu businessman Robert Lewers in 1883, five bungalows and a bathhouse. Opened by Clifford Kimball, once manager of the Hale'iwa Hotel on Oahu's North Shore, and his wife, Juliet, the couple adopted the moniker Hale Kulani ("house befitting heaven") from a longtime local name for the area.
In 1931, the Kimballs contracted renowned Hawai'i architect Charles Dickey to design a replacement for the original Lewers house, by then deteriorating from age. Over the years, Dickey's main building, with its spacious guest "living room," large veranda and inspiring vistas of Diamond Head's profile, offered thousands of affluent guests, movie stars and dignitaries a relaxing and luxurious welcome to paradise after long travels. Dickey's main building (pictured above in the 1930s) still stands, though Halekulani's current owners demolished the hotel's once-signature bungalows in the 1980s due to age and to make way for the modern, elegant, 453-room resort of today.
* * *
ALEXANDER YOUNG HOTEL, OAHU
Its construction commenced by a Scottish-born Honolulu sugar and iron works magnate who named it after himself, the Alexander Young Hotel was the largest building in Hawaii when it opened in 1902.
Erected for $2 million when what is now Downtown Honolulu was the epicenter of city commerce and resident and visitor social life, the six-story, 200-room hotel was quite the lodging property of its era. Occupying nearly a full city block, it boasted a grand lobby with a centerpiece Vermont marble staircase, a rooftop garden that quickly became a Honolulu nightlife hub, ample retail and office space, and its own electric plant and artesian well. Post-Prohibition, the hotel was issued the first cocktail-lounge license in Honolulu in 1933, and claimed the first air-conditioned dining room in Hawaii in 1937.
The Alexander Young, however, fell out of favor with travelers as Waikiki became Oahu's visitor mecca, converting to retail and office space in 1964. Though added to the National Register of Historic Places, the entire building was demolished in 1981 to make way for the two office buildings of Bishop Square, a parking garage and Tamarind Park.
* * *
THE ROYAL HAWAIIAN, OAHU
Its construction religiously documented in a treasure trove of professionally shot photos rare for a hotel of the era, the "Pink Palace of the Pacific" was a buzzed-about star of Hawaii's still nascent luxury travel market long before accepting its first guests in February 1927.
Constructed at the foot of Waikiki Beach for a then-hefty $4 million in a Spanish-Moorish architectural style made famous by the movies of silent-film star Rudolph Valentino, the six-story, 400-room Royal Hawaiian welcomed well-to-do guests arriving on hotel owner Matson Navigation Co. passenger ships to 10 acres of lush tropical gardens and a home away from home with a staff of more than 300 ready to cater to their every whim. With most ocean-weary travelers opting for extended stays, larger Royal Hawaiian suites included servants quarters and multiple rooms for large families.
Ample parking was also made available for shipped-over Rolls Royces. New owners added a tower wing to the Royal's existing structure in 1969, and other piecemeal modern accents and furnishings in the years that followed. A seven-month closure in 2008, however, attempted to restore much of The Royal Hawaiian's common areas and rooms to their early 20th century look. The Royal Hawaiian is currently part of Starwood Hotels & Resorts' Luxury Collection.
* * *
HALEIWA HOTEL, OAHU
Hawaii industrialist and businessman Benjamin Dillingham financed the construction of the Haleiwa Hotel in 1898 in the hopes of making an empty parcel of stream- and beachfront land he'd leased near the sleepy plantation town of Waialua a destination for well-heeled visitors.
The director of Waialua Sugar Co., Dillingham also owned the Oahu Railway & Land Co., whose Honolulu-to-Central Oahu sugarcane rail line ended near the property and upon which he wished to encourage passenger travel. Dillingham gave his sumptuous new Victorian hotel and its 40-acre, bucolic country club setting the name Hale'iwa ("house of the frigate bird") after the large seabirds familiar to area residents.
The 14-room hotel proved immediately popular with affluent Honolulu residents looking for a luxe country escape with, according to the website Waikiki Time Machine, "private bath[s], hot-and-cold running water, [a] telephone connection with the front desk," an oceanfront nine-hole golf course and "a myriad of recreational activities including tennis, canoeing, ocean fishing and golfing." When the Hale'iwa Hotel closed in 1943, the town that had sprung up across Anahulu Stream over four decades took the hotel's name. The structure was demolished in 1953.
* * *
KONA INN, HAWAII ISLAND
Built in 1928, the Kona Inn was part of a grand plan by its financier, the Inter-Island Steamship Navigation Co., to make the sleepy seaside Kona village of Kailua a destination for wealthy passenger-ship travelers to Hawaii. Designed by architect Charles Dickey in his then-popular, elegant and distinctly tropical style, the Kona Inn featured large-windowed oceanfront guestrooms to take in sunsets, open lawns and gardens, tennis courts, a cocktail lounge with a koa-wood canoe bar and an oceanside saltwater swimming pool.
Neighboring the inn was Hulihee Palace, a former vacation home of Hawaiian royalty. With Kailua village still a remote location for nearly everyone but steamship travelers in the inn's early years, however, most of the Kona Inn's first guests, according to the Kona Historical Society, arrived via the 121-mile road from Hilo around the southern tip of the Big Island in a touring Packard, or a 97-mile "shortcut" from Hilo along the Hāmākua Coast and through Waimea. Kona's first airport opened in 1949, nearly two decades after Kona Inn opened its doors.
The Kona Inn closed in 1976, replaced by a shopping complex. The red rooftops of its original buildings, however, can still be seen from Kailua Pier.
* * *
MOANA HOTEL, OAHU
Waikiki's first large hotel, the Moana opened for business in 1901 after five years of planning by owner Walter Chamberlain Peacock, then one of the area's wealthiest landowners. At the time of the Moana's opening, Waikiki was best known as an oceanfront playground for Hawaiian royalty and wealthy Honoluluans who kept residences there. The construction of the stream-diverting Ala Wai Canal still two decades away at the turn of the century, Waikiki was an Oahu backwater separated from Honolulu's inland valleys by vast wetlands.
Built for $150,000, the Moana (meaning "broad expanse of ocean") was designed to introduce moneyed travelers to then-remote Waikiki. The American Colonial-style structure included a rooftop observatory, guest rooms with private bathrooms and telephones, a billiard parlor, a saloon and a library. The Moana also claimed its own ice plant and electric generators. Honolulu businessman and hotelier Alexander Young purchased the Moana from Peacock in 1905, selling it for $1.6 million in 1932 to the Matson Navigation Co. The passenger-ship company was by that time transporting an ever-increasing number of visitors to the Islands and had opened the Royal Hawaiian Hotel in 1927.
The Moana's original main building and Kalakaua Avenue porte-cochere still welcome modern-day Waikiki visitors as part of the Westin Moana Surfrider Resort & Spa.
* * *
KAUIKI INN / HOTEL HANA, MAUI
Hana Ranch owner Paul Fagan opened the Kauiki Inn in 1946—20 years after construction of the Hana Highway finally connected vehicular traffic between the remote east Maui sugar town of Hana with 52-miles-away Kahului—naming his six-room inn for the town's landmark puu (hill).
The goal for the retired San Francisco entrepreneur was enticing visitors to the get-away-from-it-all charms of seaside Hana and lush acreage of his 45,000-acre ranch. He even constructed a grassy airfield nearby to attract wealthy travelers. When none of it proved a visitor draw, Fagan brought the San Francisco Seals minor-league baseball team he co-owned to Hana for 1947 spring training, also flying in a large group of prominent sports writers to stay at his inn. Enchanted, the writers sang the praises of  "Heavenly Hana" and Kauiki Inn to the masses.
Visitors to the tropically landscaped, oceanview property increased enough to keep it solidly occupied, in the process lending the inn an air of exclusivity. Renamed the Hotel Hana Ranch and, more famously upon its addition of sea cottages and a property expansion, the Hotel Hana Maui, the hotel still retains a great deal of the Old Hawaii charm Fagan intended as the current Travaasa Hana resort. The Gun Room Cocktail Lounge, pictured above with its rifles and feathered taxidermy, however, is long gone.