A Look Behind the Transformation at The Westin Maui Resort & Spa, Kāʻanapali
With its new appearance and stronger ties to Hawaiian culture, the Maui resort is taking luxury to a new level.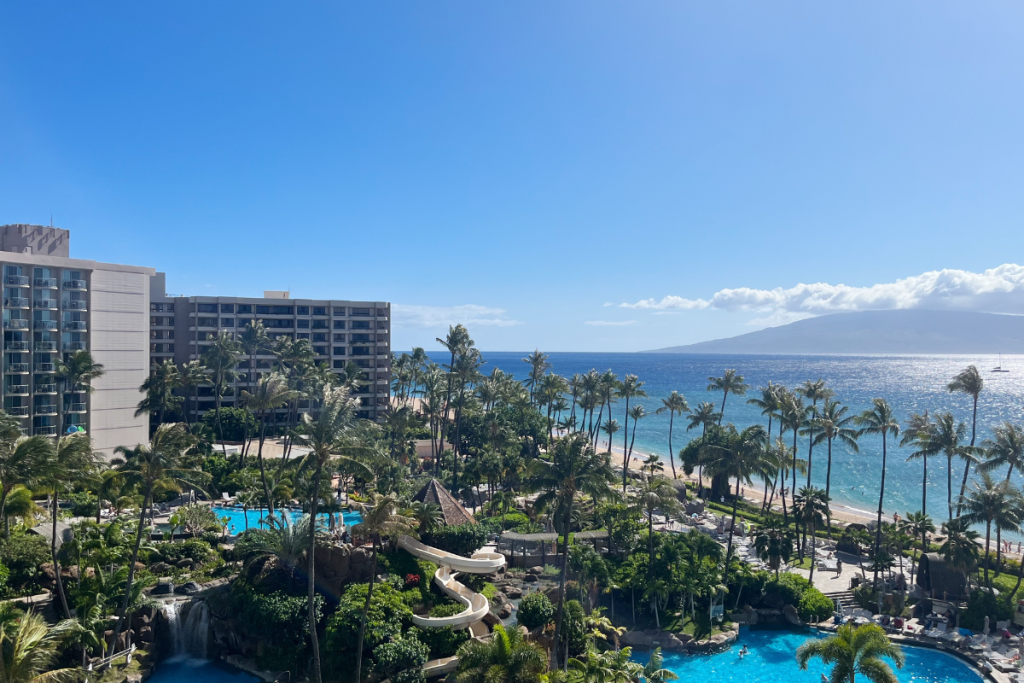 Waking up in a fluffy cloud-like bed to the sun slowly warming Maui's west side, there's a rare sense of stillness and peace. The Pacific Ocean is glassy and smooth. The sun is gradually rising. Kāʻanapali Beach is slowly beginning to stir.
Sitting on the golden sands of Kāʻanapali Beach, The Westin Maui Resort & Spa, Kāʻanapali brings these serene elements into every space of the resort. Not only do guests experience a relaxing stay, but a restorative one, too.
For decades, The Westin has been an illustrious resort destination. Known for its exemplary beachfront location, exuberant pools and warm staff, Maui visitors return to the Westin time and time again.
Returning guests that haven't visited the property since 2019 will be astonished by the resort's recent transformation, while first-time visitors will also be enthralled by the resort's exciting new offerings. Following a $120 million renovation, the resort not only sports a new appearance, but it has developed an identity deeply rooted in Hawaiian culture. From wellness practices and cultural classes to new architectural details, Hawaiian values can be traced throughout a stay at the Westin.
An instrumental figure in establishing these stronger cultural connections is Oralani Koa, the manager of Hawaiian programming at the resort. "There's a big difference having guests engage in experiences rooted in our culture, versus just having a vacation," Koa says, "There's a sense of place." When travelers to the Islands are immersed in the stories of the land and people, they develop a deeper relationship with the Islands.
Koa has thoughtfully woven Hawaiian culture into the Westin's own story, which starts with new names for spaces throughout the property. From the grand towers to the dazzling pools, Koa bridged Hawaiʻi's history to modern luxury. "Ultimately, these names link back to the topography of the land and what it was once before," she says. "The names have to do with who we are, and they actually come from chants." The long-term historical significance of these names are shown by their presence in oral history.
Named after the North Star, the Hōkūpaʻa Tower is among the most significant renovations on the property. The 217-room tower exemplifies modern luxury, while still evoking Hawaiʻi's warm surroundings. The light-filled rooms feature calming color tones and decor inspired by natural elements, making it a peaceful, private sanctuary. Guests are also sure to experience their best sleep in the cloud-like Westin Heavenly® beds. After a rejuvenating night of slumber, guests then wake up to beautiful views of Kāʻanapali Beach.
Guests in the Hōkūpaʻa Tower also have exclusive access to The Lānai at Hōkūpaʻa, a private lounge. While soaking in the panoramic views of the Pacific Ocean, guests can sit in the infinity pool and sip on creative cocktails created by the bar's mixologists. Throughout the day, guests can stop by to snack on small but delicious bites, such as mango chia pudding for breakfast or poke and taro chips for light pūpū. Residents of the tower can also partake in a series of cultural workshops and activities, including lei poʻo making and ʻukulele lessons as well as personalized beverage tastings with the mixologists. The Lānai is a true retreat within an oasis in the tower. Part of the intention behind this new tower and its name was to help guides guests back to Hōkūpaʻa, the North Star.
Also fitting to its name, the Westin's new spacious outdoor eatery, Hale Moʻolelo is the "house of talking story." As hale means house and moʻolelo means stories, it's a ripe setting to meet new friends, tell old stories and enjoy handcrafted cocktails. Along with being an ideal respite for refreshments, Hale Moʻolelo also offers a menu that crosses cuisines with options including seared 'ahi banh mi and tempura fish tacos, as well as 'ahi poke nachos to share.
In addition to Hale Moʻolelo, the Westin is home to Waicoco, the first Maui restaurant for Chris Kajioka and Mourad Lahlou. Restaurant Senia, Bar Māze and Miro Kaimuki are just a few of Kajioka's notable Oʻahu ventures. His partner, Lahlou, is known for pioneering Moroccan cuisine in the States, opening the first Moroccan restaurant in the U.S. to receive a Michelin Star. Both chefs are James Beard Award finalists and by launching Waicoco, they have created an exciting new addition to Maui's culinary scene. From locally caught fish to kiawe-smoked meats, the restaurant thoughtfully connects land to sea with dishes showcasing the Islands' unique cuisine.
While the Westin has designed the utmost relaxing and rejuvenating experiences, the resort has not overlooked fun and excitement. The Kawaiola Aquatic Playground consists of six magnificent pools. From the serene adults-only pool to the newly designed family pool—which features a 270-foot water slide— there's an aquatic adventure that awaits every type of pool-goer.
The resort may look dramatically different after its $120 million transformation, but the Westin continues to provide guests with a home-away-from-home with its incredible attention to detail and even more attentive staff. It's what draws visitors to keep returning.
"It was exciting to welcome guests because it was like welcoming guests to a new home," Koa says, following the massive renovation process. "When you talk about renovations, you talk about building a program and putting together cultural elements. The traveler, the guest, is part of the puzzle. They activate what we purposely put in. To welcome them back was amazing because they were the last piece of the puzzle, fitting into what we've done."
For more information, visit The Westin Maui Resort & Spa, Kāʻanapali's website.