A Lot of Wow at Pueo's Osteria
How a former narcotics detective and tomato hater brought delicious tomato dishes to the table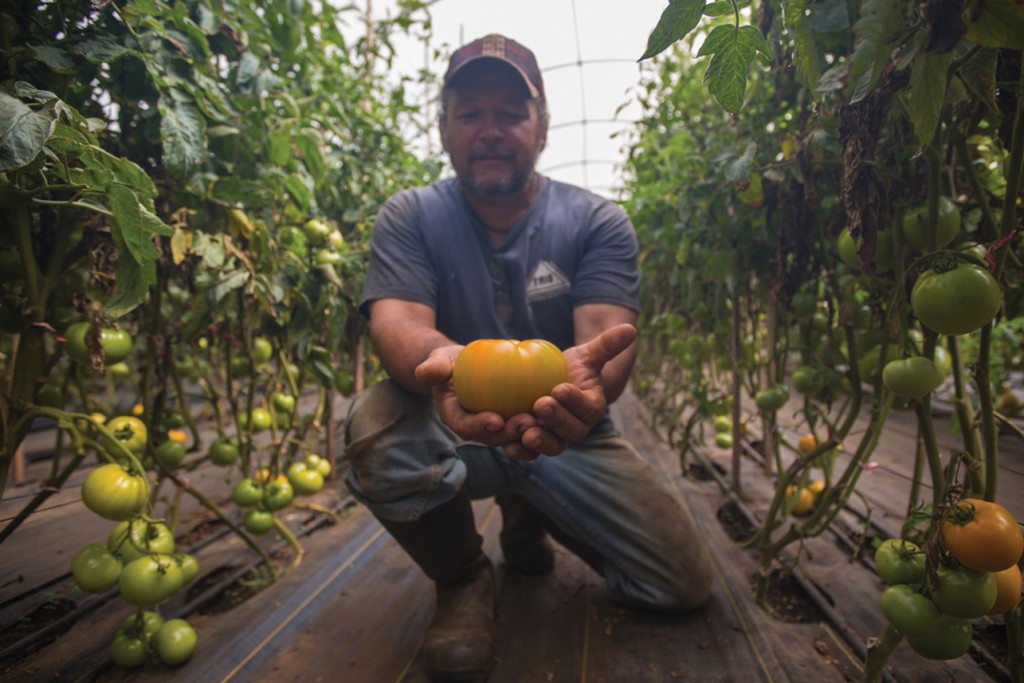 Of the gloriously hued tomatoes ripening on the vines at Wow Farm, it is the flame-striped Old German and Cherokee Purple heirlooms and the plain-looking romas that make their way to Pueo's Osteria in Waikoloa in Big Island each week. There's good reason: The chef there, James Babian, helped develop their flavor. Babian was executive chef at the Four Seasons Resort Hualālai some years ago when new farmer Mike Hodson started bringing him tomatoes from Waimea.
"Chefs spend their life working with food. Their tastebuds are incredible. And chef Babian is a cream-of-the-crop chef," Hodson says. "Instead of going to the university, I used chef Babian's palate to make my tomato sweeter. Every time I changed it I would give him some and he would tell me it's getting better. We did this for four years until it started going backward and he told me you cannot get better than that."
Babian didn't know then that he was dealing with a former police narcotics detective looking for stress relief after a high-intensity career. Or that Hodson, a descendant of kalo and 'uala growers, had never farmed in his life. Or that he hated tomatoes. Hodson was trying his hand at them because they were good for his wife Tricia's diabetes—to get them sweet enough so that he and Babian's customers would want them, he went to Kurt Hirabara, a long time farmer in Waimea, and learned from him how to balance the macronutrients in his soil so his tomatoes would respond with juicy sweetness.
When Babian and his wife, Christine, opened Pueo's in 2013, Wow Farm's romas and heirlooms came with them. The restaurant serves up artisanal, locally sourced Italian fare for dinner and late-night crowds, using ingredients like 00 flour and saucy San Marzano canned tomatoes imported from the motherland. Hodson's romas dot Pueo's veggie pizza, and there's a garlicky tomato bruschetta, a smoked tomato polenta and a best-selling soup made from very ripe tomatoes smoked over kiawe wood. On any given day three or four dishes will feature Hodson's tomatoes.
Babian's even had a Wow tomato month and crafted five-course tomato lunches amid the vines at the farm, starting with a Wow Farm bloody mary and, after grilled kampachi with a tomato and olive tapenade, a dessert of Wow tomato granita.
"It's some operation," Babian says of Wow Farm. "They weed the tomatoes, clean them, constantly feed them new soil. You see the passion."
Wow Farm Tomato Bruschetta
By James Babian, chef/owner Pueo's Osteria
5 slices of focaccia or baguette, ¼-inch thick
1 tablespoon extra virgin olive oil
1 garlic clove, finely minced
1 Wow tomato, diced
1 teaspoon thinly sliced fresh basil
Hawaiian salt and freshly
Ground black pepper to taste
Infuse some garlic into the olive oil. Brush the bread with the garlic oil and lightly grill. Mix together the diced tomatoes, remaining olive oil, basil, minced garlic, salt and pepper. Taste and adjust seasoning. Top the grilled bread (bruschetta) with the tomato mixture and serve.