A Year Later: How COVID-19 Has Affected Hawaiʻi
Tourism stalled, beaches were empty, restaurants closed—but 2021 looks promising.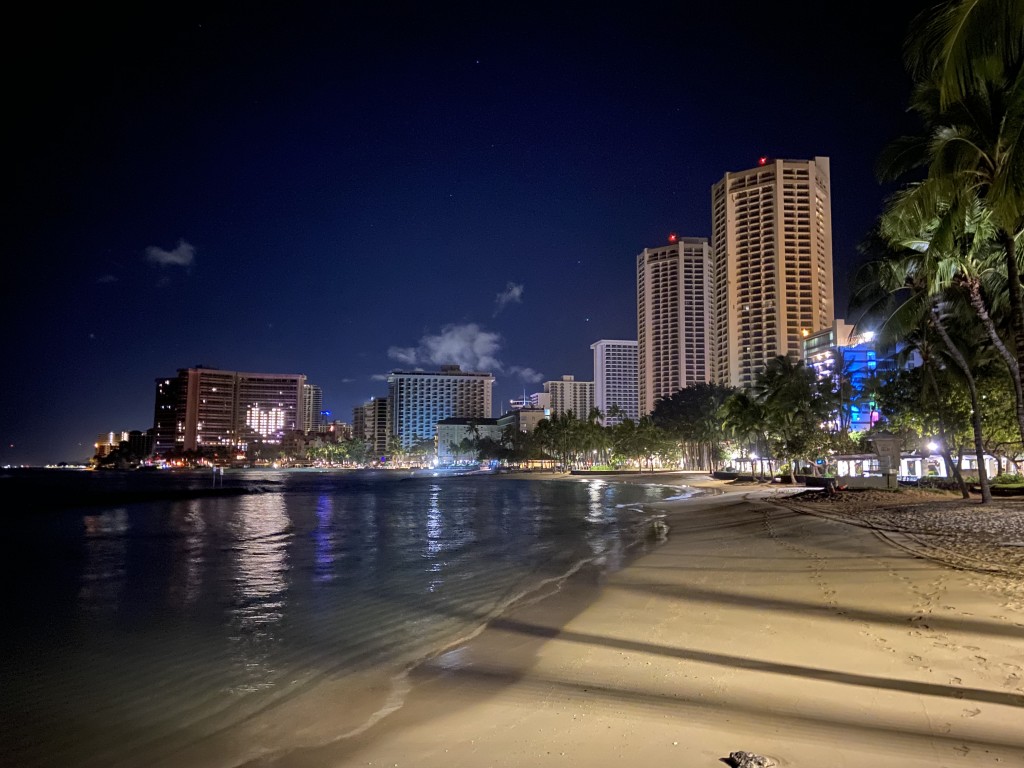 A year ago I attended a small wedding at a local restaurant in Kaimukī. There were maybe 50 people in total, many of whom flew in from Washington and California to celebrate the nuptials.
We weren't wearing masks, we were crammed into a small private room—and we shared food! What were we thinking!
That same week a flight from Alaska Airlines from Seattle arrived in Honolulu with COVID-19-positive passengers. (Luckily, no one attending my friend's wedding was on that flight.)
That was the first time I felt a little uncomfortable in a large group of people—and, with the exception of going to work for another week or so—the last time I was around that many people at once.
It's been a year since Gov. David issued the first emergency proclamation concerning a new coronavirus has already been found, at the time, in 78 countries. Two days later, on March 6, 2020, Hawaiʻi reported its first case.
Today, there have been 27,699 COVID-19 cases in the Islands—mostly on Oʻahu and Maui—and 441 deaths. In the U.S., there have been 28.5 million confirmed cases and more than half a million deaths. Globally, more than 115 million cases have been reported and more than 2.5 million people have died from the fast-spreading virus.
But a year ago, we didn't know just how impactful and devastating COVID-19 would be.
Last year, at this time, we were still working in a full office, going to lunch in Downtown Honolulu, lounging on the beach.
It wasn't until March 23 that Oʻahu started a five-week stay-at-home order and recorded the first COVID-19 death. That order was extended through April 30.
On March 25, the state's mandatory 14-day quarantine for all travelers began—and continues to be the state protocol for travelers without negative COVID-19 tests. Hawaiʻi was the first in the nation to require travelers to the state to quarantine for 14 days. (Now it's 10 days.)
Because of the quarantine—and health and safety concerns—visitor arrivals in April 2020 dropped 99.5% from the previous year, according to the Hawaiʻi Tourism Authority. That month just 4,564 people arrived in Hawaiʻi by air, down from 856,250 (by air and cruise ship) during the same period a year ago.
Hotels and airlines had to close and furlough workers. Restaurants shuttered—some never reopened. People were out of jobs, parents were homeschooling their kids. Many were nervous, worried and scared.
No one really knew how long this was going to last.
Fast forward a year, and we're slowly seeing signs of recovery.
Hawaiʻi's COVID-19 cases—far lower than the rest of the U.S.—has meant a gradually reopening of the state. Most private schools and many public schools have returned to some form of in-person learning. A lot of restaurants have reopened—surviving COVID-19 with takeout and delivery service and outdoor dining. Offices have reopened; rush-hour traffic has resumed on Oʻahu highways.
And visitors are returning, thanks to the state's Safe Travels program that launched in October 2020, which allows travelers with a negative COVID-19 test to bypass the state's mandatory 10-day quarantine. (Read more here.)
In December 2020, typically a busy month for tourism in the Islands, more than 235,000 people arrived in Hawaiʻi. It was still a huge decrease from last year—75.2%—but it was far more than the state had seen in months.
It's a slow recovery, but it's happening. More and more people are getting vaccinated, which will undoubtedly impact travel not just in Hawaiʻi but globally. And the use of face masks and hand sanitizers are commonplace; it's hard to imagine life without them now.
It's been a crazy year, but the future looks bright—and maybe a lot like a beach in Hawaiʻi.