Add to the List: Things to do in February 2019 in Hawaii
From Kauai to Hawaii Island, we highlight our favorite festivals, fairs and local happenings in February.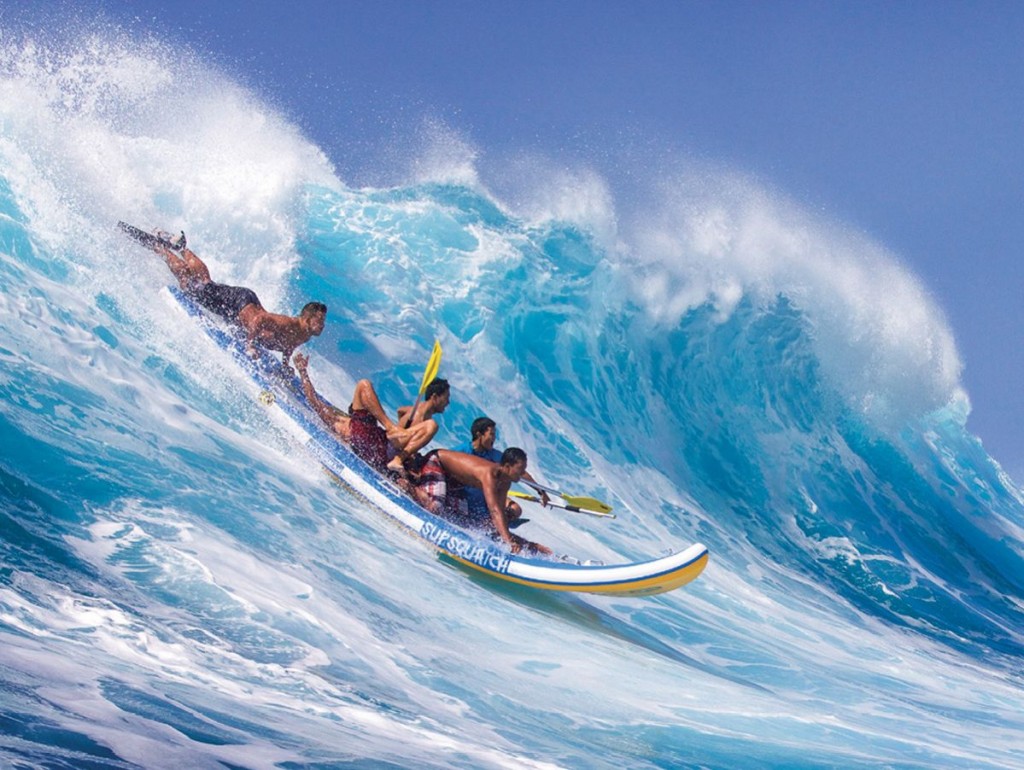 OAHU
Rapa Nui: The Untold Stories
Now through 5/5
For the first time, the Bishop Museum's 150 cultural treasures from the southeastern Pacific island of Rapa Nui (also called Easter Island), along with a never-before-seen natural science collection, will be on display together in the Castle Memorial Building. The exhibit goes beyond the famous moai (carved stone statues) to give visitors an insight into the island's history and community. Honolulu, Oahu, bishopmuseum.org.
The 43rd Annual Buffalo's Big Board Surfing Classic
2/16–2/18, 2/23–2/24
There aren't many surf contests out there that feature divisions for canoe surfing, tandem longboarding, alaia (finless, wooden surfboard) surfing and myriad other watercraft. However, this tried-and-true event has a little bit of something for everyone. Ditching the rigid rules and regulations of other surf contests, Buffalo's Big Board Surfing Classic, started by famed waterman and lifeguard Richard "Buffalo" Keaulana, puts an emphasis on fun. Makaha, Oahu, buffalosurfingclassic.com.
Hawaii Collectors Expo
2/22–2/24
For three days, the Neal S. Blaisdell Center is packed to the brim with all sorts of eclectic, colorful collections. Just a few sets on display include vintage ukulele, koa furniture from the Clarence H. Cooke Estate and other prized treasures. Fans of 1980s and '90s cinema will also want to check out the "Ghostbusters" hearse and "Jurassic Park" Jeep, which will be parked on location. Honolulu, Oahu, find more information on their Facebook page.
MAUI
Maui Open Studios
2/9–2/10, 2/16–2/17 and 2/23–2/24
Tour artist studios and exhibition spaces and chat with artists one-on-one during the annual Maui Open Studios event. The festivities started with an opening celebration on Feb. 2 at the University of Hawaii Maui College in Kahului, and continue every weekend in February at different spots around the island. Various locations, Maui, mauiopenstudios.com.
Whale Tales
2/15–2/18
For four days at The Ritz-Carlton, Kapalua, marine experts gather to share the latest findings on humpback whales through presentations, films and photography. The public is invited to learn about Maui's frequent mammalian visitors on Friday, Saturday and Sunday afternoons. A $20 donation is encouraged to support the event's host, Whale Trust. Kapalua, Maui, whaletales.org.
KAUAI
Kauai Quilt Show
2/8–2/20
Anywhere from 70 to 100 quilts in all styles and designs are on view at the Kauai Society of Artists gallery, organized by the Nene Quilters and Kauai Quilt Guild. Made by part-time and full-time Kauai residents, some of the quilts are for sale at prices ranging from $50 to $2,000, depending on size and difficulty to make. A select number of baby quilts will also be available for purchase, with 100 percent of the proceeds going to your choice of one of 12 charities. Lihue, Kauai, quiltersresources.com/event/kauai-quilt-show.html.
Waimea Town Celebration
2/16–2/24
Beginning Presidents Day weekend and featuring a full nine-day schedule, the Waimea Town Celebration is filled with music, food trucks, a Japanese whisky tasting, film festival, bike race, lei contest, fun run, canoe race and, even, a rodeo. There are so many fun things to do that the question really is, what does this celebration not have? Even so, the best part is that it helps to support the town's nonprofits and local community groups. Waimea, Kauai, waimeatowncelebration.com.
HAWAII ISLAND
Panaewa Rodeo Stampede
2/16–2/18
Back for its 28th year, this Big Island rodeo features three days of paniolo (cowboy) action. There will be bull riding, calf roping, barrel racing, local food vendors and ever-entertaining rodeo clown JJ Harrison. Don't miss the events only found here in Hawaii, such as the double mugging event, which features two paniolo working together to rope a steer, and the poo wai u, a technique developed by early Hawaiian cowboys that involved lassoing and tying cattle to Y-shaped trees known as aumana. Hilo, Hawaii Island, hawaiirodeostampede.com.
13th Annual Avocado Festival
2/23
If you love avocados, then this is the event for you. Free and fun for the whole family, this festival will have a variety of activities and workshops, such as an avocado grafting demonstration, pruning discussions and a forum on how to use avocado in food. Local artists and crafters will also have their wares on display, and healthy vegan foods will be available to satiate hungry festivalgoers. Downtown Kona, Hawaii Island, hawaiianwellness.com.
LANAI
Posh Valentine's Day
2/14
Leave it to the Four Seasons Resort Lanai to come up with two ultimate Valentine's Day packages for couples. Start in the luxury couples spa suite for its Sweetheart Rocks package, which includes a body scrub followed by a 90-minute hot salt-stone massage from head to toe. Then, spend the evening together at a private oceanfront location for sunset and a five-course meal with wine pairings—a special Dining Under the Stars dinner package prepared following a personal consultation with the chef. Lanai City, Lanai, fourseasons.com.