Add to the List: Things to do in May in Hawaii
From Lei Day festivities to the annual Lantern Floating Ceremony, these May 2018 events in Hawaii should be added to your calendar.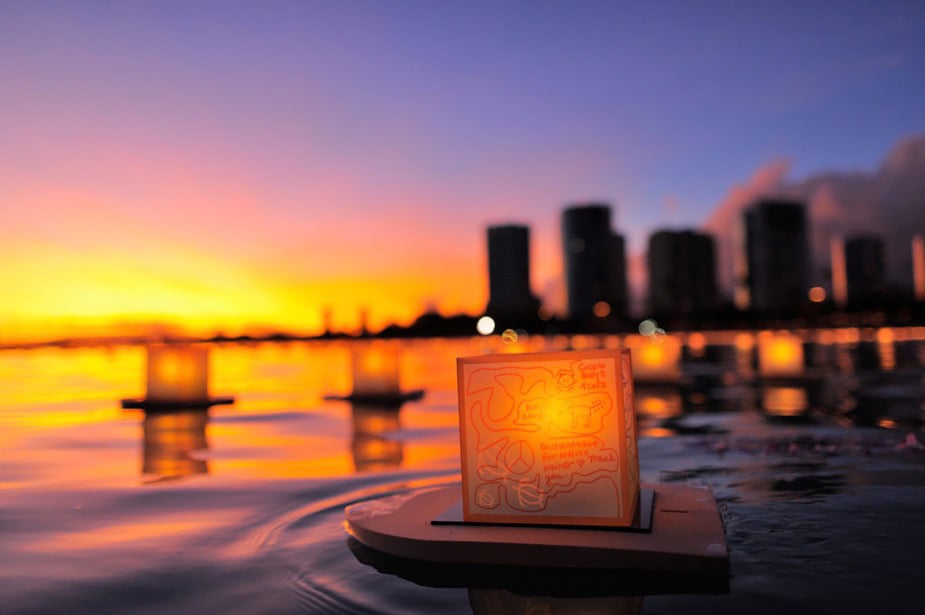 This month is all about stimulating your senses: Taste beer from local breweries, get your hands dirty on a farm tour, listen to music from local artists and Grammy award winners, or choose to simply take in the sights and smells of flowers.
Oahu
91st annual Lei Day Celebration
5/1
Take the time out of your busy schedule to stop and smell the roses—or rather, the flower lei at this year's 91st Annual Lei Day Celebration. There will be live music from the Royal Hawaiian Band and the Steel Guitar Association, as well as a lei contest exhibition that's open to the public. Free, 9 a.m. to 5:30 p.m., Honolulu Hale, Kapiolani Park, 2806 Monsarrat Ave., Honolulu.
3rd Annual Paradise of Farms: Nalo Style
5/5
Join in on all the family friendly fun at this year's Paradise of Farms, which will be offering guided tours of local farms and a walk-through of Waimanalo's very own research station. You'll also find information booths, keiki activities and a local farmers market. $15, 9 a.m. to 3 p.m., University of Hawaii Waimanalo Research Station, 41-698 Ahiki St., Waimanalo.
Hawaii Book and Music Festival
5/5–5/6
For two days only, experience free performances, all while raising awareness to the issue of literacy in Hawaii. Representing the multicultural heritage of Hawaii's literary and musical arts, there will be panel discussions, cooking demos, music performances and book readings from local authors. Free, 10 a.m. to 5 p.m., Honolulu Hale, 530 South King St., Honolulu, hawaiibookandmusicfestival.com.
Na Hoku Hanohano Awards
5/19
Hawaii's premier music awards show, where performers from Hawaii are recognized for their musical achievements, is in its 41st year. Originally started by local radio personality Krash Kealoha in 1978, the award ceremony covers genres ranging from jazz to contemporary, and reggae to Hawaiian music. $135-$250, 5 p.m., Hawaii Convention Center, 1801 Kalakaua Ave., Honolulu, nahokuhanohano.org.
Lantern Floating Ceremony
5/28
The sounding of the pu (conch shell) marks the commencement of this deeply meaningful tradition that recurs every Memorial Day. Wade your way through Ala Moana Beach Park to watch thousands of floating lanterns as they're released into the water in honor of those who are no longer with us. Free, 6 to 9:30 p.m., Ala Moana Beach Park, 1201 Ala Moana Blvd., Honolulu, lanternfloatinghawaii.com.
Hawaii Island
Kona Orchid Society Show
5/11–5/12
An orchid show and sale, the annual event features a variety of orchids, but also protea, herbs, lilies and fruit trees. If you're not looking to buy, have fun perusing the fragrant flowers, grown locally by members of the Kona Orchid Society. Free, various times, 75-5560 Kuakini Hwy., Kailua-Kona, konaorchidsociety.org.
Hamakua Harvest Annual Farm Festival
5/20
This free community event features over 40 different vendors selling all locally produced products and artisanal foods. Learn how to juggle at the Cirque Ohana booth; take your children to the keiki zone where they can join a kids yoga class; enjoy an educational presentation on grafting avocados; or, for a more hands-on activity, participate in a Hawaiian pahu (drum) carving class. Free, 8 a.m. to 3 p.m., 44-2600 Hawaii Belt Highway, Honokaa, hamakuaharvest.org.
7th Annual Big Island Jazz & Blues Festival
5/31–6/3
Watch and listen as the best of the best in jazz and blues perform all in one place for this four-day festival. Among the award-winning jazz and blues musicians are Grammy award winners Michael Doucet and Jo-El Sonnier, as well as Blues Hall of Fame legend Filmore Slim. $60-$100, various times, Mauna Kea Beach Hotel, 62-100 Mauna Kea Beach Dr., Waimea, bigislandjazzandbluesfestival.com.
Maui
Maui Matsuri Musical Extravaganza
5/4
Honoring the 150th anniversary of the first Japanese immigrants to Hawaii, the event is full of cultural festivities with entertainment celebrating five different cultures. Free, 6 to 9 p.m., UH Maui College Great Lawn, 310 W Kaahumanu Ave., Kahului, mauimatsuri.com.
Maui Brewers Festival
5/19
Food, live music and beers from local breweries? Yes, please. This annual festival filled with hops and homebrews has all the makings of a good, slightly inebriated time. And if you're not a fan of beer, there's more than enough hard cider, root beer and kombucha on tap. $55-$120, 2 p.m., 1 Cameron Wy., Kahului, mauiarts.org/brew_fest.
Kauai
The Banana Poka RoundUp
5/27
Bring the keiki to Kokee State Park on Memorial Day weekend for this educational fair, where they'll learn about forest and agricultural preservation through games and activities. Join in and learn basket weaving with banana poka vines and create forest crafts at the exhibits. Free, 10 a.m. to 4 p.m., Kokee State Park, Hanapepe, kokee.org.
Molokai
Molokai Ka Hula Piko
5/31–6/2
In oral Hawaiian moolelo (histories), a woman named Lailai made her home on Molokai and introduced the art of hula to the island's people, which then spread to the other Hawaiian Islands. To celebrate the birth of hula, halau (troupes) perform over the course of three days, and the event ends with a grand hoolaulea (celebration). Free, various times and locations, kahulapiko.com.