Admire the View from These Live Hawaii Webcams
Wish you were here? We've got the next best thing.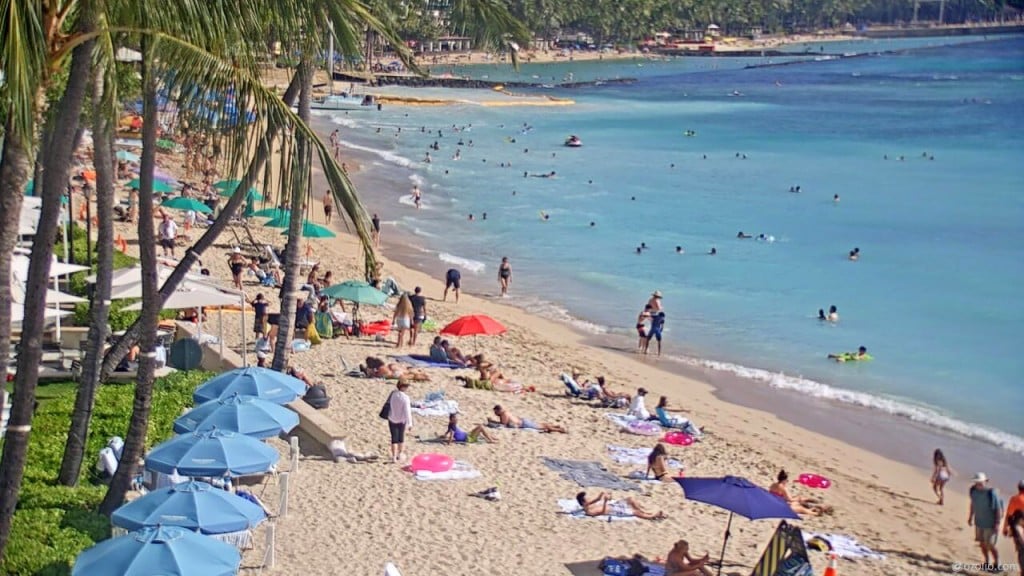 For those of you who wish you were here, we've collected the next best thing: a list of webcams around the Islands from which you can enjoy the views of some of Hawaii's most iconic beaches and other picturesque areas. Want to watch the sun setting in Lahaina on Maui, gaze at the waves breaking on Oahu's North Shore, or witness steam rising from Hawaii Island's Kilauea volcano? Now you can.
Just click on each image to go directly to the webcam. Lots of these webcams enable you to take a snapshot, too, so you can save the view to your own device.
Tip: These cams are live, so if you have friends in these places, tell them to give you a shaka!
Oahu
Banzai Pipeline, Oahu
Marvel at the huge waves and the surfers brave enough to ride them during the winter months—or watch a stunning tropical sunset and daydream while gazing at the summer sea at this legendary North Shore surf spot.
Moana Surfrider, Oahu
This controllable 24-hour webcam with zoom overlooks a happening stretch of Waikiki Beach. Watch sunbathers, surfers, canoe paddlers and more.
Waikiki Aquarium Hawaiian Monk Seal Habitat, Oahu
Watch the Waikiki Aquarium's resident endangered monk seals swim and play.
Maui
Grand Wailea Resort, Maui
Enjoy gorgeous Maui sunsets and ocean views from this webcam, positioned at the top of the Grand Wailea Resort. A night, a timelapse of the day is played instead of the live cam.
Lahaina Harbor, Maui
This controllable live webcam, with views of Lahaina Harbor, runs off community donations. You can watch a recap of the most recent Lahaina sunrise and sunset, too!
Hawaii Island
Kilauea Volcano Summit, Hawaii Island
Volcano watching more your thing? Keep an eye on the Kilauea caldera from this U.S. Geological Survey Hawaiian Volcano Observatory webcam mounted on an observation tower. You can also view a quick recap of volcanic activity in the last 24 hours. See more USGS webcams from Hawaii Island's volcanoes here.
Hilton Waikoloa Village, Hawaii Island
Check out some of the views of the ocean and North Kona Coast from the webcam located on top of the Hilton Waikoloa Village's Ocean Tower.
Kauai
Hanalei Valley, Kauai
This live cam from lush Hanalei Valley is run by Nourish Hanalei, an organic farm, and features a lovely view of the Hanalei River and mountains of Kauai's North Shore.
Hanalei Bay, Kauai
Hosted by the Hanalei Bay Resort, this webcam shows us the stuff that Hawaii dreams are made of—heavenly Hanalei Bay.
Poipu Beach, Kauai
Watch the surf and sunsets at Poipu Beach on this cam, pointed at one of the most beautiful places on earth.