Aloha Festivals' 63rd annual Waikiki Hoolaulea this weekend, and floral parade on Sat., Sept. 26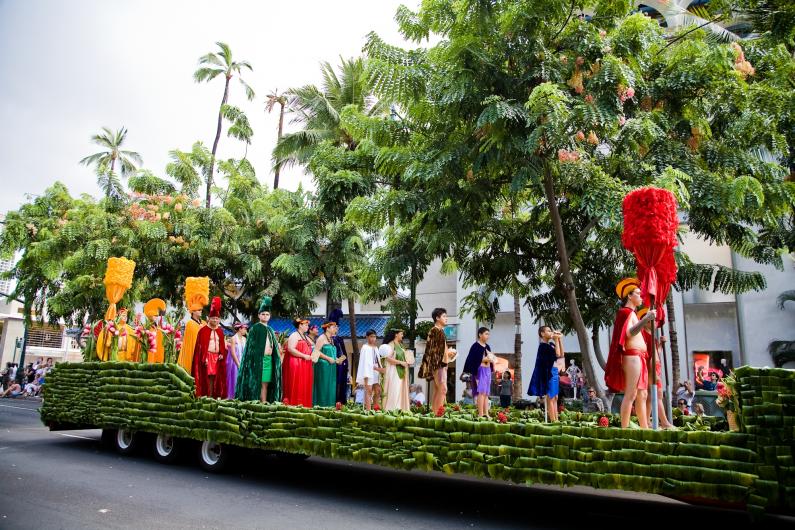 Every year, for 63 years and counting, Aloha Festivals—Hawaii's oldest and largest cultural celebration—has been throwing an epic block party in Waikiki. If you're on Oahu this weekend, you won't want to miss the Waikiki Hoolaulea.
The Hawaiian word hoolaulea means "celebration." And this year's street-closing, seven-block hoolaulea promises just that with 21 island food booths as well as 32 artisan and specialty vendors selling Hawaiian crafts and lei. There will also be lots of great live music and entertainment spread across four stages along Waikiki's beachfront main drag on Kalakaua Avenue.
If previous years are any indication, thousands are expected to attend the evening event, which runs from 7 to 10 p.m.
Members of the 2015 Aloha Festivals Royal Court, who were awarded their honorary alii (royal) titles at a ceremony on Sept. 5, will be present for the party. This year's festival theme is Hulu Aloha: "Beloved Feather Treasures," so you can expect the Royal Court to be wearing traditional he kahili (feather standards), ahuula feathered cloaks and even feathered mahiole (helmets).
The entertainment lineup includes several hula halau (dance troupes) and appearances by Legends in Concert Waikiki, Natalie Ai Kamauu, Kapena, The Royal Hawaiian Band, Sean Naauao, Christian artists such as Divine Grace and Higher Life, and more. Stages include the Christ Embassy Hawaii stage at Lewers Street, the Royal Hawaiian Center stage at Royal Hawaiian Avenue, the Starwood Hotels & Resorts stage at Moana Surfrider, and the Hawaiian Airlines stage at Uluniu Avenue near the Hyatt Regency Waikiki.
A week after the hoolaulea, the Aloha Festivals' 69th annual Floral Parade will be held on Sat., Sept. 26 at 9 a.m. The parade will round out this year's Aloha Festivals celebration with flower bedecked everything: floats, marching bands, hula halau and pau (Hawaiian-style skirted) horseback riders. The parade begins at Ala Moana Beach park and heads east to Waikiki on Ala Moana Boulevard and Kalakaua Avenue before ending at Kapiolani Park under the shadow of Leahi (Diamond Head).