An intimate glimpse inside the Queen Emma Summer Palace
The palace was once a secluded Nuuanu Valley retreat for the queen consort and King Kamehameha IV.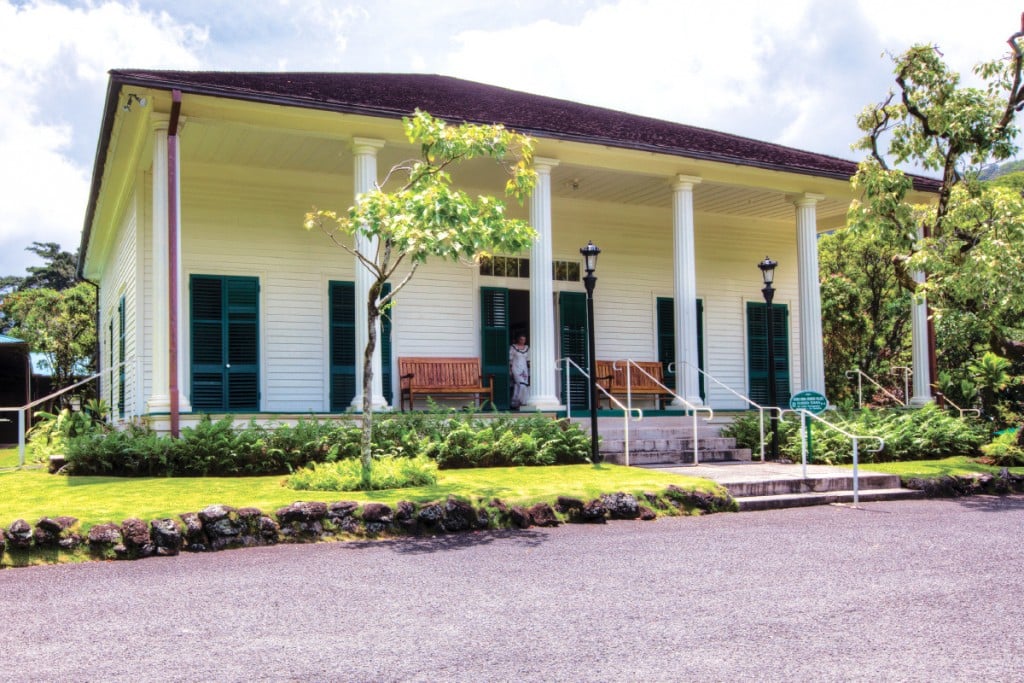 A soft breeze glides through louvered windows in the parlor of Queen Emma Summer Palace, nudging me toward a baby grand piano the Hawaii queen acquired while traveling through Europe in the mid-1800s.
"You can play something, if you'd like," says Della Kuaana, the museum's docent coordinator, who is also my tour guide. A short excerpt from a piano concerto would be fine, but "no Chopsticks," she warns, and then smiles warmly.
The palace, tucked into the emerald uplands of Oahu's Nuuanu Valley, minutes from bustling downtown Honolulu, is a relaxing place. But a sense of decorum also fills its halls and rooms, which blend Victorian-era furnishings with the markings of Hawaiian royalty.
Now managed and maintained by the nonprofit Daughters of Hawaii, the palace and its surrounding grounds cover just over 2 acres of the original 65 acres that once belonged to Queen Emma. Kuaana and other members of Daughters of Hawaii—dedicated to preserving language, culture and historic sites—lead visitors through the museum's collection of Queen Emma's belongings, Hawaii artifacts and memorabilia.
The palace once served as a cool summer home for the queen consort and her husband, Alexander Iolani Liholiho, King Kamehameha IV, when court life heated up or when days in the city started feeling hot and dusty. Even so, the residence was not originally built for the king and queen.
During the late 1840s, a part-Hawaiian businessman commissioned construction of the house as a private residence. The frame of the home, combining Greek Revival architecture and elements of Hawaiian design, was cut in Boston and shipped to Hawaii by way of Cape Horn. Queen Emma's uncle, John Young II, bought the property at an auction, after construction was completed, in 1850. He willed it to his niece a few years after Kamehameha IV ascended to the throne in 1855.
In the entrance hall are photographic portraits of royalty, to which Kuaana gestures as she walks me through the history of the Hawaiian monarchy. I find a striking image of Queen Emma in her 20s, and mention that the gaze of her large, dark eyes conveys poise. Kuaana agrees, noting that the queen was a sort of cosmopolitan leader beloved by both Hawaiian people and royalty elsewhere, especially in England.
As my tour winds into the center hall, we pause at a silver christening vessel, a gift from Queen Victoria of England, who had agreed to serve as godmother to the Hawaiian royal couple's son, Prince Albert Edward Kauikeaouli Leiopapa Kamehameha. Sadly, the four-year-old prince died of a sudden illness before the vessel's holy water could be used for his baptism. Brokenhearted and weakened by chronic asthma, King Kamehameha IV passed away himself 15 months later, at age 29.
As Queen Emma grieved, she also pushed on, dedicating her life to humanitarian pursuits, such as establishing Hawaii's first hospital, now called The Queen's Medical Center—the largest
private hospital in the state.
In 1869, a dozen years after Queen Emma took ownership of the six-room retreat, she added a large, airy room in preparation for a visit of the Duke of Edinburgh, the second son of Queen Victoria and Prince Albert. Still in the room is a three-tiered koa wood sideboard built in Berlin at the request of Prince Albert and Queen Victoria as a wedding present for the Hawaiian royal couple. Kuaana points to its rare concave/convex glass panes, which traveled halfway around the world without mishap.
Queen Emma was fond of English tea service and could play engaging piano concerto excerpts for dinner-party guests. Still, with three-quarters Hawaiian blood, the daughter of a high chief was also very much Hawaiian, says Dale Bachman, regent to the Daughters of Hawaii.
Standing near Doric columns that line the palace porch, Bachman notes that the queen wrote Hawaiian chants and helped shape the native greenery on the grounds. Nearby are maile-scented ferns and ohia trees—known for red lehua blossoms used in lei-making. Kuaana joins us and points out a tamarind tree, called wi awa awa, believed to have been planted by the little prince. Queen Emma passed away in 1885 at age 49.
At the end of my tour, I tell Kuaana that the museum is so domestically intimate that I half expect to catch a glimpse of Queen Emma herself strolling into the parlor or having a cup of tea. Kuaana says her mind's eye can see the queen happily working in one of the gardens.
"Yes," says Bachman, nodding. "This place was very much a home."
2913 Pali Highway, Nuuanu Valley, Honolulu, (808) 595-3167, www.daughtersofhawaii.org.