Historic Hawaii Foundation honors Herb Kane, unveils Big Island artist's last painting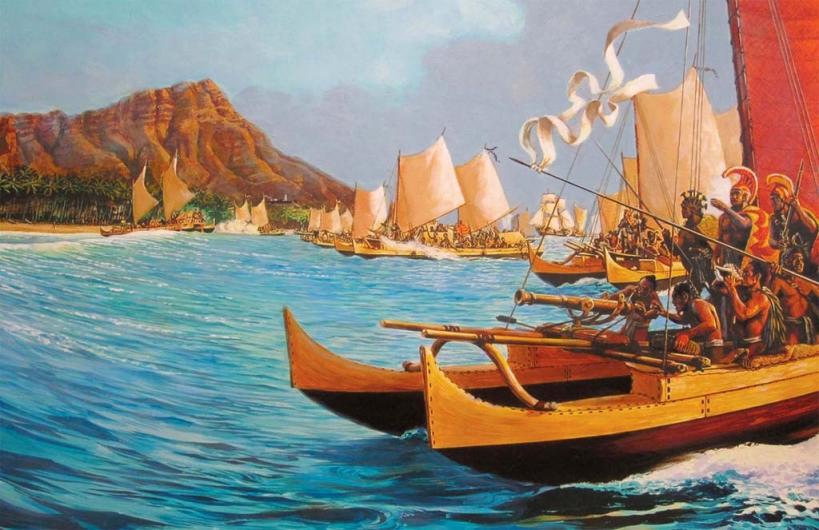 The Historic Hawaii Foundation is honoring the late Herb Kawainui Kane as its Kamaaina of the Year and last week unveiled the artist's final painting, which is now on permanent display at the Royal Hawaiian Hotel in Waikiki.
Titled Kamehameha Landing, the image (pictured, right) depicts Kamehameha I and his warriors landing in Waikiki during the 1795 campaign to conquer Oahu and unite the Hawaiian Islands under his rule.
The painting, commissioned by Kyo-ya Hotels and Resorts commissioned for the entrance to the Monarch Room at the Royal Hawaiian, A Luxury Collection Resort, was reportedly 90 percent complete at the time of Kane's death in March.
During a three-day event celebrating Polynesian voyaging, held at the resort last weekend, the Historic Hawaii Foundation honored Kane for his life's work as an artist, historian, and for his role as one of the founders of the Polynesian Voyaging Society. Kane was a leading figure in the Hawaiian Renaissance — that revival of long-suppressed and neglected cultural identity expressed in music, language, hula and construction of Hawaiian voyaging canoes, which got under way in the 1970s.
Born in Wisconsin on June 21, 1928, Kane was raised in both the mainland's Midwest and on the Big Island. He died at his longtime Big Island home in Kona.
During the 1960s, while working as a graphic artist in Chicago, Kane researched and completed detailed paintings of Polynesian and Hawaii canoes. He later helped design and build Hokulea, a double-hulled voyaging canoe that made its inaugural voyage — without modern navigational instruments — from Hawaii to Tahiti in 1976. In addition, Kane served as the canoe's first skipper.
Kane's canvases — often depicting elements of Hawaii's history — won him international recognition. His artwork illustrates seven U.S. postage stamps, including one, issued in August 2009, which commemorates the 50th anniversary of Hawaii statehood.
The Historic Hawaii Foundation's Kama aina of the Year award honors individuals who have made "unique and lasting contributions to the preservation of Hawaii's historic places and cultural resources." The event serves as Historic Hawaii Foundation's annual fundraiser, and proceeds support preservation of historic sites throughout the Islands. For additional information about the nonprofit, click here.