Aoki's Shave Ice in Haleʻiwa Serves Up the Classics with a Side of Nostalgia
And there's rarely a line.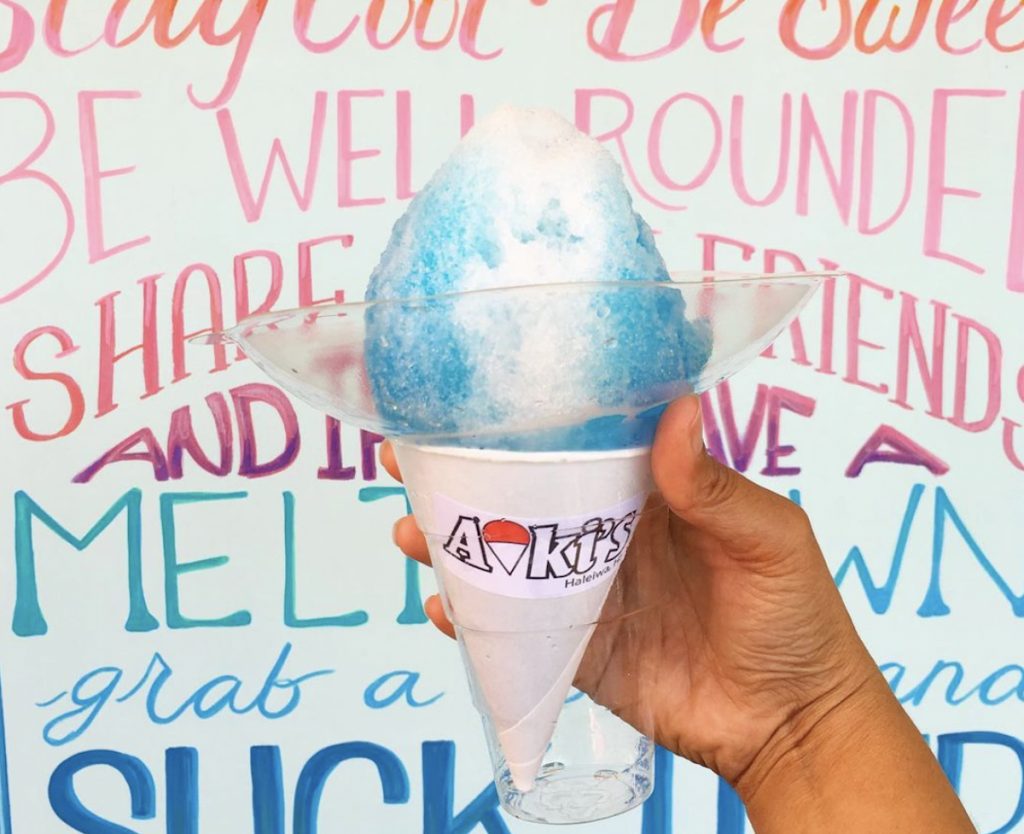 Shave ice, an ice-cold, pillowy-soft sweet treat imported from Japan in the early 20th century and then given Hawaiian-style spins like tropical flavors and a foundation of ice cream, is high on many visitors' must-eat lists. Pick up a guidebook to the Island of Oʻahu and you're almost certain to find the most famous shave ice (not shaved ice) establishment of them all: Matsumoto Shave Ice, a North Shore icon that deserves the eye-popping lines that form outside its front door in the morning and don't die down until the doors close.
But what if you don't feel like a long, hot wait? Or you want something different but just as good? Or you want that zing of discovering a great place most people haven't been to?
For that, there's Aoki's Shave Ice. Directly across the street from Matsumoto's, tucked out of sight around a corner, Aoki's flies under the radar—and likes it that way.
Visiting Aoki's feels a bit like a trip in a time capsule to the Hawaiʻi of decades ago, from the five-minute wait times and personal service to the shady seating areas and the charming, rainbow-hued geckos waiting to lap up drops of spilled sweetness.
The ice is at least as fluffy as Matsumoto's, often winning taste tests, and Aoki's makes its own unique syrups, with recipes that are the same as when co-owner Cathy Aoki's grandma founded the store in 1981. (The original store—a little red shack on the same side of the road as Matsumoto's—closed in 2013 before reopening a few years later across the street.) The classic flavors and colors have remained the same, with a clear vanilla and distinctive pink coconut and blue pineapple flavors. Aoki's shines with its flavor combos, like Volcano (lilikoʻi/strawberry/pineapple), Rainbow (lemon/strawberry/pineapple),and Hawaiian delight (pineapple, coconut, banana). Aoki says the locals' favorite is a mango/lilikoʻi/guava combo with a splash of li hing mui, the piquant spice mix that reminds kama'āina (long-term residents) of "small kid time."
Aoki, whose grandma opened the original store, now runs the business with her father. She's added contemporary touches, like streamlined recycling and Perspex shave ice holders. There's also a new line of all-natural flavors, like dragonfruit, ginger, chocolate and açai. Aoki treasures all her customers, from the fiercely loyal regulars—including kamaʻāina families who brought their grandparents weekly during the pandemic, and the military couple who discovered Aoki's during their first station together many years ago and returned recently with seven kids in tow—to the visitors who she says keep Aoki's afloat during the winter. "That's when we really rely on the tourists," she laughs. "It's 70 degrees and we're freezing, but they're hot."
Aoki has known since tenth grade that she wanted to take over the business, and she has a clear sense of purpose. "We try to stick with the classics," she says. "There are so many changes nowadays. We would like to stay loyal to our original style. We're one of the last mom-and-pop shops in Haleʻiwa. We're losing so much of that, just the down-home way it used to be. So many people are yearning for that—even we do."
What does it feel like to have such a famous competitor across the street? "I think the competition is more between our customers themselves," she muses. "I feel more of a sense of camaraderie with [Matsumoto's]. We're some of the last old Japanese family businesses here. And we are actually neighbors—we live five houses away from each other. We see each other every day. Our customers get upset sometimes that they have such a long line when we don't, but I'm like, ʻNo, it's OK! Because then you would be standing in line, right?'"
This year marks Aoki's 40th year in business. True to form, they're not shouting about it—just serving up one delicious volcano or rainbow after another in its tranquil little shop round the corner.
Aoki's Shave Ice, 66-082 Kamehameha Highway, Haleʻiwa, (808) 637-7017, @aokishaveice