Barbecue and Brunch in Kailua? Yes, Please
Easy Que, a barbecue spot on Windward Oʻahu that opened last year, now serves brunch on weekends—and you don't want to miss it.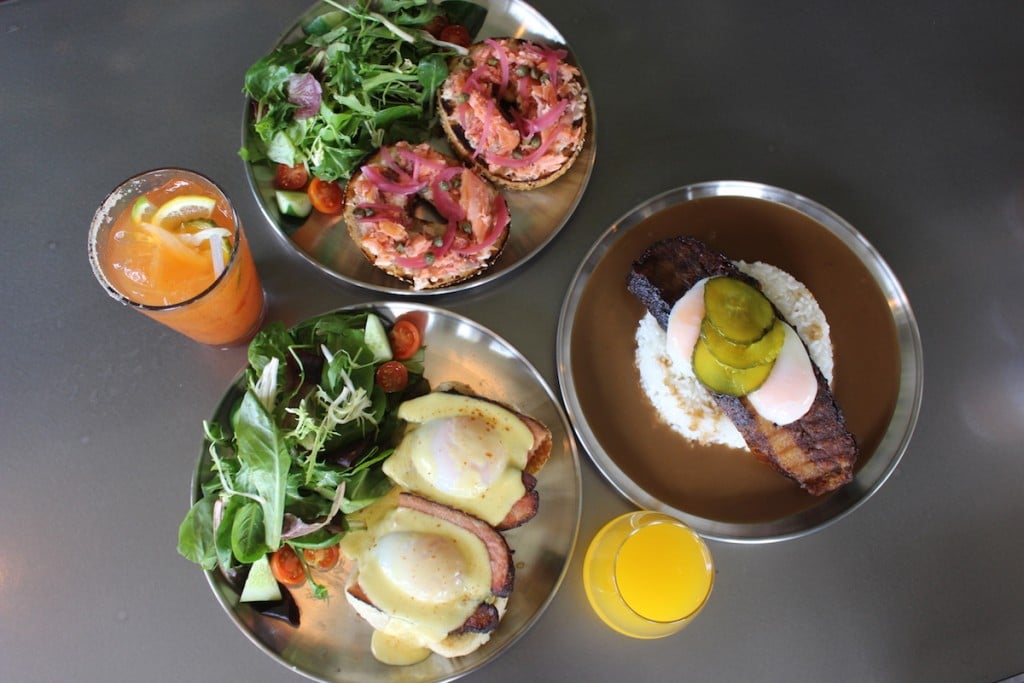 Last summer Nik and Jennifer Lodendahn, who already run a successful brunch spot in Kailua called Over Easy, expanded into American-style barbecue with a new restaurant a short walk away.
Easy Que serves a mix of traditional barbecue with local flavors: chili and rice with slow-cooked brisket and red beans; tender Korean-style kalbi brisket; and shredded kālua pork that's killer with the restaurant's Kailua Green sauce, a mix of Thai green curry, vinegar and cilantro that I've licked off the plate. (I'm not kidding.)
Starting in March, Easy Que launched a brunch service on the weekends only, with dishes you won't find at its other location. All the coffee drinks here are espresso-based—though be patient; the restaurant only has one espresso machine right now—and the meats featured are all cured, smoked or roasted in-house. And don't expect to order eggs, bacon and hash browns. "We're not a brunch restaurant," says Jennifer Lodendahn. "It's more like a weekend brunch, where we're serving composed dishes."
I predict the most popular dish will be the slow-cooked brisket loco moco ($18) with house-made brown gravy, rice, sous vide eggs and mustard pickles. It elevates the humble local dish to another, flavorful level.
The pork belly Benedict ($15) is another standout, with juicy house-smoked pork and sous vide eggs with a traditional Hollandaise sauce on locally made pandesal (Filipino bread rolls). It's as filling as it is delicious.
The waffles ($8) are definitely worth the calorie splurge. (Hey, it's brunch after all!) The owners invested in Krampouz cast iron waffles makers from France—one costs about $1,800—to achieve that perfect combination of crunch on the outside, chewy on the inside. And it's worth it—and the wait. (It takes about 15 minutes to make the waffles, longer if the restaurant is busy.) These come with honey butter, real maple syrup and the option to add fresh fruits and whipped cream. Bonus: You can make this a la mode by adding a dollop of the restaurant's popular soft serve.
The menu also features house-smoked salmon on an everything bagel ($15); a tasty breakfast sandwich ($12) with scrambled eggs, house-made pesto and arugula on house-made focaccia; and a variety of morning libations of which we recommened the Hard Wake Up Call ($10), made with two shots of espresso, Four Roses Kentucky straight bourbon, brown simple syrup, nutmeg, a dash of orange bitters and a house-made whip.
When's the weekend, again?
Brunch hours are 9 a.m. to 1 p.m. Saturdays and Sundays; lunch menu starts at 12:30 p.m. on those days. 767 Kailua Road, Suite 106, Kailua,  (808) 762-3089, overeasyhi.com/easyque