Behind the scenes: HAWAII Magazine's July/August 2015 cover shoot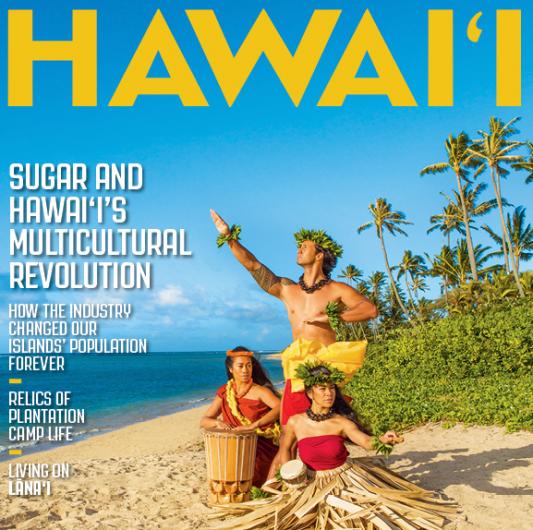 To create the cover of our July/August 2015 issue, featuring three traditionally dressed (and trained) hula dancers, HAWAII Magazine's Art Director, Cody Kawamoto, worked with other members of the HAWAII Magazine team to scout sites, find the perfect dancers and set up the shoot.
With only a theme of authentic culture and a vision of dancers on the beach, we partnered with Alii Entertainment, a group of Hawaiian cultural practitioners and artists to bring our set to life. Three of its dancers—all former Merrie Monarch contestants—met us at Waialae Beach Park in eastern Oahu at 6 a.m. with ti leaves and maile lei gathered and made the day before.
Read on to find out more about our talented cover stars!:
• Gabriel (Gabe) Spencer—This 29-year-old Kaneohe native only began dancing hula five years ago. "I was involved with a group that did promotions for Hawaiian Airlines," he says, "and through that job I fell in love with the culture and hula." He apparently had a knack for the dance—and through his hula halau (dance troupe), Ka Leo O Laka I Ka Hikina o Ka La, he made the cut to participate at Merrie Monarch his very first year. Now, with Alii Entertinment's marketing associate Kim Shibata, he founded and runs Ke Ao Hula (The Hula Realm), a network that helps like-minded hula dancers and musicians build relationships and create new opportunities to share their art.
• Abby Resulta (lower right)— This 24-year-old, a Certified Nurse's Assistant by day and Alii Entertainment dancer by night, has been dancing hula since she was 7 years old. She joined Halau Hiiakainamakalehua, her first "serious halau" two years ago, and her hard work has already paid off. Resulta's form and style earned her second place in this year's prestigious solo Miss Aloha Hula Competition. "I don't know how I balanced everything," she says of her time at the competition, "But it was well worth it."
• Carissa Coleman (lower left)— This 37-year-old Miliani native has been involved in competitive hula since she was a kid. In 2012, Coleman helped to found Alii Entertainment with a group of like-minded passionate performers and dancers. "Our number one drive was to simulate passion with substance. To share cultural movement using art," she says of the group. She has also brought her passion for hula and Polynesian dance to positions at Tokyo Disney, Walt Disney World in Orlando and the cultural performances at Disney's Aulani Resort on Oahu. In addition to working on the operations side of Alii Entertainment, Coleman also dances with Halau Hula O Ka Kauhilomauna.