The Best Hotels in Hawaiʻi, According to our Editors
From luxury resorts to budget-friendly places to stay, here are our editors picks for hotels in Oʻahu, Maui, Kauaʻi, Hawaiʻi Island, and Lānaʻi.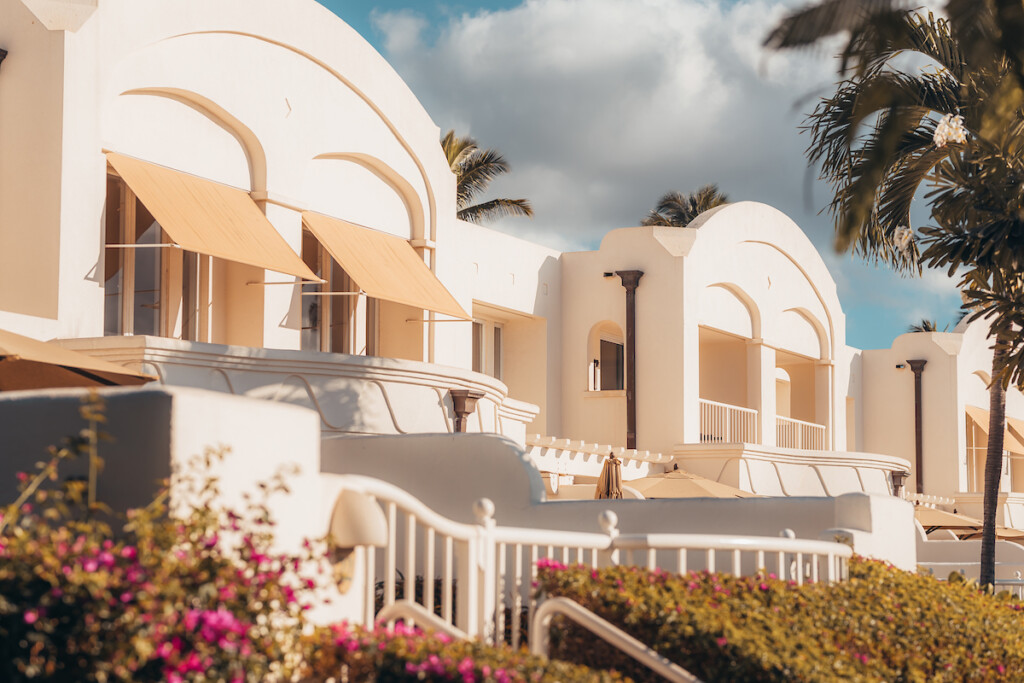 Picking out the best hotels in Hawaiʻi is a hard task—there are just so many fantastic accommodations and resorts throughout the islands that could easily be considered the "best hotels in Hawaiʻi." From luxury resorts to budget-minded places to stay, the editors at HAWAIʻI Magazine have made the hard choices for you and picked out some of our favorite hotels in Oʻahu, Maui, Kauaʻi, Hawaiʻi Island, and Lānaʻi. So if you're looking to find the perfect hotel for you, then you're in the right place.
Oʻahu | Queen Kapiʻolani | The Kāhala Hotel & Resort | Prince Waikīkī | Turtle Bay Resort | Hilton Hawaiian Village Waikīkī Beach Resort | Halekūlani | Moana Surfrider, a Westin Resort & Spa, Oʻahu | Four Seasons Oʻahu at Ko ʻOlina, Oʻahu | Kaimana Beach Hotel, Oʻahu
Maui | Fairmont Kea Lani, Maui | The Ritz-Carlton Maui, Kapalua | Four Seasons Resort Maui at Wailea | Grand Wailea, A Waldorf Astoria Resort | The Westin Maui Resort & Spa, Kāʻanapali | Hāna-Maui Resort
Kauaʻi | 1 Hotel Hanalei Bay | The ISO | Kōloa Landing Resort at Poʻipū, Kauaʻi
Hawaiʻi Island | Fairmont Orchid | Four Seasons Hualālai | Mauna Kea Beach Hotel, Autograph Collection | Grand Naniloa Hotel Hilo – a DoubleTree by Hilton
Best Hotels Oʻahu
Queen Kapiʻolani
If you visited the Queen Kapiʻolani Hotel before 2018, you might be surprised how much it's changed. Major renovations have left almost no corner untouched and the hotel has never looked better. A stylish lobby is complemented by artwork done by local artist Nick Kuchar, and the hotel's new and improved rooms offer exceptional views of Diamond Head and Waikīkī Beach. And then there's the postcard-perfect pool deck fitted with a happening poolside bar. The hotel may not be large, but it makes quite the impression.
The Kāhala Hotel & Resort
"Boutique" can mean different things to different people. For the folks at The Kāhala Hotel & Resort, it means "excellence." From the concierge service to the front desk staff and hotel management personnel, everyone at The Kāhala Hotel & Resort works hard to make sure your stay is a memorable one. The hotel itself is luxurious in its own right, with a grand lobby, beachfront dining options and stunning rooms and suites.
Prince Waikīkī
The first thing that comes to mind when we think about Prince Waikīkī is how spacious the rooms are. With high ceilings and expansive windows—overlooking the scenic Ala Wai Boat Harbor—the rooms just feel big. Aside from having a great pool deck, equipped with an infinity pool and poolside bar, another standout feature of the Prince Waikīkī is its unique location. Just on the outskirts of Waikīkī, guests here are within walking distance of Ala Moana Beach Park, Magic Island and Ala Moana Center—Hawaiʻi's largest malls.
Turtle Bay Resort
For decades, Turtle Bay Resort has been a landmark accommodation on the North Shore of O'ahu. Opening in May 1972 as Del Webb's Kuilima Resort Hotel & Country Club, the hotel is a visitor's oasis far from the big city. And now, after nearly 50 years of operation, the resort has changed. Lobby walls have been replaced by floor-to-ceiling windows showcasing jaw-dropping views of the North Shore, and even the check-in desk is backed by a stunning vision of the coastline stretching toward Kahuku. Serious effort has also been put into redesigning and reimaging the interior decor, which now sports a beachy, boho-chic look. It's mismatched and eclectic and resembles the type of furniture you might find in a bougie beachfront home in the area, and one of the best hotels in Hawaiʻi for visitors looking to enjoy Oʻahu's North Shore.
Hilton Hawaiian Village Waikīkī Beach Resort
One of the best hotels in Hawaiʻi for families, the Hilton Hawaiian Village Waikīkī Beach Resort is what most visitors think of when they hear "Hawaiʻi hotel." The Waikīkī Starlight Lūʻau at the Hilton Hawaiian Village is a Waikīkī mainstay, featuring live music, a group hula lesson, hula and fire knife dancers, and a locally sourced feast of kālua pig, grilled chicken, Hawaiian fried rice and more. There are also six—six!—swimming pools for guests to choose from, and the hotel even has a program for keiki (kids) that takes them on half-day and full-day excursions to nearby attractions, such as the Honolulu Zoo and Bishop Museum.
Halekūlani
An oasis of peace and calm in the energetic streets of Waikīkī, Halekūlani is perfect for those looking for a little quiet while still wanting to be in Waikīkī. The hotel puts an emphasis on tranquility in just about every aspect of its top-of-the-line accommodations. From a gentle infinity pool looking out over the Pacific Ocean to its comfortable rooms and expansive suites, Halekūlani has no shortage of places to lounge. Pair its relaxing atmosphere with an exceptional dinner and hula performances at House Without a Key, as well as a fantastic Sunday brunch service at Orchids, and you can see why this hotel has made the list.
Moana Surfrider, a Westin Resort & Spa, Oʻahu
Known as the First Lady of Waikīkī, the Moana Surfrider is one of the only true oceanfront hotels in Waikīkī—and it has a storied history. The hotel was originally called the Moana Hotel and built in 1901, decades before Hawaiʻi—then a U.S. territory—became a state. Wealthy Honolulu landowner Walter Chamberlain Peacock started the Moana Hotel Co. in 1896 with the goal of creating a luxury hotel in a deserted—yes, deserted!—area of Waikīkī. At the time, travel was still a luxury and visitors traveled to Hawaiʻi by sea. Each of the hotel's 75 rooms had its own bathroom and telephone, and guests paid just $1.50 a night. It even boasted Hawaiʻi's first electric-powered elevator—still in use today. The Moana Surfrider is still a symbol of luxury in Waikīkī, with its stunning porte cochere on Kalākaua Avenue, oceanfront dining with afternoon tea service and a world-class spa. The historic hotel has three wings: the Tower Wing is a high-rise tower with 21 floors above Waikīkī Beach, the Diamond Wing boasts sweeping ocean views, and the historic Banyan Wing has charming rooms with balcony views of the property and beach. Sip a Moana Mai Tai by the pool or take a surfing lesson—the Moana offers all the best of Waikīkī in one place.
Four Seasons Oʻahu at Ko ʻOlina, Oʻahu
About 30 miles west of Waikīkī, the Four Seasons Oʻahu at Ko ʻOlina is a gem on the island's west side. It's far away from resort-heavy Waikīkī and the crowds of Honolulu—but a short drive to the island's fabled North Shore and the stunning (and quieter) beaches on this part of the island. The beachfront property has its own white-sand lagoon—great for snorkeling and stand-up paddleboarding—with postcard-perfect sunset views, great from the adult infinity pool. There's lots for kids to do here, too, including a keiki pool (half of it has a sandy bottom), a free day program for kids age 5 to 12, babysitting services, kid-geared cultural classes, and seasonal experiences like a skateboard camp and keiki glamping. The luxe hotel offers a variety of accommodations, too, from thoughtful guest rooms to spacious suites. The Naupaka Spa & Wellness Center offers massages, facials, hair and nail services, and fitness and wellness classes, including sunrise yoga and southbaths. Or book one of the hotel's unique experiences, such as private surfing lessons with a pro, pickleball classes and snorkling from a traditional sailing canoe.
Kaimana Beach Hotel, Oʻahu
Originally built in 1963 on Oʻahu's Gold Coast, Kaimana Beach Hotel has long been a favorite stay for visitors and locals. Its location—on the less-crowded Kaimana Beach across from Kapiʻolani Park—is a big part of its allure. In 2021 the 122-room hotel unveiled a new look: a retro-boho, vintage Hawaiʻi vibe that's modern and inviting. The popular open-air Hau Tree restuarant also underwent a refresh, too, with a menu update and a stellar brunch. The updated suites are gorgeous, with floor-to-ceiling windows, spacious outdoor balconies and views of Lēʻahi (Diamond Head) or the ocean. The hotel also offers cultural classes like hula and weaving, wellness activities, use of cruiser bikes and surfboard rentals from Kai Sallas Pro Surf School.
Best Hotels Maui
Fairmont Kea Lani, Maui
The opulent Fairmont Kea Lani, Maui, on the golden shores of Wailea, has long lured guests seeking a secluded island escape. The oceanfront resort is the only one of its kind in Hawaiʻi, exclusively offering spacious suites and elegant two-story villas. While Fairmont Kea Lani has been dazzling guests for decades, the resort recently underwent a remarkable renovation that will help visitors feel even more restored and connected to the history of the area. The refreshed décor and color palette bring the warm Wailea beaches and tranquil sea into every room while interior details pay homage to the stories of the ahupuaʻa (land division). Every suite features a private lānai, massive bathroom with a walk-in stone shower and a luxurious soaking tub that guests will find hard to leave. And Fairmont Kea Lani's signature eatery, Kō Restaurant, continues to raise the bar by sharing creative dishes inspired by the Islands' unique multicultural cuisine.
The Ritz-Carlton Maui, Kapalua
Situated along the Kapalua coast, The Ritz-Carlton Maui, Kapalua, is a serene enclave just a few miles west of the hub of resorts in Kāʻanapali and Lahaina's bustling Front Street. It's an oasis for travelers searching for a luxurious and tranquil home away from home. Here, guests can unwind on the in-water lounges at the sprawling 10,000-square-foot pool or book a recovery massage at the spa. Guests also have access to myriad adventures in the surrounding area. You can take a guided tour of the Kapalua coast through Jean-Michel Cousteau's Ambassadors of the Environment program or play a round or two at the resort's two 18-hole championship golf courses. To enjoy the resort's coveted new jewel, guests will need to upgrade their stay. The Ritz-Carlton Club Lounge at the Ānuenue Room is an exclusive space featuring expansive indoor and outdoor areas, a dedicated concierge, and delicious grazing spreads that are presented throughout the day.
Four Seasons Resort Maui at Wailea
The Four Seasons Resort Maui at Wailea is a regal fixture on the island's southern coast. Overlooking Wailea Beach, the resort was built in a U-shape to ensure most of its five-star rooms have ocean views. And every unit has a private outdoor space for guests to soak in the stunning views of the Pacific or the majesty of Haleakalā. Here, it's easy to let the day slip away by the resort's three pools. The adults-only Serenity Pool is an editor favorite. With an infinity design, the pool is a dreamy spot to watch the sun set over the island. While the resort has been a visitor favorite for decades, it's now risen to TV stardom thanks to HBO's popular television series, "The White Lotus." The Four Seasons Resort Maui at Wailea was the setting for season one.
Grand Wailea, A Waldorf Astoria Resort
The Grand Wailea, A Waldorf Astoria Resort, is an iconic institution on the Valley Isle. Perched along Wailea Beach, the resort is surrounded by lush, tropical gardens and breathtaking views; here, guests can enjoy an exquisite array of amenities—and for every age. The 25,700-square-foot aquatic playground has nine pools, a river and a series of thrilling waterslides. Guests 18 and older who need to get away from the action for a while, can escape to a serene pool. In the evening, head to the resort's oceanfront restaurant, Humuhumunukunukuāpuaʻa; it's situated above a lagoon, which makes for a dramatic dining experience.
The Westin Maui Resort & Spa, Kāʻanapali
Known for its exemplary beachfront location, exuberant pools and warm staff, Maui visitors return to The Westin Maui Resort & Spa, Kāʻanapali, time and time again. And it's no surprise. While the resort sits on sunny Kāʻanapali Beach, there's plenty to relish and do on the property itself: Six stunning pools overlook the beach, including a serene adults-only pool deck with an infinity pool and hot tub; families can visit the new interactive splash zone and hit the epic 270-foot waterslide. To further enhance the luxurious experience, guests can book a stay in the Hōkūpaʻa Tower. Guests in the tower have access to The Lānai, an exclusive lounge featuring panoramic views of Kāʻanapali, a private bar, infinity edge pool and private cultural experiences such as lei making and ʻukulele lessons.
Hāna-Maui Resort
Hāna-Maui Resort is the ultimate respite and one of the best hotels in Hawaiʻi for those wanting to get away. Sixty-four miles of serpentine road separate Hāna-Maui Resort from the rest of the Valley Isle. Nestled in the bucolic and charming town of Hāna on Maui's east side, the luxury boutique hotel immerses guests in nature. Hāna-Maui Resort sprawls over 66 verdant acres with 75 rooms and suites, each with its own private lānai. Located in the heart of Hāna, the resort puts guests near epic waterfall hikes and pristine beaches, and a hotel shuttle takes them to beautiful Hāmoa Beach.
Best Hotels Kauaʻi
1 Hotel Hanalei Bay
1 Hotel Hanalei Bay merges luxury accommodations with a mission focused on sustainability and supporting the surrounding community. The resort is located on the cliffs of Hanalei Bay, where the St. Regis Princeville Resort once stood. Utilizing every bit of the beauty of Kauaʻi's northern shoreline, the hotel puts nature on full display. Vines grow from the walls, flora flourishes and midcentury modern furnishings perfectly complement the overall design aesthetic of the place. From the walls to the ceilings, reclaimed and locally sourced materials were used during the construction of the property. And the rooms? They're luxurious, with spacious bedding options and an ocean view in almost every one—even those labeled as mountain view. Many rooms come equipped with lounge-worthy couches and seating spaces, which can make the place feel more like a home than a hotel.
The ISO
One of the best hotels in Hawaiʻi for budget-minded travelers who want to stay at an excellent hotel at prices they can afford, The ISO (an acronym for island, sky, ocean) is hard to beat. With a large pool, an expansive oceanfront lawn, yoga classes, continental breakfasts and spacious rooms, this homey little resort has everything you need. The ISO's in-house restaurant, The Bull Shed, serves large portions of prime rib, steak and lobster—all with an oceanfront view. Need we say more?
Kōloa Landing Resort at Poʻipū, Kauaʻi
Sprawling across 25 acres in Poʻipū on Kauaʻi's sunny south shore, Kōloa Landing Resort is the perfect getaway, especially for families. It boasts a 350,000-gallon saltwater pool, three lagoons, a swim-through waterfall and a splash pad keiki love. In addition to well-appointed guest rooms, Kōloa Landing offers luxury villas ranging in size from 800 to 2,700 square feet—larger than any other accommodation on the island. These one- to three-bedroom villas have kitchens outfitted with high-end appliances and all the utensils and cookware you need to whip up meals in your home away from home. And for the kids, the hotel has a volleyball court and soccer field, a sfun cavenger hunt with prizes at the end and, on certain night, s'mores-making on the lawn. Shops and beaches are also close by, too.
Best Hotels Hawaiʻi Island
Fairmont Orchid
Fairmont Orchid is a luxury oceanfront resort set on 32 acres along the Kohala Coast on Hawaiʻi Island. Here, guests are mere steps from an emerald lagoon and a white sand beach. But that's not all. The resort boasts a 10,000-square-foot pool, six restaurants, cultural activities and an award-winning spa. Health and wellness gurus and enthusiasts will want to book a treatment at the resort's Spa Without Walls. Guests can restore their body with a massage in a cabana built above flowing streams or along the peaceful shore. After a day under the sun, whether by the Fairmont Orchid's luxe pool or exploring Hawaiʻi Island, sit down for dinner at Brown's Beach House. The alfresco dining spot is a beautiful place to soak in the sun's golden rays as you savor dishes made with local ingredients.
Four Seasons Hualālai
Surrounded by stunning beaches and a landscape shaped by lava, Four Seasons Hualālai is one of the best hotels in Hawaiʻi for those looking to unwind and embark on adventure. Located on Hawaiʻi Island's western coast, the resort recently underwent extensive renovations. Four Seasons Hualālai boasts an elegant and sleek appearance but what sets this resort apart is the absence of any high-rise towers. Instead, you'll see mostly two-story buildings that were designed to fit into the island's natural setting and that accentuate indoor-outdoor living. Inside, the resort's chic rooms feature neutral tones with tropical patterns and classic Hawaiian touches. But with access to the Hualālai Sports Club, guests won't be spending a whole lot of time in them. The club is equipped with a yoga studio, tennis pavilion, four-lane fitness pool, rock-climbing wall, sand volleyball court and a 1,300-square-foot fitness center. After working up an appetite, guests can enjoy fresh seafood at ʻUlu Ocean Grill.
Mauna Kea Beach Hotel, Autograph Collection
The Mauna Kea Beach Hotel isn't just a resort, it's a piece of architectural beauty. Developed by American businessman Laurance Rockefeller and opened in 1965, the hotel's timeless midcentury modern lobby and rooms are stunning—to say the least. Better yet, the resort fronts Kauna'oa Bay, a gorgeous stretch of beach. One of the best hotels in Hawaiʻi for those who are seeking out luxury accommodations, the Mauna Kea Beach Hotel won't disappoint.
Grand Naniloa Hotel Hilo – a DoubleTree by Hilton
If you're looking for a place to stay in Hilo, on Hawaiʻi Island, look no further than the Grand Naniloa Hotel Hilo – a DoubleTree by Hilton. One of the biggest and best places to stay in Hilo—where accommodation options are limited—the Grand Naniloa Hotel offers panoramic ocean views from its spacious rooms, stand-up paddleboard rentals, bike rentals and more. It's also only a five-minute walk away from the heart of Hilo, making it easy for visitors to explore what the town has to offer without worrying about driving or hunting for parking stalls.
Best Hotels Lānaʻi
Hotel Lānaʻi
One of the best hotels in Hawaiʻi for Lānaʻi-bound travelers, Hotel Lānaʻi—one of two major hotels on the Pineapple Isle—wowed new and returning guests with its rustic but chic new look following its big makeover in 2018. Plantation-style rooms with hardwood flooring, wicker furniture and open-air lānai evoke a sense of homey charm, but there are modern amenities too, such as large flat-screen TVs, high-tech Toto toilets and touch-screen temperature and shade controls. The resort's signature restaurant, Lānaʻi City Bar & Grill, has also been given a complete makeover, and now features hardwood interior décor and an open-air atmosphere.
---
Every experience is independently chosen by our editors. Bookings through our links may earn us a commission.